Exhibitor Information
The LA Art Show has come of age!

For 18 years The LA Art Show has delivered the broadest spectrum of art from across the globe to Los Angeles' diverse and engaged collector base.  The Los Angeles Art Show, created by FADA is the longest running venue for contemporary, modern, historic and traditional art in the country. The 2012 show hosted more than 100 prominent galleries and drew more than 50,000 visitors with its two-show concept that distinctly separated modern and contemporary works from historical and traditional works.

We are delighted to announce that the Palm Beach Show Group (PBSG) recently acquired the LA Art Show: Modern & Contemporary and the Los Angeles Fine Art Show: Historic & Traditional. Under the new ownership, the LA Art Show will be produced and operated by LA Art Show, Inc., under the umbrella of The Palm Beach Show Group, in partnership with Kim Martindale, General Manager.

Read more...
Marketing Brochure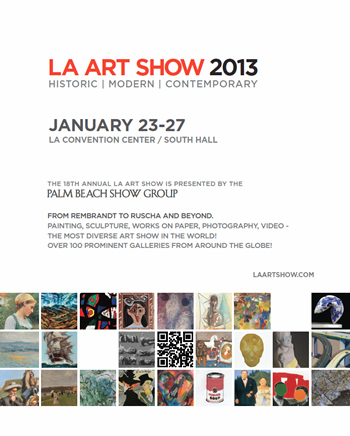 Copyright © 2012 Palm Beach Group. All artworks copyright of respective owners. Please contact the LA Art Show office for photo credits.