2018 Dialogs LA Series Coming Soon
Dialogs LA in it's fifth installment will present a series of talks and panel discussions featuring artists, collectors, museum directors, curators and internationally renowned art and cultural thought leaders. Stay tuned for the announcement of next year's exciting discussions.
3pm – Mel Ramos: His Life's Works
Speaker: Mel Ramos, Recipient of the 2017 Lifetime Achievement Award from LA ART SHOW
Dialog: Mel reflects on his life and his work spanning over 40 years, sharing his inspirations and his journey from 1960 to present day.

About the Artist: Mel Ramos is an American Pop artist best known for his female nudes painted alongside brand logos.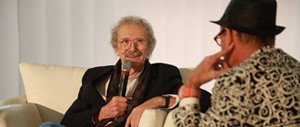 Read More
View The Dialog Lecture Series Videos
5pm – In Conversation With Michael Netter
Speaker: Michael Netter
Dialog: Artist Michael Netter will present excerpts from his 200 videos documenting Andy Warhol and his circle, followed by a conversation about this fertile moment in art history and how it influenced his artistic and commercial work.
Read More
View The Dialog Lecture Series Videos