Visit the fair and enjoy a range of special activities: the celebratory opening preview, an informative lecture, exclusive VIP programming, performance art, and special programs. There is something for the art lover in us all.

Opening Night Premiere Party
Be the first to preview art from over 140 top galleries and taste culinary delights courtesy of LA's finest restaurants. Wednesday, January 15, 2014.

Dialogs LA
An engaging range of art discussions featuring leading voices from today's art world: collectors, curators, artists, writers, and a cast of prominent art professionals present on a scintillating mix of current, up-to-date, topics.

A special section of project spaces showcasing engaging exhibits current to the art world interests of the day.

LA Art Show Tours


Get even more out of your LA Art Show experience by taking a docent led tour of the show in English, Korean or Chinese.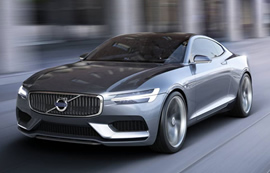 Special Exhibition by Volvo, LA Art Show 2014 Corporate Sponsor


Volvo commissioned California photographer, Tom Lamb to assemble two exhibitions curated by Henry Korn that showcase art and artifacts exemplifying the company's commitment to design excellence and environmental sustainability. The aerial landscapes comprising Marks on the Land and the thematically related contents of a companion interpretive exhibition, Art on the Road, document Tom Lamb's journey as a photographer and environmentalist. Marks on the Land features remarkable large-scale color photographs taken from hovering helicopters or speeding automobiles. Art on the Road comprises smaller photographs in black and white by Walker Evans, Ansel Adams, Robert Heinecken and Aaron Siskind collected by Tom Lamb, as well as, telling examples of "Madmen" era automobile industry promotional photographs displayed beside Tom Lamb's fully restored 1962 Volvo-Jensen P1800 coupé.
Read More
Check out Volvo's Concept Car's
www.VolvoCars.com/us

Copyright © 2014 Palm Beach Group. All artworks copyright of respective owners. Please contact the LA Art Show office for photo credits.