Never before has Chinese contemporary art been so widely known and acclaimed as it is today. In the past few years in particular, a dynamic array of Chinese contemporary art exhibitions have been held in various first-rate museums and galleries in the Western world, drawing significant attention from collectors worldwide. In addition, nearly every recently published book on art history contains chapters about Chinese contemporary artists.

The 2014 LA Art Show's featured China Exhibition is themed Hues of China, conveying focus, reflection, and diversity, which is an exact depiction of China's art circle today, so vigorous, innovative, and diverse.

If fixed in a 1990s mindset, one will not be able to understand the rapid changes happening in today's China and the younger generations' artwork. Artists born in the 1950s and 1960s dwell more on retrospective thinking and a mental digestion of their past experience and memories, while those born in the 1970s and 1980s shift their focus to a broader range of topics, including daily life, individual space, and external changes.

Hues of China, this year's exhibition, apart from displaying work from artists born in the '50s and '60s, will put the spotlight on younger generations.


A Mixed Delight
The first section, A Mixed Delight, offers a refined collection of work from three different top-notch galleries. Wang Xiaosong, from Author Gallery, is one of the rising stars in abstract art. Breaking the traditional rules in 2D art, he uses a tapestry of bouncing and swirling brush strokes to create a relief-like effect. Dots on his painting look like a hustling group of interdependent individuals who stack up against each other and expand at different levels, creating something analogous to an ant colony, or the world in which we are living.

Highway Impression by Lin Peng from Art Trend explores a more serious question. Flyovers have changed the shape of cities, as well as their speed and purity. Surrounded by exhaust fumes, people seem to have lost themselves. Big Family by Lei Qiaobin expresses a view that even though we come from one big family, each individual has to deal with their own existence.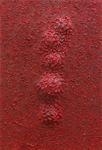 Wang Xiaosong
Breeding II, 2013
Oil on canvas
150 x 100 cm
The soul of the flow and the flow of soul in their respective path changes, breeding, expanding, and even rupturing.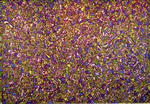 Yi Ling
Flowers So Red, 2013
Mixed media
140 x 200 cm
Flowers So Red by Yi Ling from Shanghai Tianqing Gallery is a calm and abstract narration of worldly things.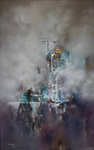 Lin Peng
Highway Impression, 2013
Oil on canvas
120 x 80 cm
A look at the familiar city to accelerate change, but everything is lost in the smoke.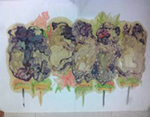 Lei Qiaobin
Big Family No.17, 2008
Oil on paper
110 x 160 cm
Even though we come from the same family, each life will face their own survival alone.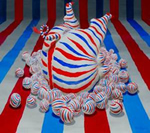 Guo Kaijun
The Joy, 2013
Acrylic on canvas
80 x 100 cm
A kind of irony, a kind of dignity, and a deep deviation from reality.
Young and Reckless
Shanghai Art Fair has always been dedicated to introducing the world to new talented artists. In the Young and Reckless, one of the sections of the Hues of China Exhibition, young Chinese artists, filled with passion and daring originality, will share their life experiences and unique insight into today's fast-changing world through the medium of art.

For example, a series of artwork like September in Shanghai by Shanghai Normal University and Narration-Space by Hubei Institute of Fine Arts have depicted, from different perspectives, the limited individual space of China's moderately well-off urban citizens. The former is more symbolic, filled with ambition, expectation, and anxiety for the unknown future.

The artwork series New Urban Fables by the College of Fine Arts, Shanghai University, further reveals the inner world of the contemporary generation. In their work, there are no heroic epic or revolutionary storms, but only a common concern about globalization, our future home, the environment, and dying cities. Love Bird, by depicting a scene of daily life, mirrors the isolation between people and what they long for. In contrast, work from Nanjing Normal University, like Quilt, Motorcycles, and Desk Lamp, share an intimate personal experience by presenting privately-used objects with a touch of warmth, which will trigger a rush of association on the part of the audience.
Zhong Zixin
Girlfriend, 2012
Photography, needle, canvas
50 x 50 cm

Feng Zhijia
Loser, 2012
Acrylic on canvas
50 x 60 cm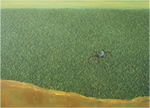 Liang Hong
The Memory of Childhood, 2013
Oil on canvas
100 x 100 cm
Perfection in Porcelain
In Perfection in Porcelain, modern porcelain production techniques and new designs will be displayed. Combining tradition and innovation, artists strive to raise the art of porcelain to a new level of perfection. Black and White by Zhao Kun delivers a quality of vividness and straightforwardness. Horse by Zhao Kun from Suixuan Art Center is an elegantly simple yet lively illustration of a magnificent horse.

Xiong Jun and Xu Lan, by using new techniques, rewrite traditional topics and offer a new interpretation of the old aesthetic values.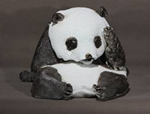 Zhao Kun
Black and White--National Treasure
Porcelain
26 x 36 x 36 cm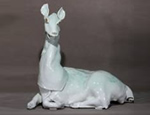 Zhao Kun
Deer
Porcelain
42 x 38 x 26 cm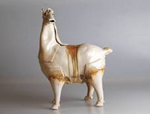 Zhao Kun
Horse
Porcelain
43 x 35 x 19 cm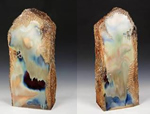 Xiong Jun
Mountain I & II
Porcelain
48 x 16 x 16 cm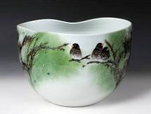 Xiong Jun
Homeland
Porcelain
16 x 50 x 40 cm
Organized by:
Shanghai Oriental Huiwen International Cultural Service Trading Co., Ltd.

Supported by:
Bureau for External Cultural Relations; Ministry of Culture; People's Republic of China; Shanghai Municipal Administration of Culture, Radio, Film & TV; National Base for International Cultural Trade (Shanghai)

Special Thanks to:
Blue Sky Communications, Inc.