When artists, art collectors, and art lovers come together, it's time to get social.
The party continues after hours! Together with our partners,
we are pleased to present a diverse series of After Parties for your full enjoyment.
VIP Red Card events are for VIP Program members only.
2021 program will be announced in June

2020
Vienna Meets LA
Gallery 825
825 N La Cienega Boulevard
Los Angeles, CA 90069
Reception: Saturday, February 8, 2020
7:00pm – 10:00pm

A very special exchange exhibition featuring Los Angeles artists and artists from the gallery Steiner in Vienna, curated by Corinna Steiner. Exhibition runs February 8 – 11, 2020.

All are welcome!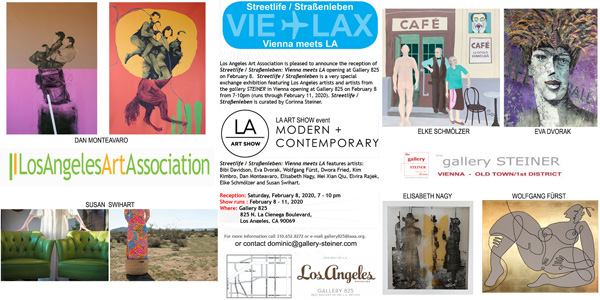 Cocktails, Art + Bites
The Culver Hotel
9400 Culver Boulevard
Culver City, CA 90232
Gallery Level
Thursday, February 6, 2020
7:00pm – 10:00pm

The historic Culver Hotel invites you to an evening of cocktails, art and bites. Join us as we celebrate 25 years of the LA Art Show and the creative spirit of our city.

VIP Red Card event. By invitation only.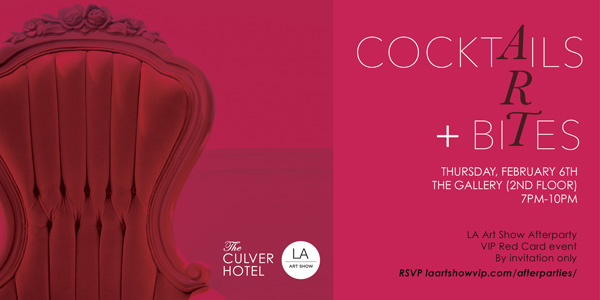 OUE Skyspace LA VIP Night
633 West Fifth Street
Los Angeles, CA 90071
Friday, February 7, 2020
7:30pm – 10:30pm

LA Art Show and OUE Skyspace invite you to enjoy LA's unparalleled 360° views from California's tallest open-air observation tower. Take in the city lights and go for a ride down the thrilling all-glass Skyslide. Celebrating the 25th Anniversary of the LA Art Show, it will be a fabulous evening of delectable hors d'oeuvres and cocktails.

Suggested Parking: We encourage all guests to park at the Westlawn Parking Garage at 524 S. Flower Street. From there it is a short walk across the street and up the Bunker Hill Steps to the Skyspace Lobby. The Westlawn Parking Garage offers a flat rate of $8. For guests staying at the Millennium Biltmore Hotel located right across the street, we suggest walking to OUE Skyspace LA.

VIP Red Card event. By invitation only.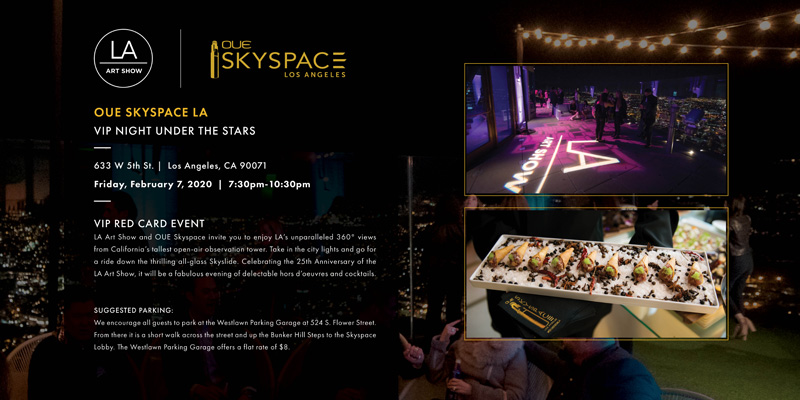 A Celebration Of Art – Silent Murmurs Arushi Arts
1515 North Gardner Street
Los Angeles, CA 90007
Saturday, February 8, 2020
7:00pm – 10:00pm

Enjoy a special presentation by Arushi Arts. "Silent Murmurs" celebrates works by senior Indian artist Shobha Broota. The stunning beauty of Broota's concentric rings, repeated dots, fanning diagonals, and other structures, all rendered in vivid, gentle hues at once reticent and seductive, relaxes the mind's critical defenses without disarming them. Wine and hors d'oeuvres will be served.

VIP Red Card event. By invitation only.