For 2020, Marisa Caichiolo's curatorial focus for DIVERSEartLA will be expanded to embrace and celebrate those art institutions and art collectors who support LA's blossoming art community.
DIVERSEartLA is dedicated to bringing together some of the most important local and international art institutions, museums and non-profit organizations for an elevated and thoughtful dialogue.
The communities of Los Angeles reflect an impressive variety of ethnic backgrounds, and it's iconic natural environs are equally varied and vast. To honor this unique biodiversity we are focusing on the representation of contemporary artists from around the world as a part of each institution.
As we approach the 2020 US presidential election, I believe the importance of this year's curatorial focus should remain committed to fostering and learning about the organizations supporting inclusion and diversity.
DIVERSEartLA will be expanded to embrace and celebrate those art institutions and art collectors who support LA's newest and largest iteration of art community, as well as to create a strong conversation around a variety of events and programs. Thus serving as a platform and resource for diversity best practices and leadership, including ALL of Los Angeles's communities.
This year, we are thrilled to celebrate the 25th anniversary of the LA Art Show with a magnificent event that will reflect LA's expansive natural habitats and cultural diversity, as well as DIVERSEartLA as an essential part of making museums and cultural institutions models for pluralistic communities. There is nothing more important than inclusion in a moment where U.S. political and social culture is defined by division.
Pyramids by Gronk
Curated by Chon Noriega
Presented by LACMA & UCLA Chicano Studies Research Center

For his new work called "Pyramids," L.A. artist Gronk will be re-imaging the opera stage he originally designed and painted in 2013 for Peter Sellar's adaptation of Purcell's semi-opera "The Indian Queen (1695). That work connected Purcell's fanciful notions of the Conquest with current issues of immigration and authoritarianism. During the run of the LA Art Show, Gronk will be painting on a full-size mock-up of a theatrical stage, providing visitors with a behind-the-curtain view of his artistic practice as well as of the set making involved in performance and media culture. Unlike a theatrical performance, the set design will be completed only after the exhibition closes and the audience is gone. Rather than see a finished work, visitors will be able to interact with the artist, participating in the process of making a "political theater" for our contemporary moment. Programs will include a dialogue between Gronk and Peter Sellars, and an impromptu performance, both using the theatrical space created by "Pyramids."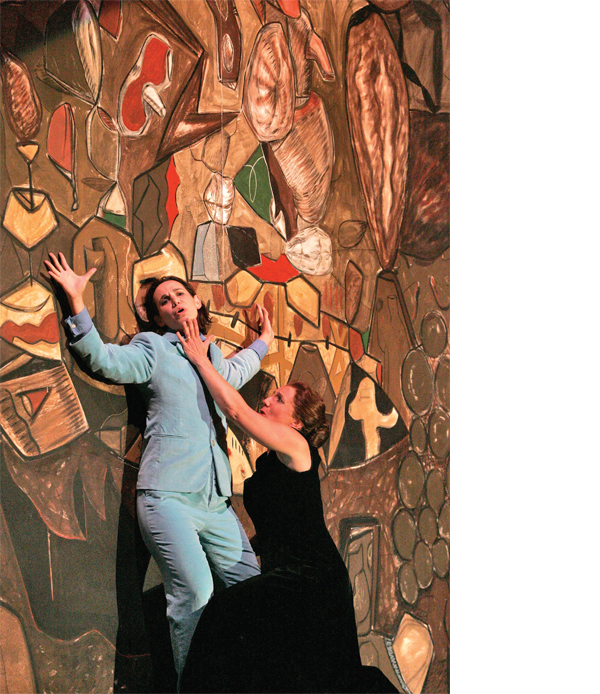 I See You, I Am Seen: On the Impact of the Diversity
Curated by George Luna Peña
Presented by The Broad

In recent years, initiatives to diversify art museum staff have accrued considerable currency. Although more work is still needed, the calls for greater diversity have rippled through the art world. In Los Angeles, The Broad has been a leading institution in this work through its innovative Diversity Apprenticeship Program (DAP). A full time, paid apprenticeship in art handling and preparations for those underrepresented on museum staffs, the DAP is shifting demographics and changing the landscape of equity in the museum field.

Taking its title from a speech by educator and former Black Panther party member Ericka Huggins to the American Alliance of Museums, this space features immersive photography and video which highlight the first-hand experiences of DAP participants as they build museum careers..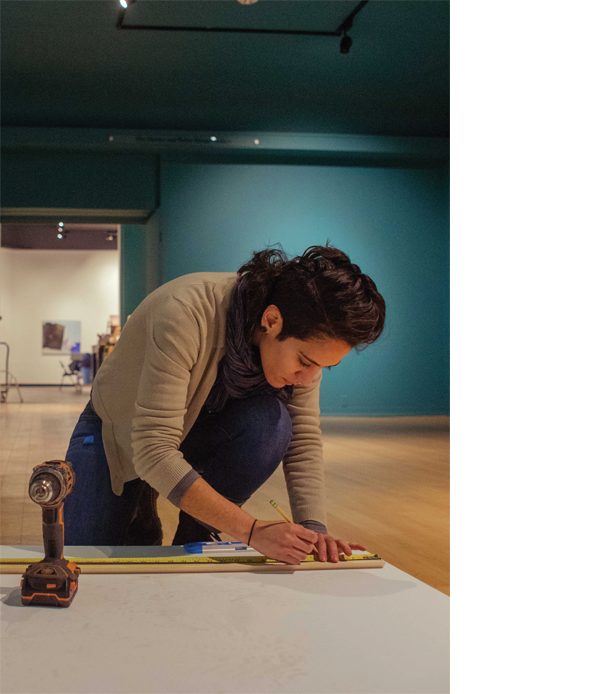 The Birth of the Niemand
by Viktor Freso
Curated by Marisa Caichiolo
Presented by Danubiana Museum | Bratislava

The Birth of the Niemand consists of monumental large sculptures. They represent a whole range of negative emotions that people try to hide in their lives, such as maliciousness, inferiority complex, and unhealthy self-confidence. The artist studied in Bratislava at the Academy of Fine Arts and Design in Bratislava and in Prague at the Academy of Fine Arts. Frešo belongs to the most remarkable figures of the contemporary art in the region of the former Czechoslovakia, Europe. His work and overall approach to art is rather untypical but at the same time they reflect the situation in the society and culture.

The artist creates sophisticated concepts and projects presenting them as seemingly simple closed "Pieces of Art". He is often critical in his works and aggressively expresses his contempt of the art scene itself and its processes but with a light, humorous and playful undertone. One of the most fascinating elements of his creation is the seeming counterpoint of emphasis on huge, grandiose EGO connected with a Gesture in combination with disarming self-ironic humility. His ability to reveal dark sides of his soul, or stumbles and throws them to the world regardless of consequences, shifts the author ́s concepts to broader possibilities of perception of the reasons of his work. Viktor Frešo is interested in direct, efficient, visual tools. He creates a certain space between action- reaction and the conditions of quick recognition of relations between the expressing of me and the indication of others.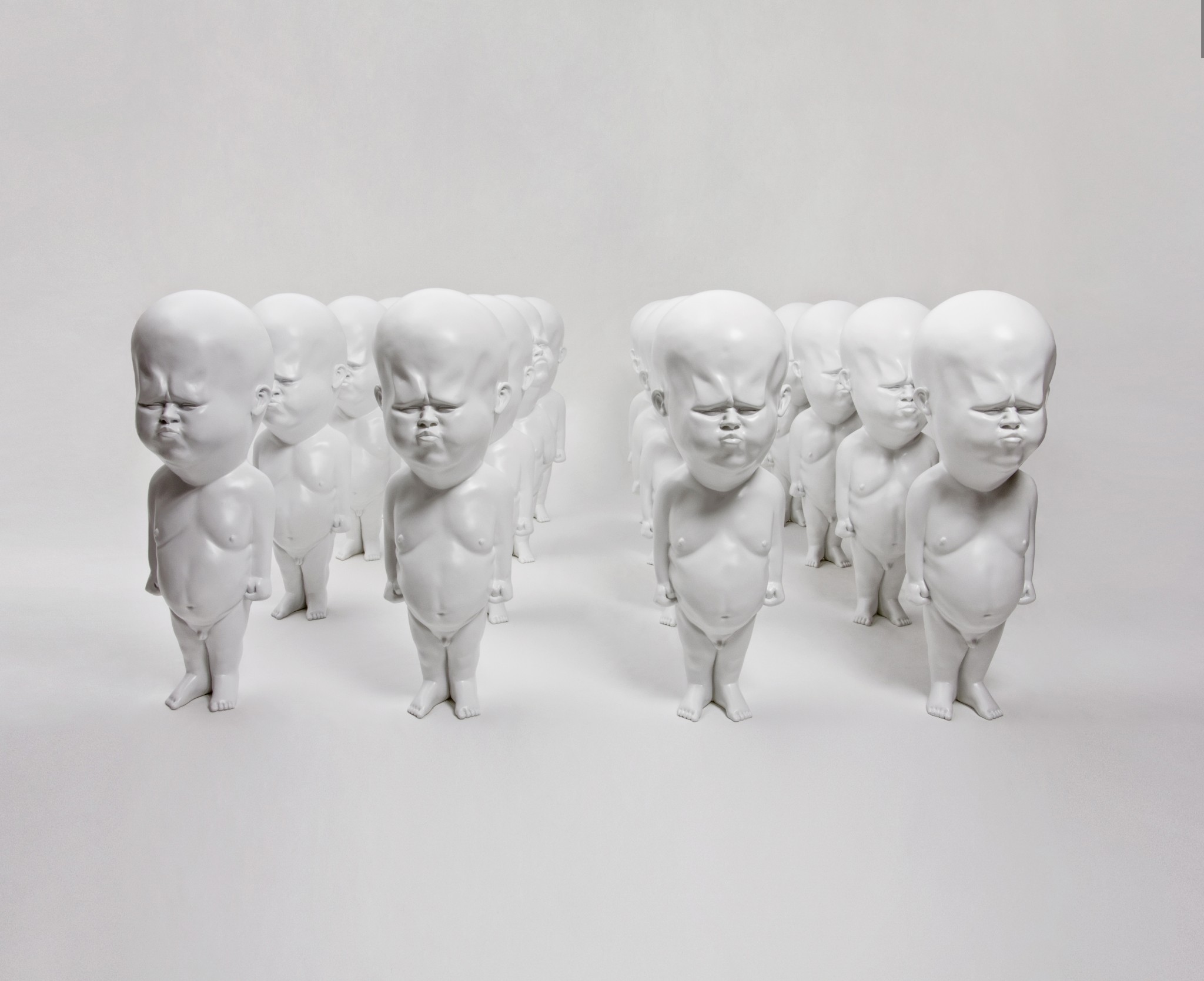 From The South
Portraits: Punta Arenas and Valparaíso
By Vicente González Mimica
Curated by Fabian Goncalvez
Presented by AMA | Art Museum of the Americas

The artist presents black-and-white portraits from two cities in the south of Chile. Like in the Charles Dickens novel A Tale of Two Cities, one city (London) is described as law-abiding and orderly— analogous to how the artist presents Punta Arenas—and is contrasted with a largely politically agitated city (Paris), which is how González sees Valparaíso. As the artist describes: "The city is violent to me at first sight, perhaps with the character of who has made himself. It grows every day like the jungle that penetrates its streams in all the hills that make it up to reach the sea. It is not planned, it only occupies the spaces left by nature, like plants in an abandoned garden."

In González's Liceo series, he celebrates the individual achievements of each student, while seeing the fruits of hard work of families, teachers, and friends. They have been suspended in a time defining adolescence and hope. These students' portraits in school uniforms, in long Liceo hallways and in workshops wearing trade uniforms, is reminiscent of a hopeful past. It is as if González were evoking the ancestors who arrived to these shores to fulfill dreams and prosper. As Alfred Doblin wrote on August Sanders' portraits of German people: they are a maximized expression of the combined efforts of a social class, where the greatest achievement is the taming of individuality. He adds that it was their desire to succeed that brought them to this point, and that belonging to this place ultimately held them back as people.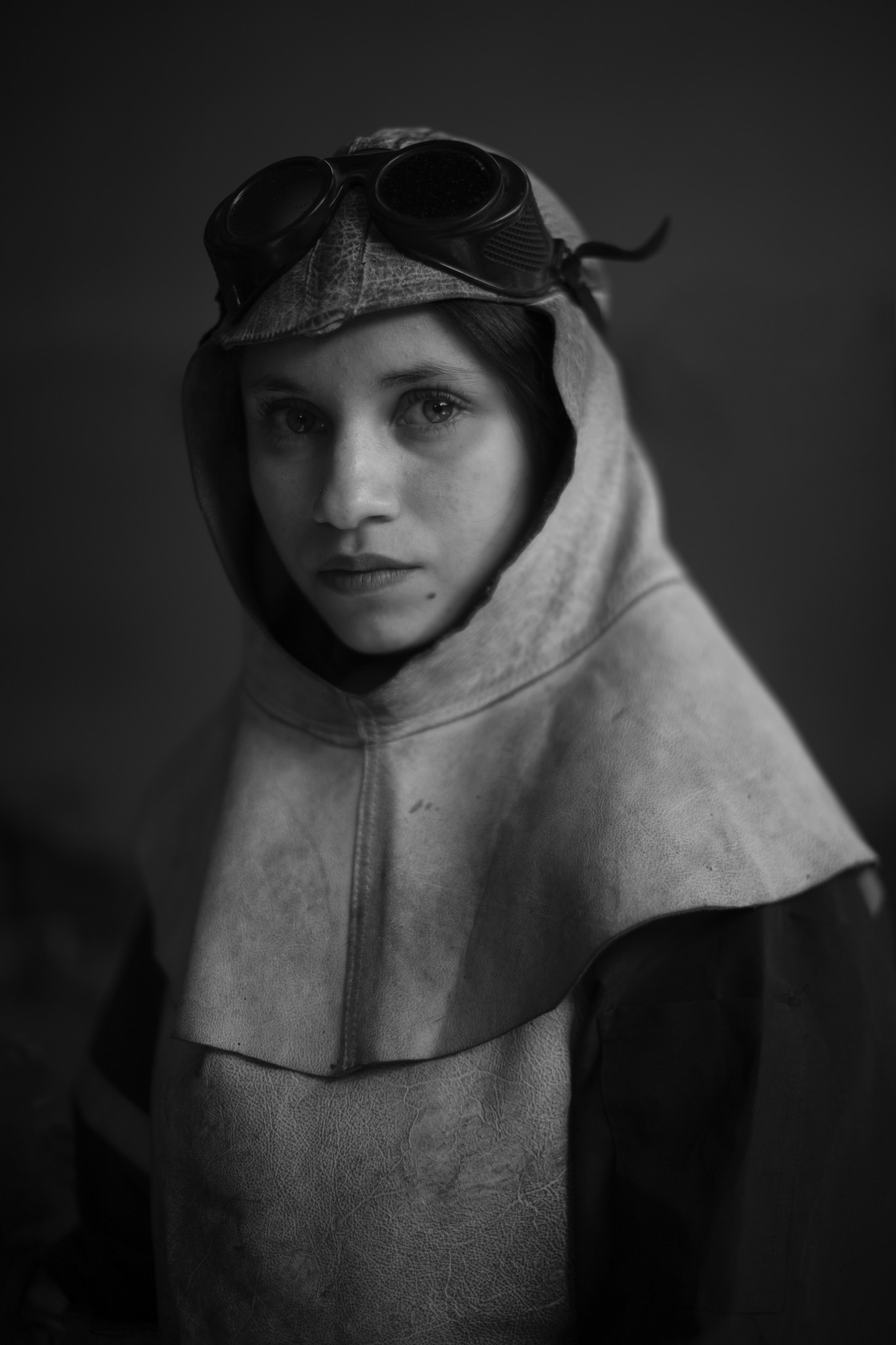 Dactiloscopia Rosa: Video Art and QUEER Constructions
Curated by Nestor Prieto
Presented by Museo La Neomudejar (Madrid, Spain)

The exhibition will be from the archive materials, documentations and teachings from the transfeminist/Queer archive of the Museum, didactic materials from the constructions of social movements that managed to pass the social perspective that existed on the LGTBQ community in the 70s, 80s and 90s in Spain under Franco Dictatorship, the audiovisual material is a compilation of demonstrations, celebrations and activisms, vintage posters. The first version of this installation outside of the Museum La Neomudejar was in 2018 at the Matadero Space in Madrid, parallel to the world pride celebration in the city.

It will be a chronology of the movement of sexual liberation / LGTBQ in Spain (1970-2016)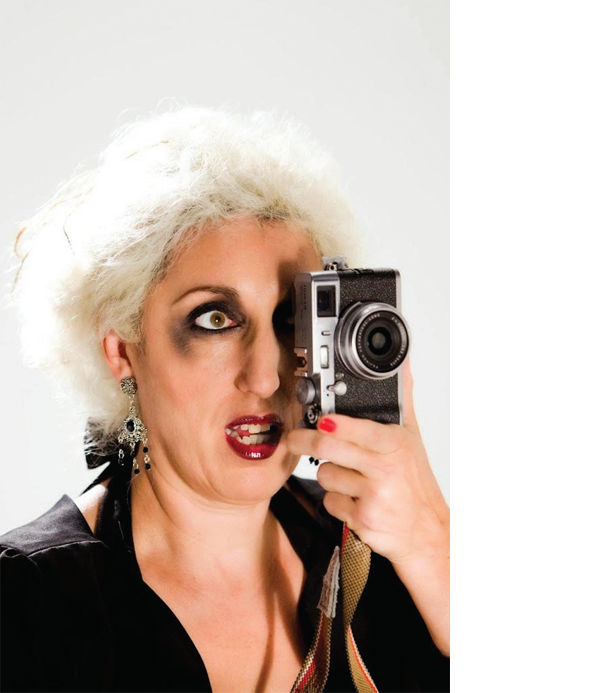 Celebrating Diversity
By Chiachio & Giannone
Curated by Gabriela Urtiaga, Chief Curator at MOLAA
Presented by MOLAA | Museum of Latin American Art

In order to commemorate local and international LGBTQ+ communities around the world, the Museum of Latin American Art (MOLAA) is presenting a special installation about diversity and pride in collaboration with world-known Argentinian artistic duo, Leo Chiachio & Daniel Giannone. The presentation includes the 120 ft. long textile flag, MOLAA's new acquisition "Californian Family in Six Colors 1" and a recorded interview about their creative process. These artworks were created by the artists at MOLAA where more than 3,000 members of the Long Beach and Los Angeles community collaborated in the creation of the flag. The creation of this work of art took place during the artists' MOLAA residency between March and June, 2019. Visitors and community members were invited to contribute with the construction of the work of art by adding their own messages about the meaning of diversity and acceptance. The banner was carried by over 100 volunteers at the Long Beach Pride Parade and exhibited at the event Pride at The Port in San Pedro, CA. The Museum highlights underrepresented voices of Latin Americans and Latinos in the US and around the world. This installation represents the commitment of MOLAA towards the values of diversity and inclusion for all through the arts.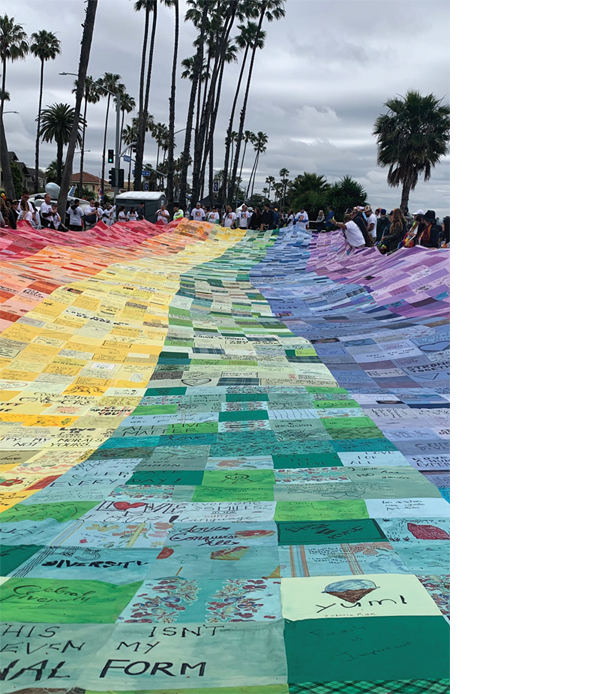 The True Love of Collecting
How Collectors Reshape the International Art Scene
Curated by Marisa Caichiolo & Elisa Massardo
Presented by Arte Al Límite (Chile)

It's no mystery that many of our museum experiences are led by visionary collectors who have either made significant donations or opened new museums to exhibit their extensive art collections.

Art Collectors shape the international contemporary art scene because of the unique decisions and thoughtful connections with other art enthusiasts and art market players.

AAL Magazine from Chile will bring an exhibition that explores the Subjectivity of Collecting in the contemporary art world today.

It will reveal the mystery behind the passion of collecting, and focusing on the question about what exactly makes them fall in love with an art piece. Collectors recognize the value that artists bring to communities, and bring them to the light of other art professionals and art institutions.

COLLECTORS & ARTISTS
Collection AAL, Chile – Bernardo Oyarzún
Collection Ca.Sa., Chile – Mono Lira
Collection AMA Foundation, Chile – Enrique Ramirez
Kim Martindale, USA – Raphael Montañez Ortiz
Lidia Rubinstein, Argentina/USA – Mariana Telleria
Kai Loebach, Germany/USA – Ricardo Alcaide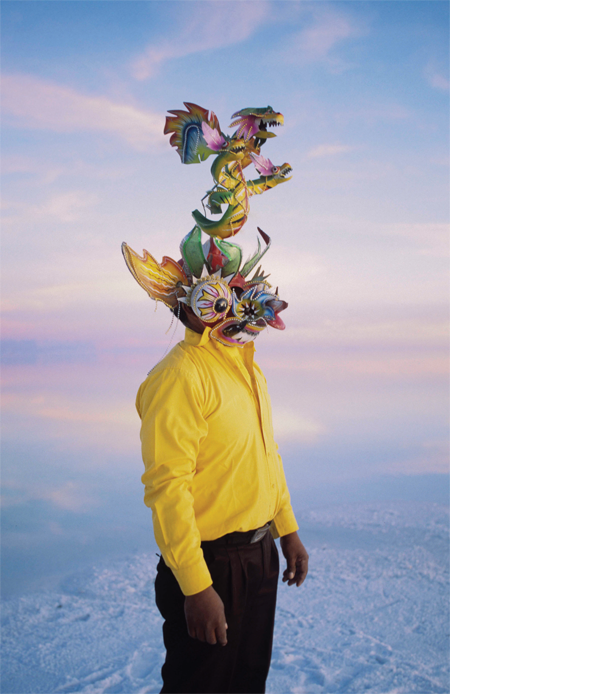 Art Collector: Homeira Goldstein
Artwork By Tim Tompkins
Curated by Marisa Caichiolo
A descendent of the Qajar Royal Dynasty in Middle East, a multitalented force dedicated to creativity and arts, and an avid contemporary art collector, Homeira Goldstein has built an unrivaled reputation championing national and international artists promoting art and culture in Greater Los Angeles. As the Chairman of the Board of TIME4ART, she has been instrumental in creating opportunities for artists to reach public audiences using traditional and innovative venues, such as art centers, pop-up venues, open spaces, and private homes.

The inspiration for Timothy Tompkins's work is the reflection of both physically and metaphorically a relational narrative which dissolves into form and color. This effect endeavors to mimic the layers of codes and semiotics of an image while simultaneously asking the viewer to participate in an expanded dialogue of contemplation and connotation of content. Additionally, the paintings attempt to reflect the influences of contemporary society, such as consumerism, mass media, and digital culture. Tompkins's interest in both the language of painting and contemporary theories of visual culture attract him to the images produced by various media, as a loose visual connection to painting's history and the medium's influence as a visual communicator.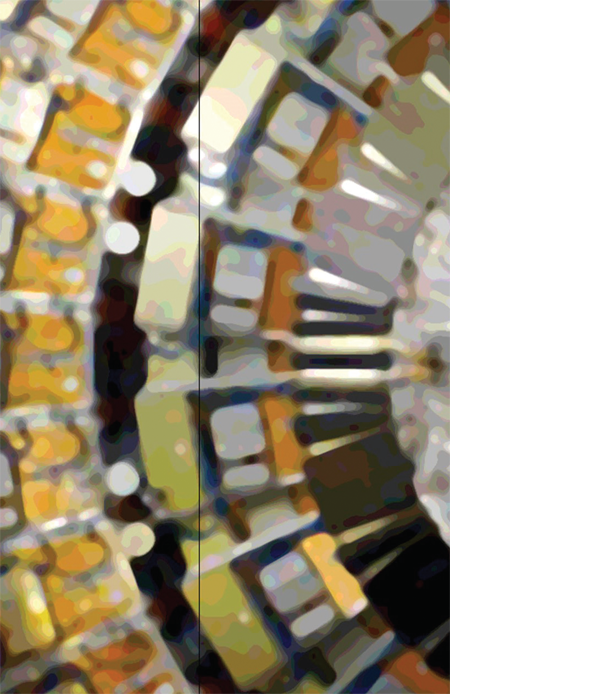 I GOING TO..
(An interactive space intervention): By Adriana Ramirez
Curated by Marisa Caichiolo

Adriana Ramirez is a conceptual artist from Colombia. Her work was part of biennials, exhibitions in different parts of the world inviting the collective to participate in most of her installations. This platform has an axis: Everyone's capacity to decide and become the creator of his or her own destiny, and therefore the responsibility of the community's future. It is based on two premises: the first, is that we do not come to this world only to know ourselves, but also we come to it with the possibility of creating ourselves; and the second, is that every individual is surrounded by a social group and coexists thanks to language.

In order of that, this platform invites people to experience the language`s power to built future realities by declaring: when one AFFIRMS something, language is used to describe reality; it means that words depend on the world which already exists; for instance "Today is raining". On the other hand, when one DECLARES something, language is used to define reality, therefore our world will depend on the words pronounced; for example, "Today, I am going to listen before speaking".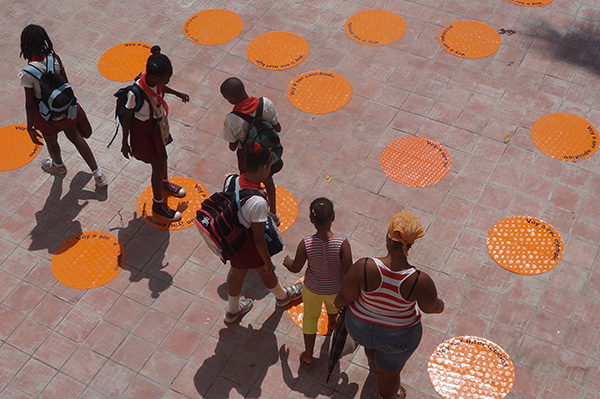 There Could Be A Monster Inside You
By PSJM Collective (Canary Islands)
Curated by Marisa Caichiolo

PSJM is a team of creation, theory and management formed by Cynthia Viera (Las Palmas G.C., 1973) and Pablo San José (Mieres, 1969). PSJM present themselves as an «art brand», thus appropriating the procedures and strategies of advanced capitalism to subvert their symbolic structures. PSJM acts as an trademark of happening art addressing issues of the artwork in the market, communication with consumers, or function as an artistic quality, using communication resources borrowed from capitalism of the spectacle to underscore the paradoxes produced by its unbridled development.

PSJM will present at the LA ART SHOW 2020 the same performance they created for the 58th Venice Biennale context, one of its corporate performances in which uniformed hostesses interact with the public in order to cause startle and reflection. Combining marketing and totalitarianism, using the strategy of "overidentification" theorized by Zizek, the collective presents itself aesthetically appropriating the strategies and modes of seduction of the capitalist system in an authoritarian way.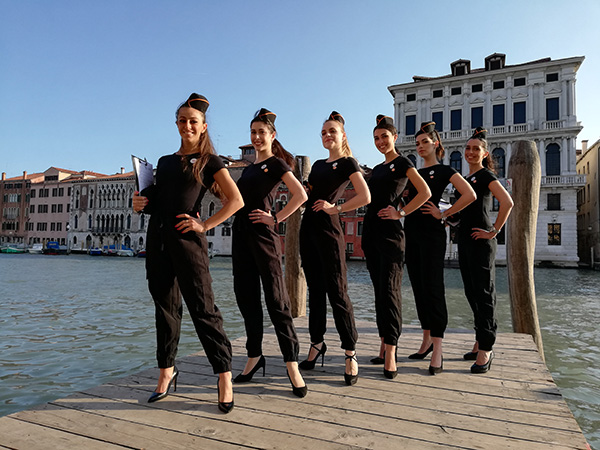 Diversity Walks and Talks
By Miss Art World
Curated by Peter Mays
Presented by Los Angeles Arts Association / Gallery 825

The "Diversity Walks and Talks" performance invites individual proclaimers of LA's culture to strut the runway in celebration of their uniqueness, showcasing LA's diversity. A variety of participants will be pre-selected and interviewed about what diversity represents to them. Their interviews will play during the runway either in video or audio format. Spectators will also be recruited live to walk the runway. A photographer at the end of the runway will document all individuals and their photos will be instantly displayed on a runway wall. This performance, like LA's fashion and celebrity culture, is high energy, fast paced, and confident.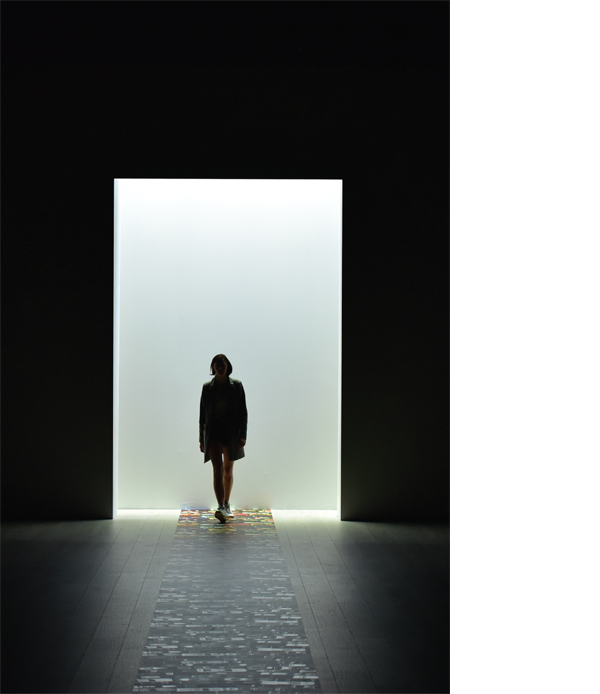 Transcendients:
Heroes At Borders, a Contemporary Art Exhibition
By Taiji Terasaki in Collaboration with
the Japanese American National Museum
Curated by Emily Anderson, PhD
Presented by Japanese American National Museum

TRANSCENDIENTS is a unique collaboration between artist Taiji Terasaki and JANM that honors HEROES AT BORDERS: individuals that advocate and fight for those who face discrimination, prejudice and inequity at borders both physical and conceptual. These heroes, whether known or unsung, inspire their fellow Americans, their neighborhoods and communities, government policy, and social change. By illuminating their stories, we hope to educate museumgoers about their work and inspire a spirit of unity and action in support of democracy and justice for all.

This exhibition spotlights important figures working to overcome and transcend borders that reinforce discrimination, inequity, and intolerance. Whether it be those fighting to rectify human rights injustices and to counter anti-immigrant sentiments and actions, members of the LGBTQ+ community seeking equal rights, women pressing for equal pay, or religious adherents who want to worship in safety, these heroes use their personal experiences to build bridges of understanding that connect us at the core of our collective humanity. It is imperative that those who believe in freedom, fairness, and social justice are emboldened to unite and support the forces of democracy and human decency. These concerns–their echoes in history and their far-reaching future impact–are the impetus for this unique collaboration between artist Taiji Terasaki and JANM.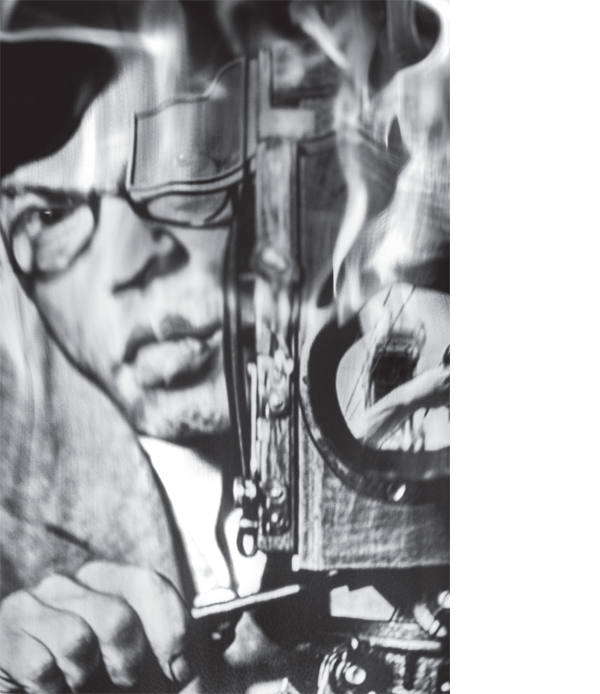 The Parthenon of Books & Rayuelarte: Marta Minujín
Curated by Gabriela Urtiaga
Presented by CCK, Buenos Aires, Argentina
CCK, Buenos Aires, Argentina is pleased to present renowned Argentinian artist Marta Minujín, who arrives with two of her most emblematic art works: The Parthenon of Books and Rayuelarte.

The Parthenon of Books: The return of democracy to Argentina in December 1983 was the inspiration that led Marta Minujín to create a replica of the Greek Parthenon on the "9 de Julio Avenue," a street located in Buenos Aires, Argentina. Mujín's Parthenon has a metal structure covered with more than 20,000 books, many of which had been banned during the military dictatorship. The Parthenon of Books honors the world's first democracy and the values of that era, which have served as the basis for today's Western democratic societies. This work also stands as a symbol of the country's prolonged need and renewed hope to transition back to democracy.
Read More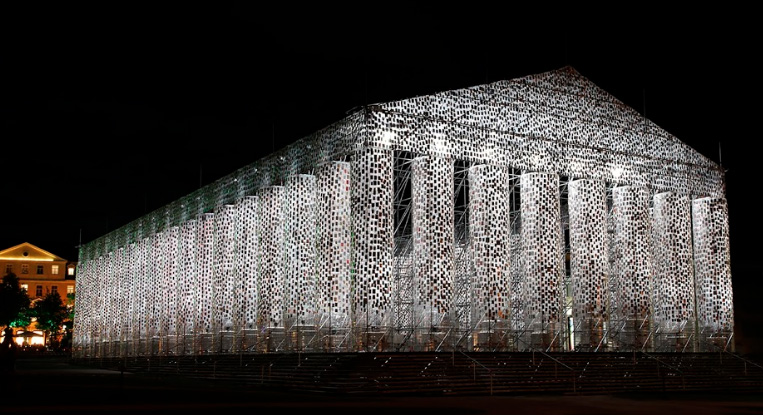 "Memorable Mud" – Installation, 2017: Andrés Paredes
Curated by Gabriela Urtiaga
Presented by CCK, Buenos Aires, Argentina

"Memorable Mud" is a participative installation that draws viewers into a multi-sensorial experience featuring scents, music – exclusively composed for this art work – and a carefully designed system reflecting light through translucent stones. The piece is the end result of an exploratory process that generates two experiences for attendees. The first experience begins as the viewer enters the room and comes across giant clay structures, clay domes with pinnacles and other elements, which hang from the ceiling from a height of 1.4 meters. This landscape acts as a bubble of clay, which is retrieved from the production place. The domes have their own inner world – one which can be accessed by the public through holes located in the lower part. This all acts as a place where the artist's life and personal memories are stored and materialize in clay.

Andrés Paredes's work ranges from drawings and two-dimensional cutting paper to immersive installations, and make up private collections in Argentina and in several countries abroad. He lives and works in both Misiones and Buenos Aires, Argentina.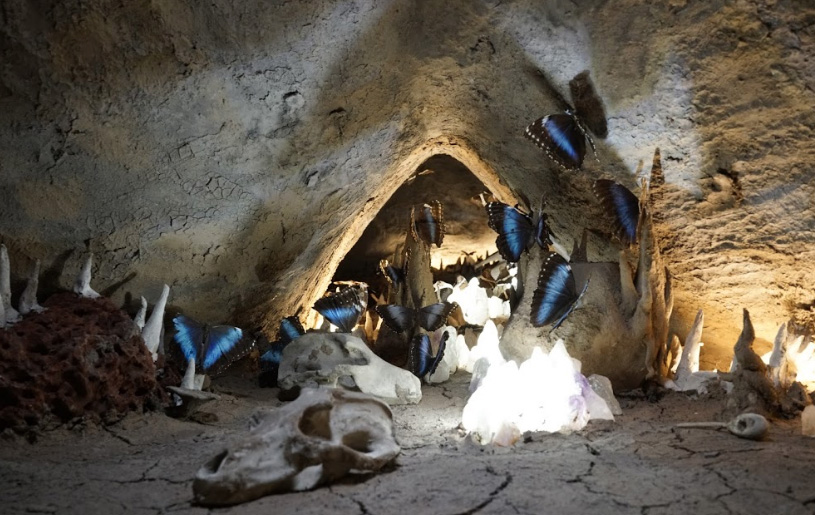 Virtual Futures: XR Showcase
Curated by Britt Salvesen and Jesse Damiani
Presented by Los Angeles County Museum of Art, LACMA
Virtual Reality is one of the most eagerly discussed topics in contemporary culture, yet many in the art world are only starting to consider its impact – aesthetic, technological, psychological, therapeutic, economic, and so forth. This year, DIVERSEartLA offers four VR experiences that demonstrate the range of practices and possibilities that are defining VR in 2019.

Visitors can get a glimpse of the future as seen by four different creative innovators: Wesley Allsbrook, Nancy Baker Cahill, Jorge R. Gutiérrez, and Drue Kataoka.

The tools for VR and AR creation and display – once the purview of engineers, available mainly in academia and the military – are now much more accessible to anyone with a story to tell: game designers, painters, screenwriters, documentarians, journalists, architects, choreographers, and many more. Often working collaboratively across several disciplines, this diverse community of creators is discovering the technology's potential, involving audiences in the very act of creation.

Read More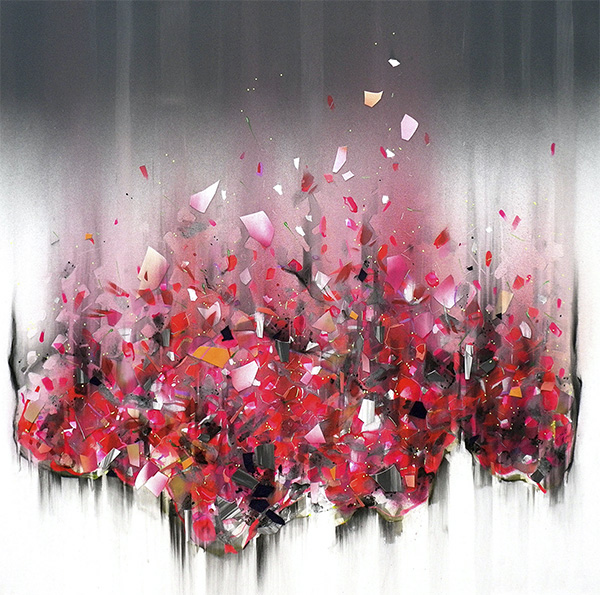 To Make Water: Guido Yannito
Curated by Marisa Caichiolo
Presented by Museum of Contemporary Art of Salta, Argentina,
MAC SALTA
This work is part of a project Hemisphere, created in Antarctica and generating a dialog on the geographical situation (hemispheres north & south) and of the mind (hemispheres right & left).

Antarctica is a radical environment and could be considered a geographic displacement. The hemisphere is presented as an undefined state where the body is situated as an idea of territory and landscape but also as a state of mind.

In the beginning this project consisted of researching the use of fresh water on the Antarctica bases, because Antarctica is the largest reservoir of fresh water on the planet, an ongoing interest of the artist. "To Make Water" is a phrase used by the people working on the base to describe the production of consumable water, because although it is the largest reserve of fresh water, it is very difficult to procure. "To Make Water" is a video filmed the day the members of the base attempted the extraction.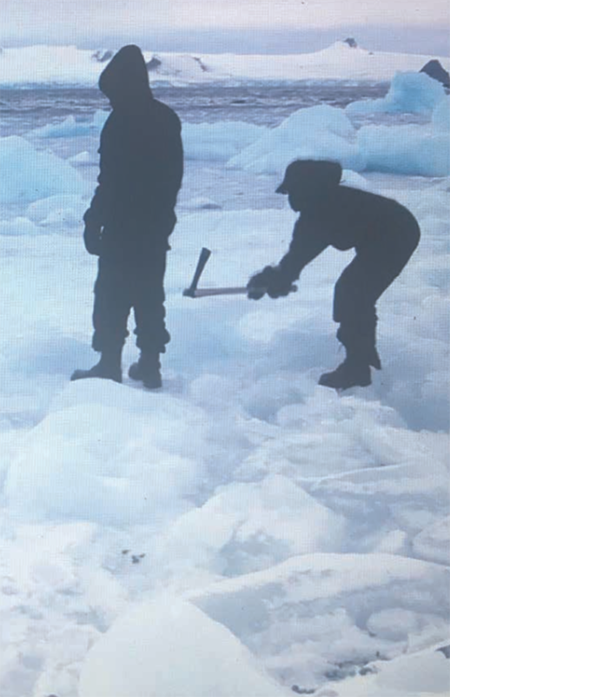 White Lies: Gaston Ugalde, Matilde Marin, Sandra Mann, Fernando Arias
Curated by Elisa Massardo & Daniel Alfonso
Presented by AAL (Arte Al Límite)
White Lies is an exhibition that emerges from the dialogue of visual arts and politics; the visual arts and the reality around the world, where the politic act looks like a manifestation of power that dominates and control the masses and minds, forgetting the initial idea of common benefit and the social welfare.

Arte Al Límite (AAL) promotes the work of contemporary artists from all over the globe, aiming to Foster art circulation, encouraging art collecting and bringing art closer to the community through worldwide activities.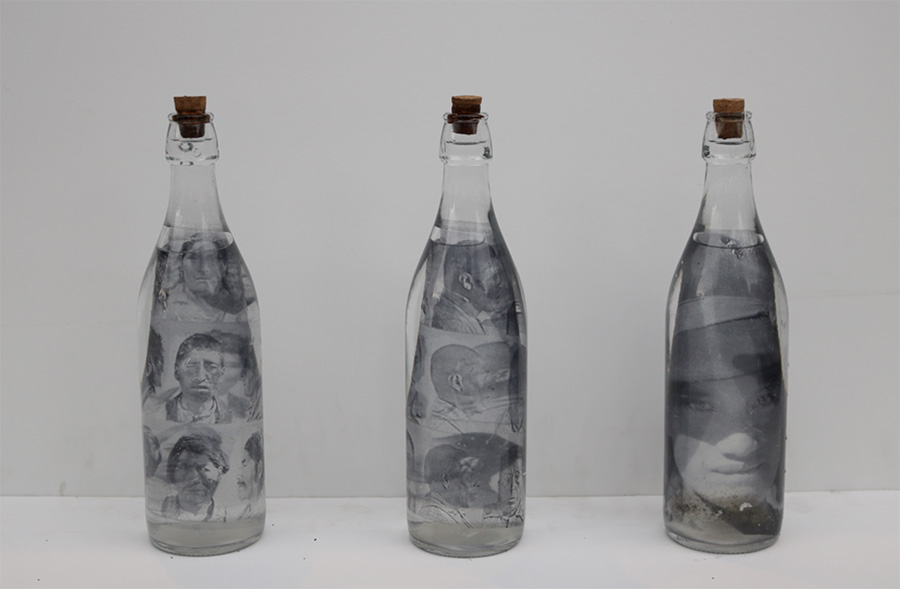 27 Peces/27 Fish, Installation, 2018: Cristian Castro
Curated by Carlos Ortega, Curator of Collections, MOLAA
Presented by Museum of Latin American Art, MOLAA
The Museum of Latin American Art (MOLAA) has selected Argentinian artist, Cristian Castro and his site-specific installation, 27 Peces / 27 Fish, 2018 to highlight the contemporary art of Latin America in the 2019 edition of the Los Angeles Art Show.

Cristian Castro, born in Buenos Aires, Argentina in 1971 and currently based in LA, expresses his artistic talent by repurposing discarded vintage household appliances and old mechanical tools with contemporary designs of his own. In the 27 Fish installation, the artist used 1950s Johnson brand outboard motors for the main body, stainless steel cat bowls, kitchen hinges, nails for the teeth, electrical conduits, fiber glass, custom laser cut aluminum parts molded with a hydraulic press for the fins, and automotive paint with chromed and polished parts to create these hybrid creatures that appear to come from a 19th century vision of the future.

Very much like the Argentinian collective Center for Art and Communication (CAyC) in the 70s and 80s, the artist conceives his installations as a multidisciplinary space in which to explore the relationship between art, science, environment and society. The deep-sea fish in 27 Fish were created in a retro-futuristic style, incorporating kinetic movement and light.

Read More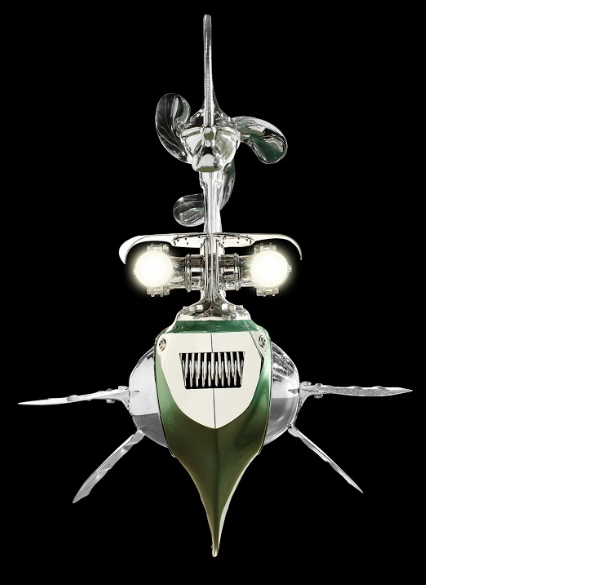 DIVERSEartLA 2017
Raphael Montañez Ortiz
Piano Destruction Ritual: Cowboy and Indian, Part Two
Couch Destruction: Angel Release (Pennies from Heaven)
Shred Your Worries part of FRAGMENTS FROM HOME
Curated By Chon Noriega
Presented by the Los Angeles County Museum of Art (LACMA)
Part of Fragments From Home,
a preview of
Home So Different, So Appealing
Opening on June 7, 2017 as part of the Getty's Pacific Standard Time: LA/LA
THE WORK
There is Passive ART and Active ART. Active ART requires you to participate.
PIANO DESTRUCTION RITUAL: COWBOY AND INDIAN, PART TWO
Participatory Performance. Background Sound Thunder and Lighting. The Piano is a powerful instrument of sound to convey the message of Sacrifice I wish to convey to the Universe. The Sounds of its Destruction gives full voice to Sacrifice: To the Destruction Creation in it cycle of Creation is giving us time to understand the preciousness of Mortal Life that it never be given up to or for Sacrifice of any kind…
View Couch Destruction: Angel Release (Pennies from Heaven)
Read More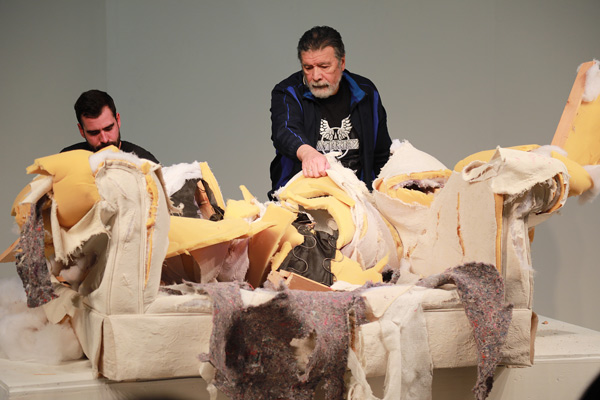 Carlos Martiel | Cauce/Riverbed
Curated By Marisa Caichiolo
THE WORK
In his work "Cauce/Riverbed," the artist exposes the significant challenges faced by immigrants in California and the larger United States. Martiel digs deep into the nature of undocumented immigration and shows how it impacts the lives of some eleven million individuals and their families in the world's most powerful nation.
His performance is a window to the human tragedy that grossly affects immigrants with low-education levels and limited English language skills, who come to the United States risking their lives as they venture into the dangerous desert in an attempt to cross the Mexico-US border. As Martiel shows, despite the highly-publicized "American Dream," for these poor and uneducated immigrants, making it alive into US territory does not necessarily guarantee access to better opportunities or to a higher quality of life.
Read More
Show More