2018
Metaphysical Orozco: José Clemente Orozco
Curated by Laura Ayala, MUSA
Co-Curated by Marisa Caichiolo
The Museum of the Arts of the University of Guadalajara, Mexico (MUSA) presents Metaphysical Orozco, shown for the first time ever in the United States.

The images, projected by a multi-layer mapping, belong to the murals made by the artist between 1935 and 1937 at the auditorium known as Paraninfo, inside the building in which is located the Museum of the Arts.

The installation involves the public in an exploration of the fields of thought found within Orozco's murals, as well as the history and themes that inspired them.

The projection of the master works will be accompanied by a musical soundtrack, giving visitors a comprehensive sensory experience that will be complemented by informative graphic material.
Read More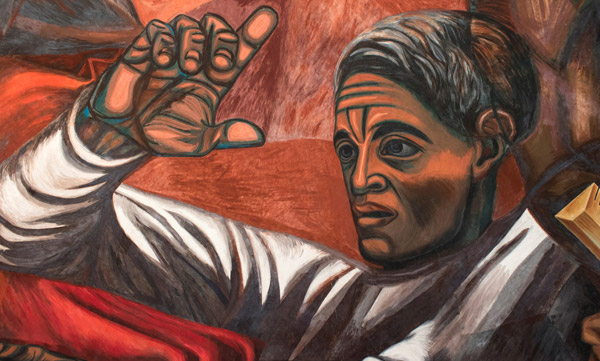 Especular (Threshold): Leyla Cárdenas
Curated by Chon Noriega
Presented by LACMA and the UCLA Chicano Studies Research Center
The Colombian writer Manuel Hernández B. defines his nation's capital, Bogotá, as a permanent threshold that announces the promise of a place that never arrives. Leyla Cárdenas's Especular provides a real-world yet ghost-like image of this insight with her set of photographic prints of Bogota's neoclassical train station façade.

First built in the late 1880s – concurrent with the formation of the Republic of Colombia – the station is a once-hopeful symbol of the nation that then became a long abandoned modern ruin. Cárdenas represents the façade with two printed scrims suspended back-to-back from the ceiling, over twenty feet up, and running a similar distance along the floor.

These discontinuous panels are cut to match the different track gauges used in Colombia that made a unified national transportation infrastructure impossible. Especular is part of a series in which the artist documents the architectural remnants of the urban fabric. Cárdenas reflects on these artworks as illustrating "History repeating itself: vicious circles and accumulation of thresholds that lead nowhere."
Read More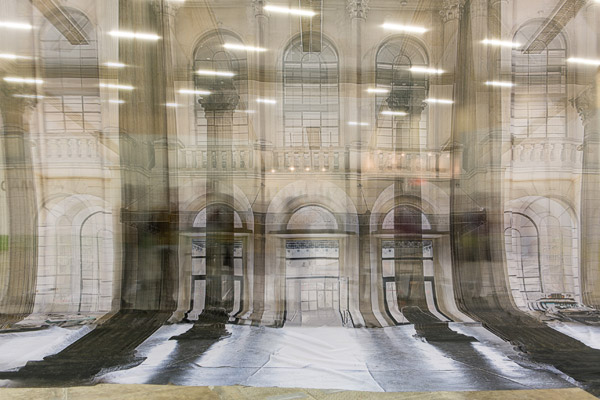 IF YOU DRINK HEMLOCK, I SHALL DRINK IT WITH YOU or A BEAUTIFUL DEATH; player to player, pimp to pimp.
(As performed by the inmates of the Asylum of Charenton under the direction of the Marquis de Sade): Daniel Joseph Martinez
Curated by Chon Noriega
Presented by LACMA and the UCLA Chicano Studies Research Center
Daniel Joseph Martinez's immersive environment references Jacques-Louis David's seminal portrait The Death of Marat (1793), painted and also reproduced shortly after Marat's assassination during the French Revolution. Whereas David's painting represents a single moment, both sanitized and accurate in its details, Martinez creates a mise en scène using three life-like sculptures modeled after the artist's own body. These depict Marat in his bath as well as assassin Charlotte Corday and Martinez himself both standing behind Marat (each with a bloodied dagger in hand).

Martinez stages Marat's assassination as a public spectacle surrounded by bleachers, although viewers can also immerse themselves within the scene, no doubt taking selfies. In this way, Martinez connects David's painting with our present moment, giving a historical dimension for modern politics as a form of theater, sport, and business. But Martinez pushes even further. The Death of Marat quickly became iconic of the French Revolution, not because it depicted a public spectacle, but rather because it circulated a political image that focused attention on the personal and private. Once that happened, politics-as-spectacle was no longer dependent on public space – it was in our minds.
Read More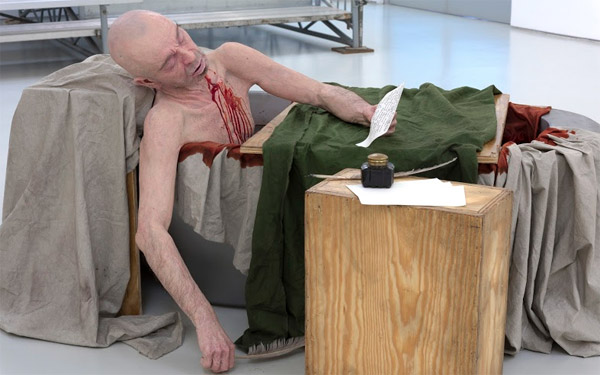 Aporías Moviles: Nuna Mangiante
Curated by Marisa Caichiolo
Presented by The Museum of Latin American Art,
MOLAA
Aporías Moviles, an installation by Argentinian artist Nuna Mangiante, is a multi-media installation featuring portraits with obscured faces on display with various construction and building materials. It speaks of urban transformation as an emerging social reality in Latin America.

"When I elaborate the photos of the objects and the urban landscapes, I subject them to what I want to express, I enclose the meaning with geometric forms in order to help decipher the riddles of my work, transforming them into drawings," says Mangiante. "By isolating objects from their environment, they become symbols of themselves, and when I apply to them a flat graphite cover, a distortion occurs. A distortion always implies a comparison between what is and what is should be. The distortion creates the controversies in the resulting image."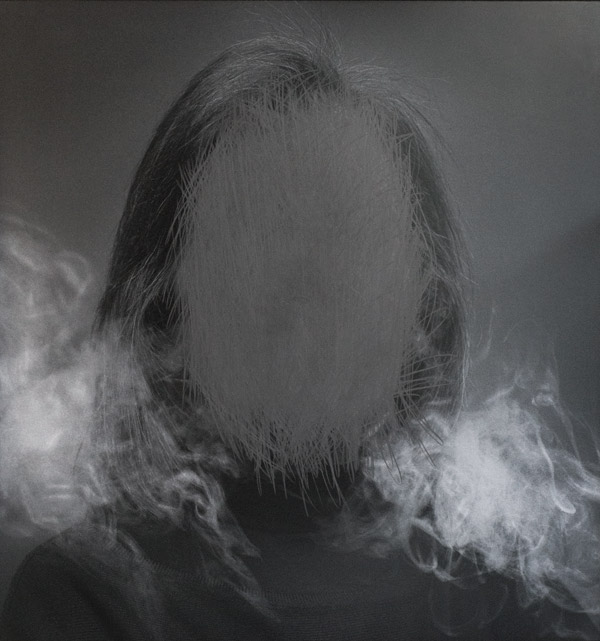 Live Mural: Mateo Romero
Presented by the Autry Museum of the American West
The work of renown Pueblo/Cochiti artist Mateo Romero explores the intersection between post-modern figuration, Native imagery and art historical myths, and the role of self-representation in a post-colonial art world. In a performance that combines cultural commentary and a dynamic working method, Romero will create a live, immersive mural painting destined for the collection of the Autry Museum of the American West.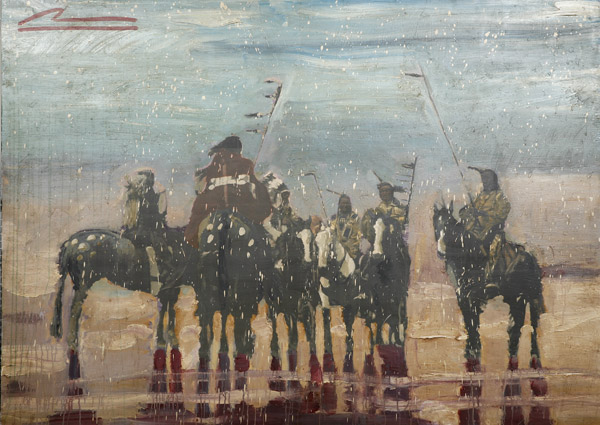 Octopus Brainstorming: Synesthesia
Curated by Marisa Caichiolo
Presented by UCLA Art I Sci Center
Octopus Brainstorming:Synesthesia is a performance/experience work created by Victoria Vesna in close collaboration with neuroscientist Mark Cohen. The work utilizes real-time EEG, brain waves, video, color, sound. They are exploring the possibilities of brain to brain communication. "These are part of the larger area of research into the physical associates of mental processes such as emotions and feeling," says Caichiolo. "It has evolved since to include the idea of embodied intelligence in the form of an octopus crown worn by participants."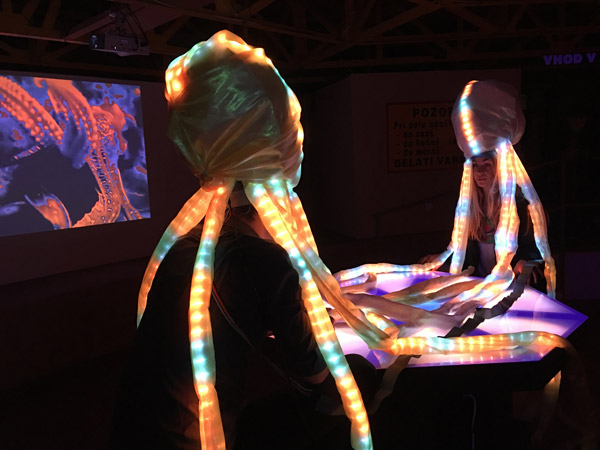 Synaesthesia: What is the taste of color Blue?
Plantigrade
Space Palette
Marcos Lutyens & Tim Thompson/Paul Sable
Curated by Marisa Caichiolo
Presented by Building Bridges Art Exchange in collaboration with
the International Association of Synaesthetes, Artists, and Scientists (IASAS)
and UCLA I Sci Center
Synaesthesia is an inherited trait, like red hair or brown eyes, and is found in less than 3.75 percent of the world's population. It is defined as a cross-firing of any one of the five senses in which one sensory experience triggers additional sensory experiences in one or more of the other four senses.

Synaesthesia does not replace one sensory mode with another; it adds perceptions from another sensory modality to the initial "normal" perceptions. There are at least 60 forms of synaesthesia.

Plantigrade, an experiential installation by Marcos Lutyens, presents patrons with a psycho-synthetic terrain they are invited to walk across barefoot, paying special attention to the sensations of color and texture coming through their feet. This is a sensibility developed by Surrealist writer René Daumal, called paroptic vision, and by extension para-tactile sensing. The project has been enhanced with the collaboration of celebrated author and neurologist, Richard E. Cytowic.

Space Palette by Tim Thompson and Paul Sable is a musical and graphical instrument invented by Tim Thompson that lets you music and paint visuals simultaneously by waving your hands in the holes of a wood frame. No pre-recorded media, sequences or loops are used – everything is generated in real time by your hands.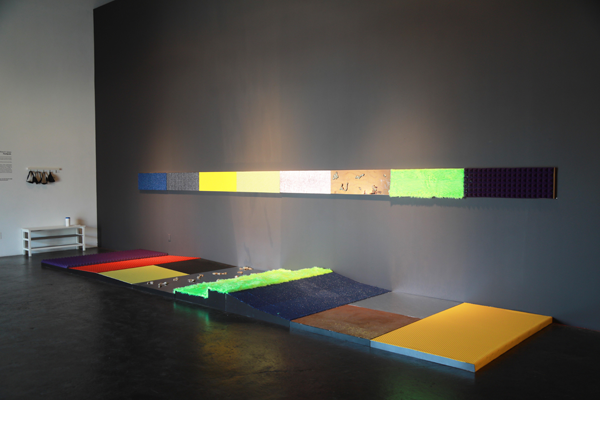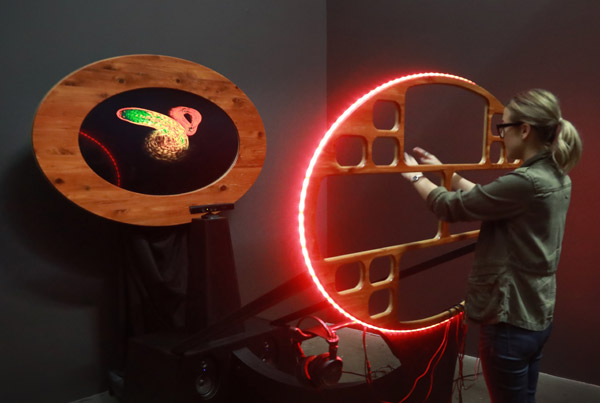 "Left" or "Right"/Punching Bags:Antuan Rodriguez
Curated by Marisa Caichiolo
Punching Bags is a healing project curated by Marisa Caichiolo. The interactive installation depicts different world leaders and tyrants, and will allow the spectator, through the punching of the bags, to release anger, hatred and resentment. This release of negative emotions will transform these objects into tools of detoxification and mental healing.

Current global politics has created an environment of disrespect for humanity and our planet. Lack of harmony, senseless war, violence, racism, ignorance, loss of values and principles, lack of consciousness, super egos and demagoguery, corruption, disrespect of women, false promises, and outright lies.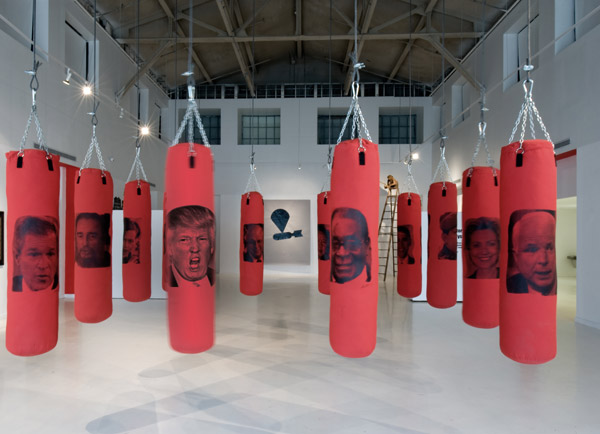 Eyes Forward
Curated by James Panozzo, Founder and Executive Director of Launch LA,
in collaboration with
Mar Hollingsworth, Program Manager and Visual Arts Curator,
California African American Museum, CAAM
Launch LA and the California African American Museum (CAAM) are proud to present a multicultural survey of selected works by ten contemporary artists of color living and working in Los Angeles: April Bey, Chukes, June Edmonds, Loren Holland, Duane Paul, Miles Regis, Ana Rodrigues, Nano Rubio, Holly Tempo, and Tim Washington. Despite their diverse backgrounds, interests, and life experiences, all these artists share an urgency to be heard when addressing contemporary issues of race, class, and gender while expressing disenchantment with the current political and social establishment.

James Panozzo, Founder and Executive Director of Launch LA, in collaboration with Mar Hollingsworth, Program Manager and Visual Arts Curator, CAAM, Los Angeles, selected the artists in this group. The artwork on display includes both two and three-dimensional works, and ranges from figurative depictions to highly abstracted forms, from acrylic on canvas paintings to mixed-media collage, and clay sculptures to assemblage with found objects.
Read More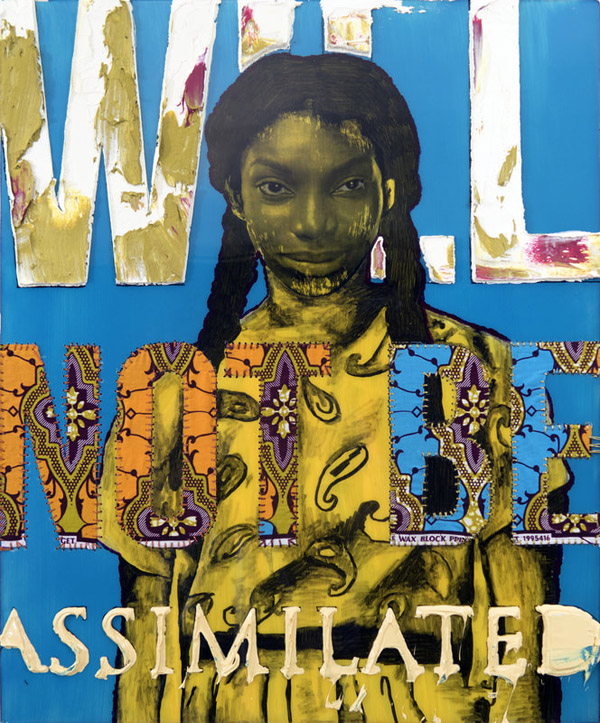 PING PONG
Presented by Los Angeles Art Association
Los Angeles Art Association is proud to present PING PONG, a multi-destination, cross-cultural collaboration featuring artists from Los Angeles, Miami and Basel. PING PONG is an independent exhibition project for contemporary art founded in 2007 to cultivate artistic exchange between Basel, Miami and Los Angeles. This allows collaboration between the Artists, as well as the realization of site specific works in the actual location.

The project documents, explores and stimulates the artistic endeavors of the cities. PING PONG will showcase artists Chung-Ping Cheng, Sharon Hardy, Sue Irion, Gershon Kreimer, Samuelle Richardson, Mette Tommerup and more. This iteration of PING PONG will launch at the LA Art Show and travel to Basel during Art Basel in June and later to Miami during Art Basel Miami Beach.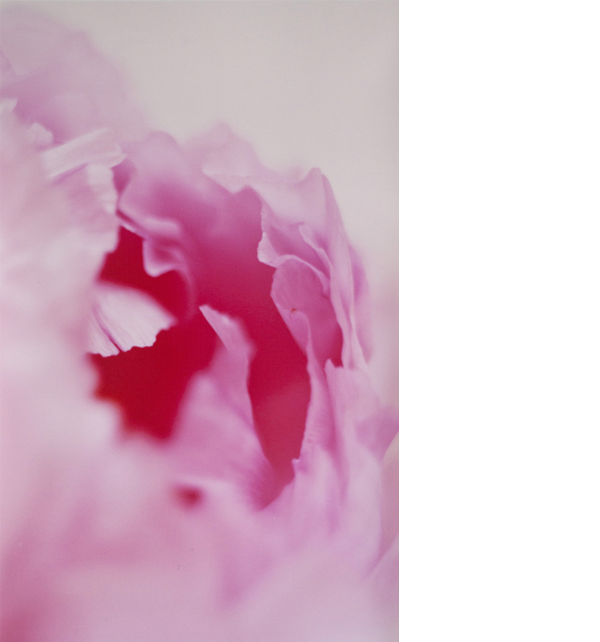 Connection Is The Solution: The Art Of Dan Eldon
Curated by James Trotta-Bono
Presented by Creative Visions
In a time of immense separation and isolation, artists have a crucial role – to connect. Dan Eldon was a great connector. Artist, adventurer, journalist and activist – Eldon used his remarkable creativity as a power for good, a glue to bind a disjointed world. Through the transcendent nature of Eldon's work, titled "Connection Is The Solution: The Art of Dan Eldon," we will explore the need to join together from one of our time's great creative activists.

Eldon's art has inspired countless and is in many prestigious private collections, including those of Diana Rockefeller, Bruce Weber, Madonna, Julia Roberts, Christiane Amanpour, Rodie O'Donnell, among many others.
Read More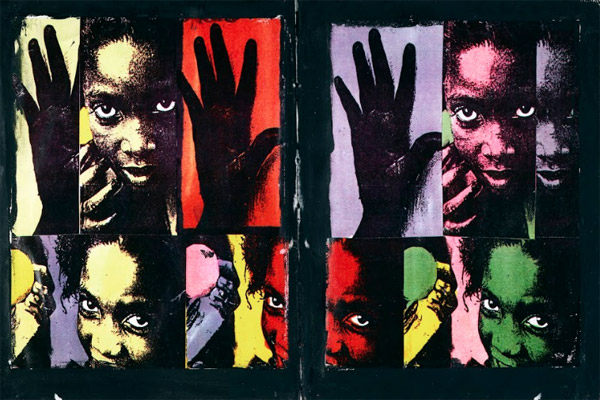 Aiseborn: Purity
Curated by Nat George
Presented by the Downtown Los Angeles Art Walk
The Downtown Los Angeles Art Walk is pleased to present Aiseborn: Purity, an immersive mural sponsored in part by ArtsBrookfield which will be completed in a live painting performance by the artist during the Opening Night Premiere of the LA Art Show. The oversized piece honors the remarkable, resilient, diverse, and eclectic culture present in the City of Los Angeles. Combining figurative elements, crystalline structures, and mandala-inspired patterns, Los Angeles artist Aiseborn will explore mathematical constructs, energetic mysteries, as well as the potential for purification and, ultimately, transformation.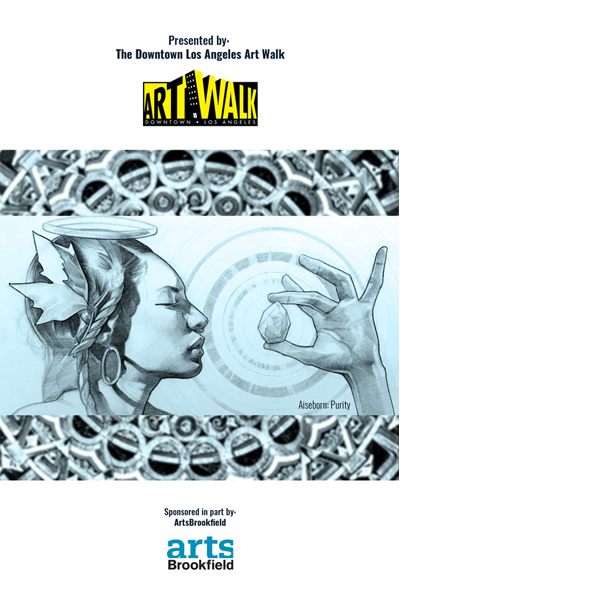 DIVERSEartLA 2017
Raphael Montañez Ortiz
Piano Destruction Ritual: Cowboy and Indian, Part Two
Couch Destruction: Angel Release (Pennies from Heaven)
Shred Your Worries part of FRAGMENTS FROM HOME
Curated By Chon Noriega
Presented by the Los Angeles County Museum of Art (LACMA)
Part of Fragments From Home,
a preview of
Home So Different, So Appealing
Opening on June 7, 2017 as part of the Getty's Pacific Standard Time: LA/LA
THE WORK
There is Passive ART and Active ART. Active ART requires you to participate.
PIANO DESTRUCTION RITUAL: COWBOY AND INDIAN, PART TWO
Participatory Performance. Background Sound Thunder and Lighting. The Piano is a powerful instrument of sound to convey the message of Sacrifice I wish to convey to the Universe. The Sounds of its Destruction gives full voice to Sacrifice: To the Destruction Creation in it cycle of Creation is giving us time to understand the preciousness of Mortal Life that it never be given up to or for Sacrifice of any kind…
View Couch Destruction: Angel Release (Pennies from Heaven)
Read More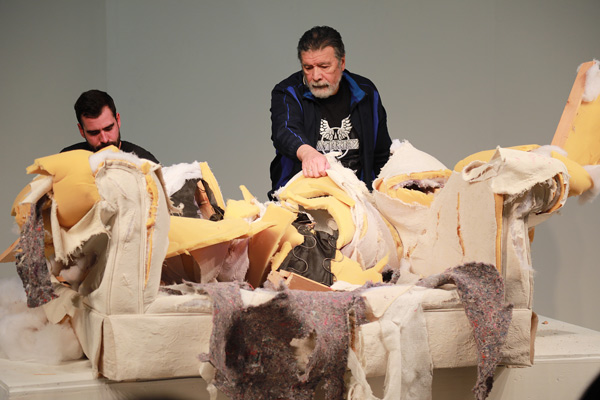 A DIALOG
MOCA Director Philippe Vergne joins LA Art Show Producer Kim Martindale in a Dialogs LA discussion about the making of the coveted Jeff Koons' limited edition Balloon Dog by famed French porcelain company Bernardaud. On site at the fair, the MOCA Store will offer collectors for the first time, the newlyreleased Balloon Dog (Orange) and other available color editions, as well as a curated selection of artist books. 
Read More
MOCA STORE
The MOCA store will offer Jeff Koons' limited edition Ballon Dog by famed French porcelain company Bernardaud in ORANGE, newly released for sale.
SHUTTLE BETWEEN LA ART SHOW & MOCA
LA Art Show Red Card, Vanguard and Patron Ticket holders will be granted complimentary admission to MOCA Grand Avenue and The Geffen Contemporary at MOCA on presentation of their LA Art Show tickets and passes at the museum box office. LA Art Show General Admission ticket holders will receive a 50% discount on museum admission on presentation of their ticket at the museum box office. Visitors who have purchased tickets to MOCA Grand Avenue or The Geffen Contemporary at MOCA will be granted free admission the LA Art Show on presentation of their museum entrance ticket for same-day.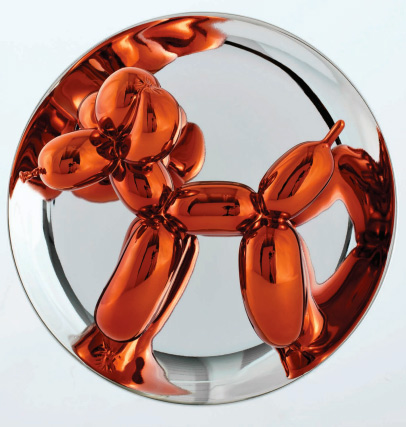 The Broad will provide visitors to the Show, on a limited, first come first serve basis, with guided tours of its current exhibition Creature, an installation with more than 50 works presenting approaches to figuration and representations of the self in The Broad collection by over 25 artists including Georg Baselitz, Joseph Beuys, Jean-Michel Basquiat, Ellen Gallagher, Leon Golub, Jenny Holzer, Damien Hirst, Takashi Murakami, and Andy Warhol plus Thomas Houseago's Giant Figure (Cyclops), 2011, which is making its U.S. debut.  Tours for LA Art Show visitors will take place Thursday, January 12th and  Friday the 13th at 2:30pm and will last approximately one hour.  Please note tour groups are limited to 20 people and will be confirmed on a first-come, first-served basis – please RSVP  and reference Creature at The Broad to reserve your place. Your participation will be confirmed by email. Guests may take the complimentary LA Art Show shuttle from the LA Convention Center and depart no later than 1:45pm to arrive 15 minutes prior to the start of the Tour. Guest are required to present their LA Art Show tickets as well as email confirmation (printed or on a mobile device) of their participation in the tour.
Read More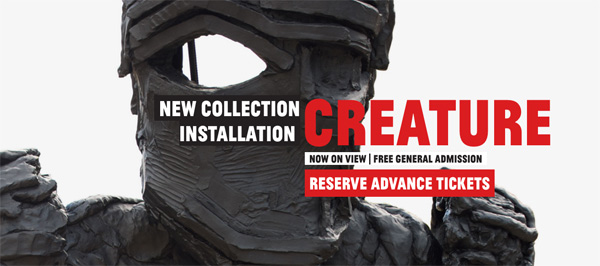 Carlos Martiel | Cauce/Riverbed
Curated By Marisa Caichiolo
THE WORK
In his work "Cauce/Riverbed," the artist exposes the significant challenges faced by immigrants in California and the larger United States. Martiel digs deep into the nature of undocumented immigration and shows how it impacts the lives of some eleven million individuals and their families in the world's most powerful nation.
His performance is a window to the human tragedy that grossly affects immigrants with low-education levels and limited English language skills, who come to the United States risking their lives as they venture into the dangerous desert in an attempt to cross the Mexico-US border. As Martiel shows, despite the highly-publicized "American Dream," for these poor and uneducated immigrants, making it alive into US territory does not necessarily guarantee access to better opportunities or to a higher quality of life.
Read More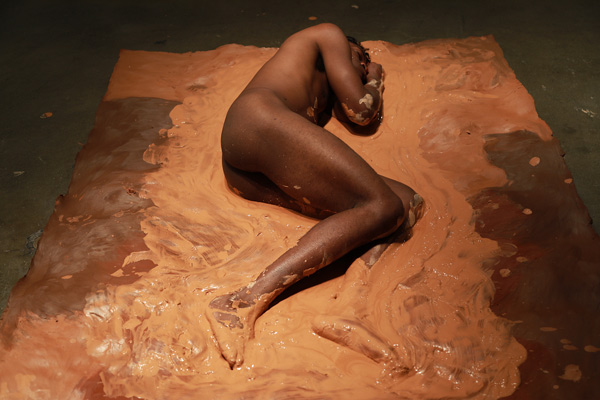 Norton Maza | Deep Impact: an installation by Norton Maza
Curated By Marisa Caichiolo
THE WORK
With this installation, Maza aims to expand his original artistic proposal and reflect the latest political developments in the US as well as the world's most urgent immigration concerns. To get his message through to the viewers, the installation will be closely guarded as if it were a treasure.
Read More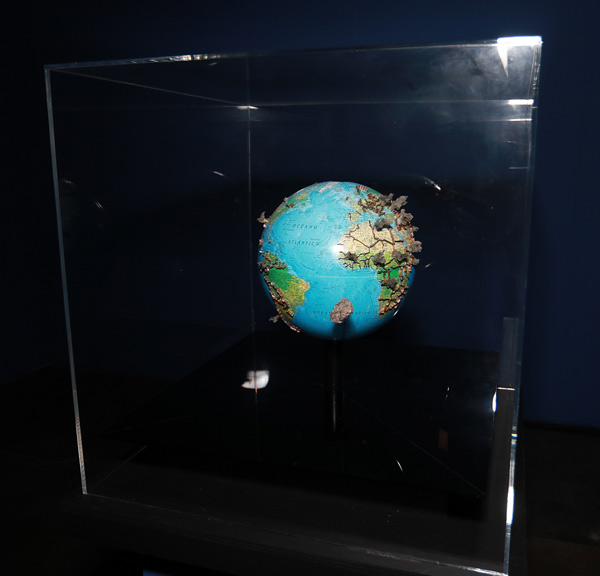 Melanie Pullen | Violent Times
Curated By Marisa Caichiolo
Presented By Esthella Provas & Associates, Beverly Hills
THE WORK
The performance
Violent Times
, by artist Melanie Pullen, is an abstract interpretation that explores both the ceremonial and crude facets of violence, inherent in both nature and the human condition. Pullen, to create a tempo for the extreme nature of the piece, will create a theatrical setting, using the sounds of base bodily functions, including a human heartbeat, and breathing, made in real-time. As the physical sound evolves the performers also fluctuate between the concept of inflicted human torture to barbaric untamed aggression.
Read More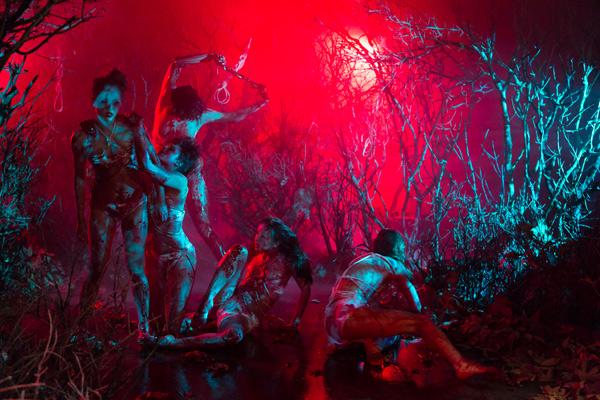 Ramiro Gomez | CUT-OUTS part of FRAGMENTS FROM HOME
Curated By Chon Noriega
Presented by the Los Angeles County Museum of Art (LACMA)
Part of Fragments From Home,
a preview of
Home So Different, So Appealing
Opening on June 7, 2017 as part of the Getty's Pacific Standard Time: LA/LA
THE WORK
The Cut-Outs installation piece, an 8 x 73 foot acrylic on cardboard mural, deals with scenes from Gomez's West Hollywood neighborhood. Gardeners and pool cleaners tend to the outside, then the mural proceeds inside, depicting housekeepers cleaning the living room, dining room, the bathroom and finally, the bedroom. Playing with negative space and with perspective, Gomez has life-sized cardboard figures emerge from the body of the mural, standing alone in the space, confronting the viewer. The piece functions as a still-life of affluent Los Angeles.
Read More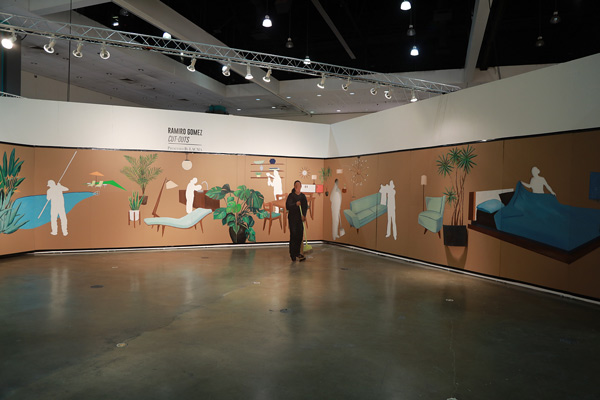 Eugenia Vargas Pereira | Talking Head Transmitters
Curated By Marisa Caichiolo
Presented By Muzeo Anaheim
THE WORK
Deconstructing Liberty: a Destiny Manifested. Explores the configuration of communities and forms of collective identity. This project will act as a dynamic laboratory for each artist to experiment, and examine different aspects as patriotism, community, citizenship, the pursuit of happiness, freedom, equal rights, and activism, using performances, installations, videos, paintings, and photography. The exhibition reflects a great diversity of the American people and society. Coming from many lands, races, ethnicities, and perspectives, Americans have as many dreams and aspirations as people live in this nation.
Read More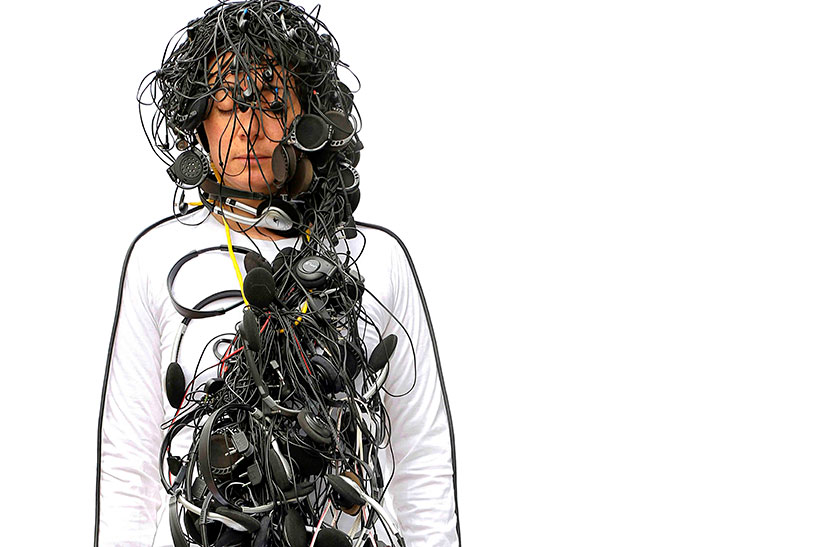 Louis Hock | a wall
Curated By Chon Noriega
Presented By UCLA Chicano Studies Research Center
THE WORK
Made from recycled paper pulp bricks, Louis Hock's temporary installation, "a wall", will extend 90 feet through the venue interrupting the visual experience and disorienting the circulation of visitors within the space. This installation urges visitors to consider current political discourse around borders and immigration as they experience a familiar space that is visually and physically divided.
Read More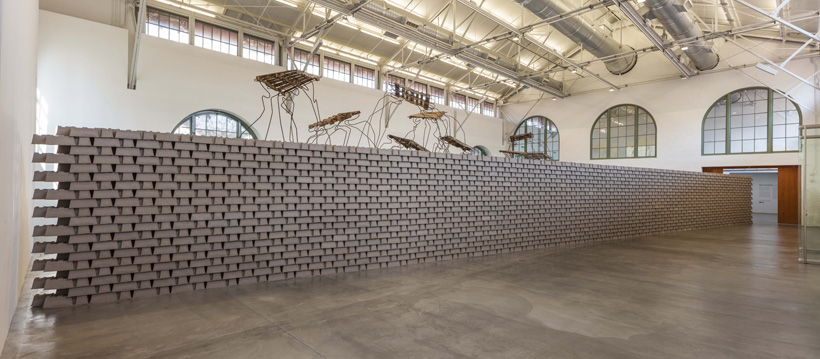 Harry Gamboa Jr. / Chicano Male Unbonded
Presented by Autry Museum of the American West
THE ARTIST AND THE WORK
Photographer, essayist, and performance artist Harry Gamboa Jr. calls into question the relationship between the stereotypes of the Chicano male and the far more diverse community of artists, writers, academics, performers, and other creative thinkers who identify as Chicano in his Chicano Male Unbonded series. Photographed at night and situated within various aspects of Los Angeles's distinctive urban geography, his subjects together comprise the Chicano avant-garde.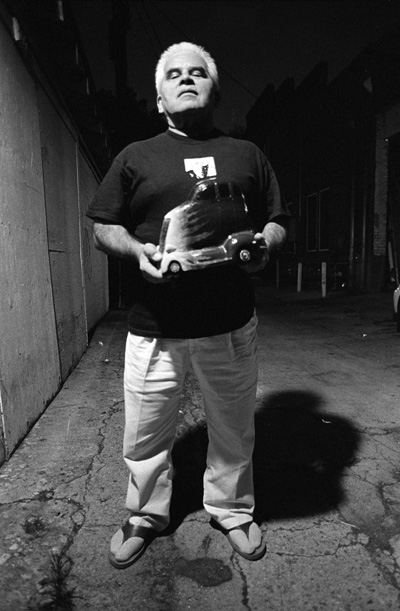 Marcella Ernest in Collaboration with Kelli Mashburn
Reduction 2016
Three Channel Video Production
Presented by Autry Museum of the American West
THE WORK
Using a combination of moving and still imagery, color film and black and white photography, narration and music, Reduction explores the combined environmental, visual, and metaphorical significance of fire as both a living process and a cultural tool from the perspective of two Native American artists, and was designed in conversation with the nearby Human Nature exhibition.

THE ARTISTS
Marcella Ernest and Keli Mashburn have over twenty years of experience working with Native communities and landscapes. Concerned with the impact of residential and commercial development on Native lands, their work speaks to the ability of Native people to thrive in complex and contemporary settings through ceremony, tradition, and cultural connections, and by creating a dialogue between state, federal, and tribal institutions.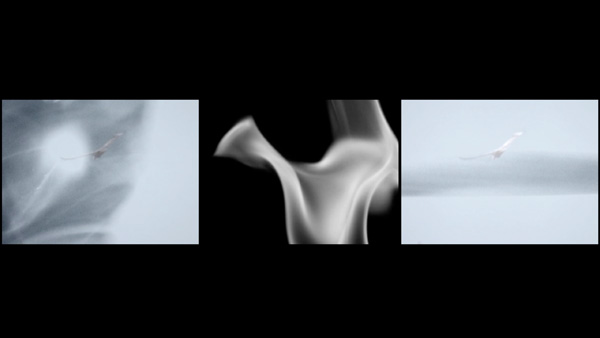 Rob Grad, Carlos Grasso, Gina M, Daena Title, Sue Irion, Mette Tommerup,
Robert Chambers and , Marleine van der Werf and Frederik Duerinck.
PING PONG 2017
Presented By Los Angeles Art Association
THE WORK
Los Angeles Art Association is proud to present Ping Pong 2017, a multi-destination, cross-cultural collaboration featuring artists from Los Angeles, Miami and Basel at the 2017 LA Art Show. PING PONG is an independent exhibition project for contemporary art founded in 2007 to cultivate artistic exchange between Basel, Miami and Los Angeles.
Read More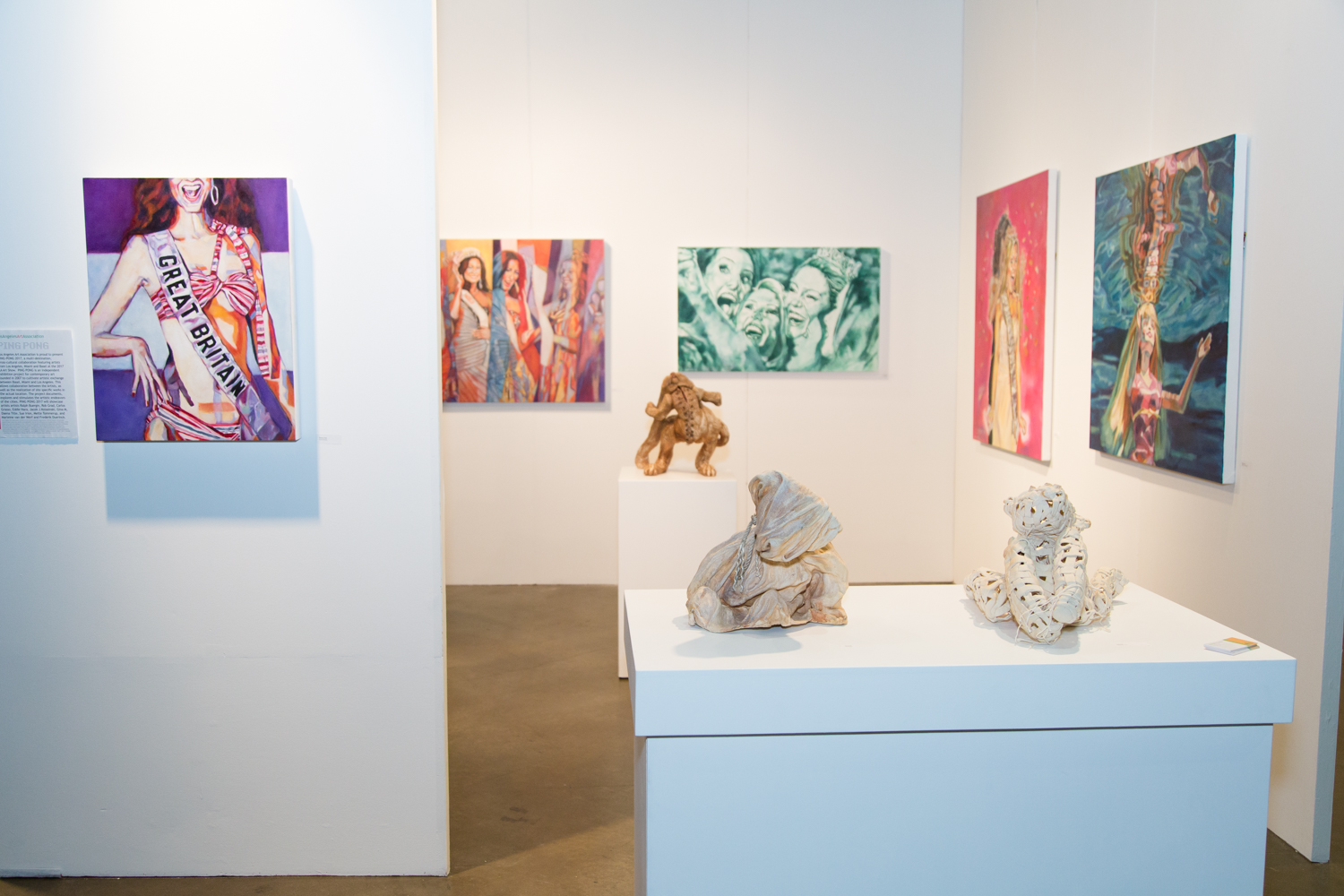 Scherezade Garcia | In My Floating World
Presented by MOLAA
THE WORK
"In my Floating World, Landscape of Paradise", a soft sculpture, Garcia collected inner tubes in different sizes and in a variety of shades of blue. She also bandaged the surface of some of the inner tubes with photographic images of the sea on which she has drawn a variety of symbols from her visual repertoire that refer to the memory of the sea. She composed a floating landscape with these inner tubes, creating a randomly organic form connected by electrical ties, sometimes tied very tightly, a suggestion of the struggles hidden within the deep blue beauty. Also each of the inner tubes carries an airport baggage tag that identifies the intended destination of the waves, which is New York, alluding to the contemporary promised land of the free.
Read More