2019
Grandmother's Country: Gabriella Possum Nungurrayi
Presented by Australian Aboriginal Art Gallery
Women are the principle gatherers of Bush Tucker and it is an important part of everyday life within the family clan. This particular painting, Grandmother's Country, depicts women collecting food and also celebrates the fertility of the land. Aboriginal paintings are based on the myths of the Dreamtime. In modern dot representations, the sacred aspect of the painting is not always revealed, but the meaning remains, transmitted through symbols that are easily understood.

Each person has a particular Dreaming to which they belong and they have special ceremonial dances and songs that combine together to form a unique belief that makes up the lives of the Aboriginal people. All things relate to the land and thus the land is of great importance to them. The land is the keeper of the Dreaming and must be kept safe for all time so that the Dreaming stories, which are told in the paintings, can be preserved. Gabriella Possum Nungarrayi is one of Australia's premier female Aboriginal artists from the Central Desert who is currently working in Melbourne. At an early age, Gabriella began painting alongside her father the renowned, Clifford Possum Tjapaltjarri, whose works are represented in major galleries and private collections worldwide. He passed on his skills to his daughter, whose paintings reflect his unique style.

Gabriella Possum Nungarrayi is one of Australia's premier female Aboriginal artists from the Central Desert who is currently working in Melbourne. At an early age, Gabriella began painting alongside her father the renowned, Clifford Possum Tjapaltjarri, whose works are represented in major galleries and private collections worldwide. He passed on his skills to his daughter, whose paintings reflect his unique style.
Read More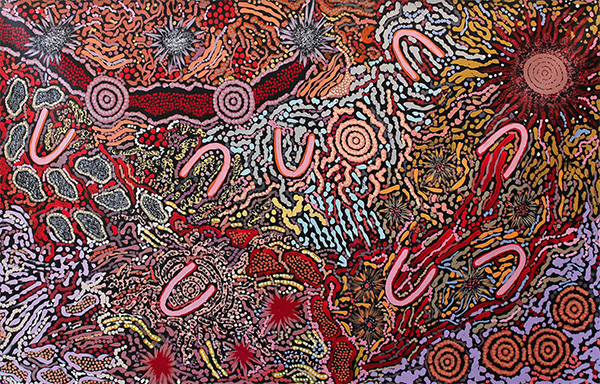 Chinese Contemporary Ink Art: Ten Leading Artists
Presented by Michael Goedhuis
Michael Goedhuis will be exhibiting the ten best contemporary ink painters from China.

The exhibition will describe, through the works of these ten leading artists, how Chinese contemporary culture is being transformed via a profound understanding of Chinese historical civilization. Gu Wenda, Li Huayi, Li Xubai, Liu Dan, Lo Ch'ing, Qin Feng, Qiu Deshu, Tai Xiangzhou, Wang Dongling and Wei Ligang are creating a new pictorial language which expresses the fundamentals of Chinese aesthetics and culture in ways which are relevant to today's society in China and also to the developments in the West.

Ink paintings emerged 1000 years ago from calligraphy: the sublime and central achievement of China. Calligraphy is executed in ink on silk or paper, with a brush. In order to master this brush on the absorbent paper, which tolerates no error or correction, the artist has to achieve a high degree of concentration, balance and control. Painting is an extension of the art of calligraphy. It is therefore, like calligraphy, linked to the sacred prestige of the written word.
Read More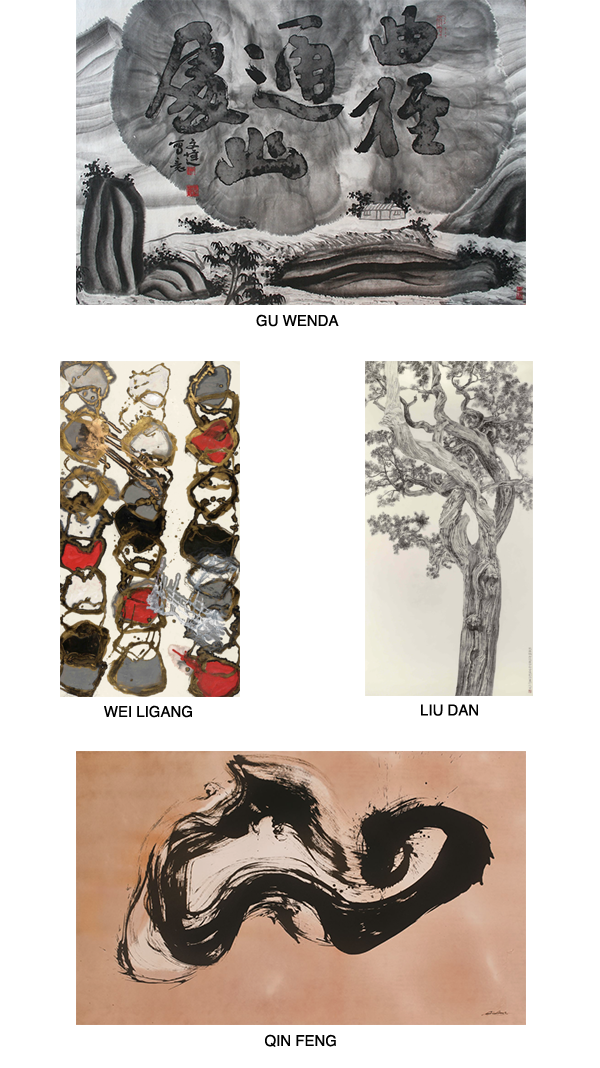 Certain Angles: Mads Christensen
Presented by Timothy Yarger Fine Art
Certain Angles is an immersive experience by Mads Christensen. His work is experiential; influencing the viewers awareness of movement and color, stimulating feelings of wonder, contentment and serenity. Visitors will step through a passage, transported into a dedicated volume surrounding themselves with certain angles…of light, reflection and emotion.

Christensen has cultivated his creative prowess to create visual and emotional experiences using Light as Medium.Trained as an electrical engineer, the sculpture is a fusion of his uniquely written software coding and the intangible qualities of his artist practice.

Following in the footsteps of groundbreaking artists exploring this medium like James Turrell, Doug Wheeler, Dan Flavin, and Olafur Eliasson, Christensen is being recognized by collectors and museum professionals as possessing vast and palpable creativity, technical expertise and visual sophistication to perpetuate this fascinating evolution of light as art.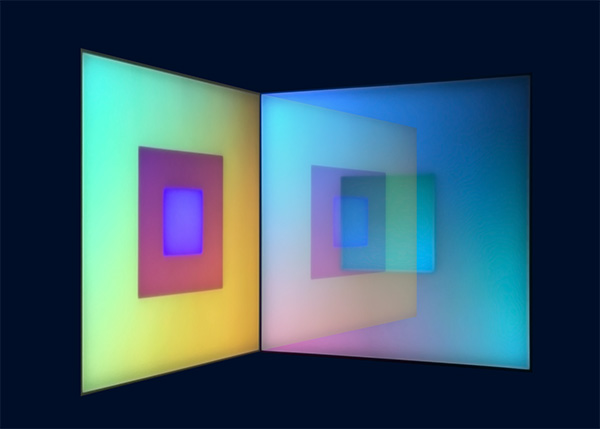 Black Landscape: Chuni Park
Presented by Baik Art
Inspired by natural landscapes, Chuni Park recreates abstract paintings from memory of the places he's explored and populates them with a cast of symbolic, often recurring characters.

Featured will be Park's large-scale, multi-panel installation, Black Landscape, which draws the seasons in black ink derived from pine soot.

In the months leading up to the LA Art Show, Park is also traveling through California and the American West, visiting national parks like Yosemite for inspiration. He will be premiering several new pieces inspired by his exploration of the Southwest, joining iconic landscape artists like Hockney who have tackled similar subject matter. This will be Park's first time depicting American landscapes – opening a whole new world for his work and starting a new chapter in his creative career.

The Lady of Arlington: Mike Stilkey
Presented by bG Gallery
Los Angeles native Mike Stilkey is an internationally recognized artist who has always been attracted to painting and drawing not only on vintage paper, record covers and book pages, but on the books themselves. He is best known for creating small and large-scale installations that use discarded books as their canvas.

Using a mix of ink, colored pencil, paint and lacquer, Stilkey depicts a melancholic and at times a whimsical cast of characters inhabiting ambiguous spaces and narratives of fantasy and fairy tales. A lingering sense of loss and longing hints at emotional depth and draws the viewer into their introspective thrall with a mixture of capricious poetry, wit, and mystery. His work is reminiscent of Weimar-era German expressionism and his style has been described by some as capturing features of artists ranging from Edward Gorey to Egon Schiele.

Stilkey has created numerous large-scale installations, at the World Economic Forum Annual Meeting in Davos, Switzerland, and in Turin, Italy; Bern, Switzerland; Bordeaux, France; Manila, Philippines; and Hong Kong and Beijing, China.
Read More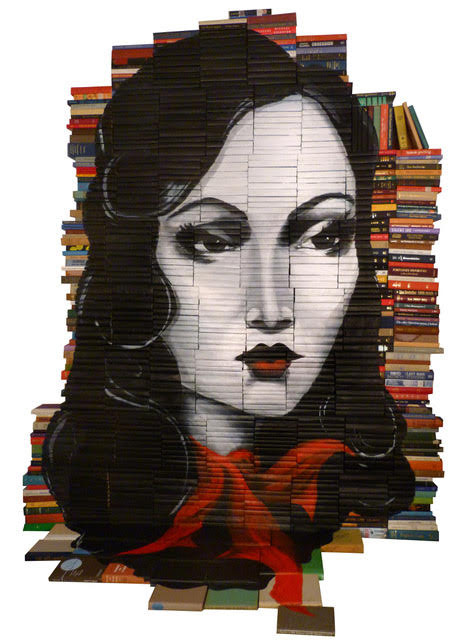 Homage To Nature: Cha, Yun Sook
Curated by Hoojung Lee
Presented by Art Gangnam Gallery & Company
Cha, Yun Sook creates her artworks as a way of paying homage to Nature. Acutely aware of our civilization's disregard for Nature, Cha expresses her gratitude to Nature through the mark making process of ink on Hanji paper and textile. She also celebrates Nature through performance by dressing others in clothes dyed with ink imbued with healing properties meant to lift the wearer's spirit.

Cha cherishes her love for Nature through her work and ritualistic performance, and shares her philosophy with the art community in Los Angeles.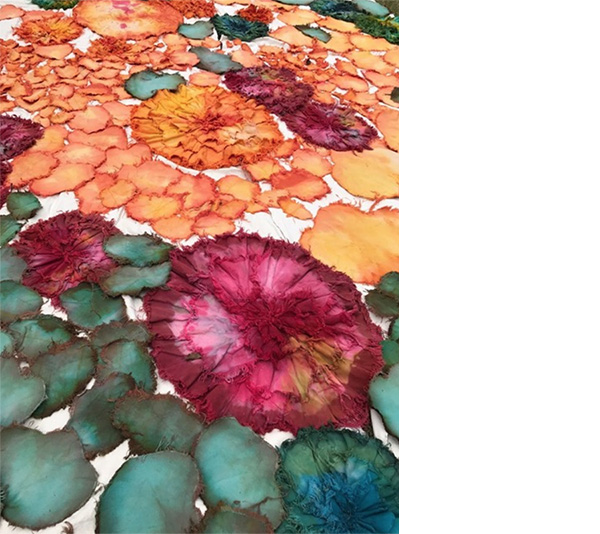 Monolith: Emmanuel Boos
Presented by Sèvres
For the French artist Emmanuel Boos, glaze is more than ceramics. It is a form of poetic space at the same time as glaze. It is also a form of certainty and uncertainty in the creative process. He systematically collects and arranges color palettes with each mineral mixture, but he admits that the coating is blindly applied. He explores the unpredictability by paying attention to the physical and chemical phenomena that go into high-quality ceramics. For him, this process is a game in which the winner is the winner of chance. By presenting the deflection, deformation and textural change of the sculpture, the result is a solid block set called a monolith.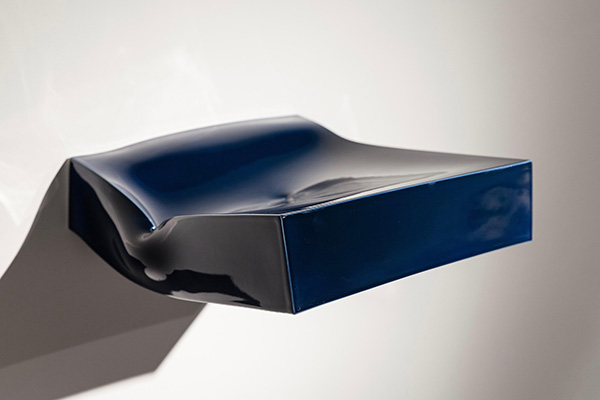 Hollywood: Edgar Plans
Presented by Pigment Gallery
From the time he was first put in an art class, Edgar Plans never wanted to draw what other people suggested. He liked to draw comic strips, short stories, not still-life paintings of bowls of fruit, or charcoal sketches of plaster-of-paris figures. At 15, he decided to learn more.

"I don't know why but I felt I needed to learn more disciplines and techniques. In the studio of José María Ramos, I learnt to express what I wanted via painting and drawing. After two years in the workshop, I realized that I wanted to not have anyone looking over my shoulder to correct and guide me through my faults. I needed to work alone and find my own ways. I rented a room in an art studio – previously an apartment belonging to Nicanor Piñole, an important Asturian artist – and in that attic I began my own path," said Plans.

Currently, he has his own studio where he continues to look for that path between his faults and truths.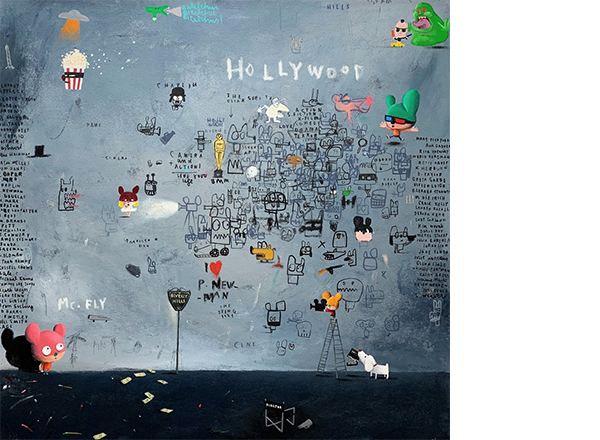 2018
Dansaekhwa IV: Internal Rhythm – Kim Tae-Ho
Curated by Simon Kwon
Presented by SM Fine Art Gallery
Development of Kim Tae-Ho's most recent works coincided with the turning of the millennium, about the year 2000. Focusing on brush strokes and the application of color, for the most part, these works appear to be vastly different from his previous works.

Above all, concerning the changing of appearance, thick layers of paint form bulky masses, which clearly diverge from his previous two-dimensional illusionary pieces. Simultaneously there are differences in physicality, and they differ uniquely from the full compositions of his paper works. Regarding the process, he first draws interwoven lines. He creates a fixed rhythm, and after building up twenty layers of paint, he then scrapes away the dense accumulation of paint. Color that is hidden beneath rhythmically comes alive within the structure. Countless visual spaces are constructed within the overlapping grid formation; each cell is comparable to a beehive, producing its own life in the realm of painting.
Read More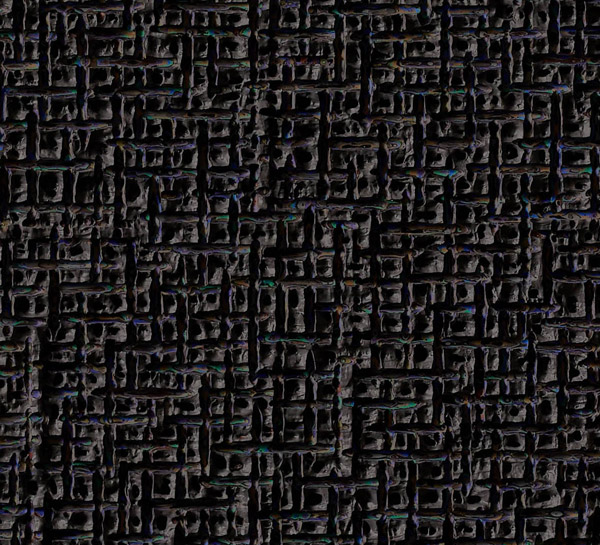 Director's Chair: Matthew Modine
Presented by Axiom Contemporary Gallery
On the 30th anniversary of Stanley Kubrick's
Full Metal Jacket
, Matthew Modine's "Full Metal Diary" offers an incredibly rare and vibrant portrait of one of cinema's most iconic war films – by one of the industry's most enigmatic directors. The exhibition is a study of a young actor under the apprenticeship of a legend.
A combination of rarely seen, medium-format photographs taken on set are displayed alongside poetic, intimate excerpts from the actor's personal diary. This glance behind-the-curtain reveals unique insights into Kubrick's methodology as well as the complicated process of an actor struggling to come to terms with his craft. "Full Metal Diary" is an extraordinary example of art imitating life.
Show More