2018 Coming Soon
2017 FEATURED PROGRAMMING
Dansaekhwa III: Formation and Recurrence
A Landmark Exhibition of Korean Monochrome Paintings
Curated by SM Fine Art Gallery
Dansaekhwa III: Formation and Recurrence, curated by SM Fine Art Gallery in Seoul, South Korea and New York. Featuring the multilayered monochromes of Kim Tae-Ho and the iconic water drop paintings of Kim Tschang-Yeul, who has been painting this fluid life force for more than four decades, this survey includes some of the most iconic works from two of the genre's minimalist masters.

Widely considered one of the most influential Korean art movements of the 20th century, Dansaekhwa (pronounced "dawn-say-qua") is rooted in mesmerizing abstractions. Though the methods and mediums vary greatly across the monochromatic genre, works are typically rendered via pushing layers of white, black, blue, or earth-toned paints across soaked canvases or dragging pencils across (sometimes ripped) pieces of traditional hanji paper. While eliciting notions of austerity and tranquility, the rigorous workmanship behind Dansaekhwa is highly emotional, and has recently been the focus of various museum and gallery shows in addition to an acclaimed show during the 56th Venice Biennale. In fact, in January, Artsy declared "Korean Minimalism is the Next Big Art Market Trend" citing strong auction results and recent shows in London, Los Angeles, South Korea and Brussels as evidence of the growing interest in the genre. "People often talk about my artworks as 'strict spirit of artisanship', 'consistency' and 'thoroughly planned artwork from the start of having an idea' and so on. Indeed I would like to express my abilities or mind in maximum when I plan, calculate, and think about my artwork," says Kim Tae-Ho, who is always concerned with expressing the flow and rhythm of mind in his multilayered paintings. "However, the artwork shows many more things that can't be expected by planning. In a way, I think it shows infinite possibilities of art which only humans can do."
Read More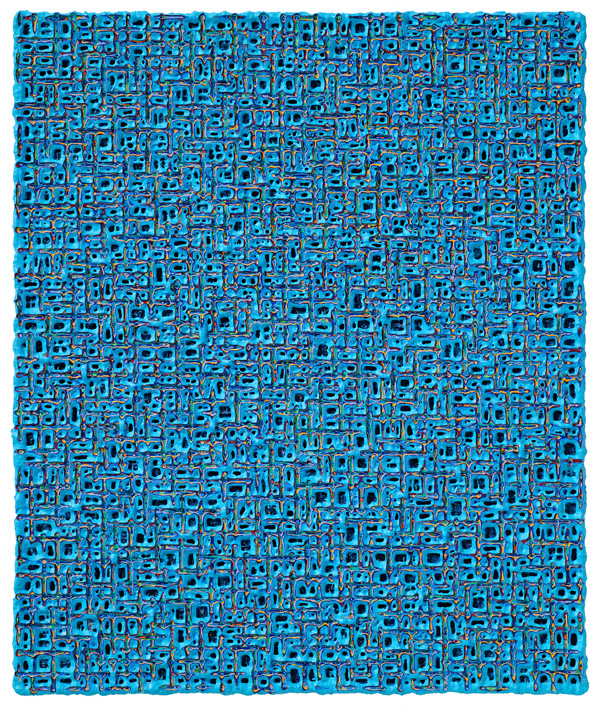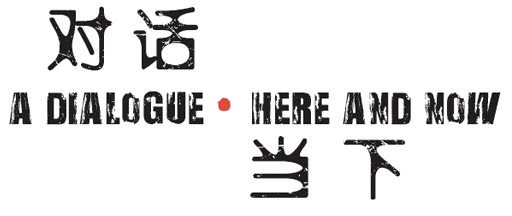 Organized by National Base for International Cultural Trade (Shanghai) China Cultural Media Group

Supported by Bureau for External Cultural Relations Ministry of Culture, People's Republic of China

Special Thanks To Blue Sky Communications, Inc. (U.S.A.)
Ink is one of China's most traditional art forms and possesses a long and rich history. It is a medium that is embedded and a central reference in Chinese culture. Traditional ink painting represents the true cultural heritage of Chinese people, and has persisted as an art form over the centuries. Contemporary 'ink' art has evolved out of the traditional use to display endless new possibilities. This has a great bearing on how the traditional medium of ink is recognized, and can be further popularized in the contemporary dialogue. China's increase in wealth as a country has attributed towards a trend of more interest, collection, and support of the arts. Contemporary ink art has captured the imaginations of collectors and speculators in Asia and Europe, and gradually in China too.

Chinese Ink painting has been setting strong sales at auctions such as Sotheby's Hong Kong and New York. It has become in high demand in the art market. LAAS has showcased and highlighted Chinese contemporary ink art since 2013, over the years it has become one of the landmarks of the show.
Read More
Dichotomy Bifurcation
Lindsay Scoggins
Video Painting
Presented by Art All Ways
Screen Courtesy of VER, Inc.
di-chot-o-my
a division or contrast between two things that are or are represented as being opposed or entirely different

bi-fur-ca-tion
the division of something into two branches or parts

After receiving views in the millions on YouTube, Scoggins' award-winning work was exhibited in the Guggenheim museums of New York City, Bilbao, Berlin, and Venice. Her videos have appeared in film festivals, music festivals, and art fairs internationally, including Ultra Music Festival, Frieze Art Fair, and Art Wynwood International Contemporary Art. In 2016 her animations accompanied David Gilmour's performances at the Hollywood bowl, as well as Hans Zimmer's orchestral tour throughout Europe.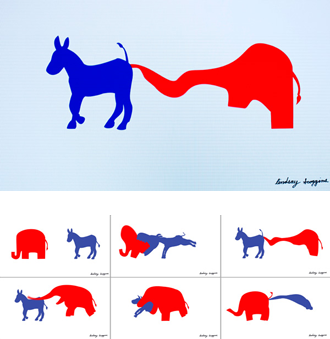 Submerge
"Lazer Installation 2017"
marc brickman
Presented by Art All Ways
Laser Sponsored by Strictly FX, Inc.
A radiating line drawing becomes weightless architecture. The untouchable plane designates the surface of this realm, as the viewer lives and travels within.

marc brickman is a world renowned visual designer recognized as a cutting edge creative force and innovator, using energy technologies as translators of form and space. His work has been seen by millions worldwide. He is the artist in residence for the iconic Empire State Building. brickman's visuals of Pink Floyd have become legendary, generating one of the best-selling music DVDs in history. In addition, Paul McCartney, Barcelona and Nagano Olympics Ceremonies, Cirque du Soleil (Viva Elvis), Blue Man Group, David Gilmour, Nine Inch Nails, Barbara Streisand, Roger Waters, Bruce Springsteen, Lotte World Tower, Seoul, Korea and Hans Zimmer's orchestral tour. His film projects include Running Man, Spiderman, Minority Report and A-I.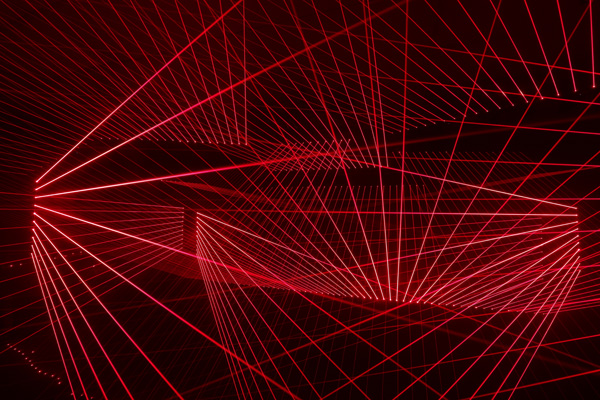 The Great Wall-Zhang Guolong's Solo Exhibition
Presented by CCMG
The power of Zhang Guolong's art comes from its material and impressive visual and psychological affects.  In his work Guolong explores how to use a combination of materials and techniques to express his ideas. In his view, modern art is focused on its visual effect, while post-modern art is focused on a state of mind, his art belongs to post-modern art. We can see in his pieces that he incorporates both visual and spiritual concepts that are richly textured. The artist's works are not only a design but an expression of his spirit. The shapes of his works represent something related to our life and universe, not only images related to things, and he often used specific shapes and color to depict his ideas. What observers will see is a combination of visual, psychological, and sensitive feelings expressed in his art.
An Interpretation of Zhang Guolong's Recent Works, by Yin Shuangxi, professor of Central Academy of Fine Arts, Art Critic.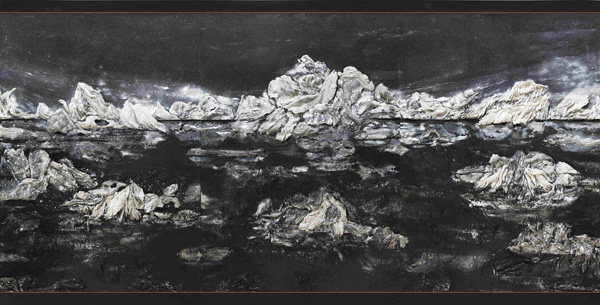 The Garden of Excesses: Angel Ricardo Ricardo Rios
Curated by Marisa Caichiolo
Born in Holguin, Cuba, Rios studied art at the Institution Superior de Arte (ISA), Havana, Cuba as well as Escuela Nacional de Bellas Artes, Havana. He currently lives in Mexico. Rios' massive paintings and deft drawings blend organic, vegetal forms with allusions to the erotic in fantastic displays of sensual excess. Expressed in vibrant colors with a quick, sure hand, or made using his body to apply paint, his meld of Expressionist and Neobaroque explorations appear part abstraction and part dreamscape, recalling the theatrical presence celebrated in the Spanish Baroque.
Read More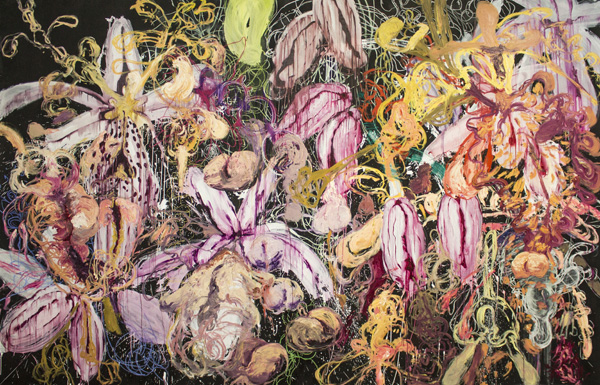 Dagmara Wyskiel: Joint Game
Video Installation
Curated by Marisa Caichiolo
Dagmara searches for the exploration of meaning and making the viewer a part of her work, as well as to generate a contribution to society and incite reflection. She does not look for answers, but intends to open the door to questions. Dagmara's work consists of an intervention, a 12-meter wide inflatable rubber structure, that passes through different contexts, always as an artistic exercise in the language of intervention, landscape and urban space.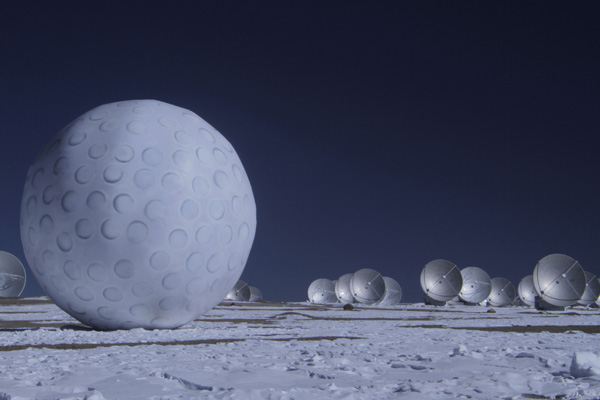 Kim Abeles: Legends for a Reanimated Woman
Presented by the Downtown Los Angeles Art Walk
Kim Abeles has a history of creating biographical artworks of strong females, including Calamity Jane, Rosa Parks, St. Bernadette, Eva Peron, Carmen Miranda, Beryl Markham, and more recently, Pope Joan. In her latest body of work, "Legends for a Reanimated Woman", Abeles presents new works about Jeanne D'Arc (aka Joan of Arc), and selections of her earlier work.
Read More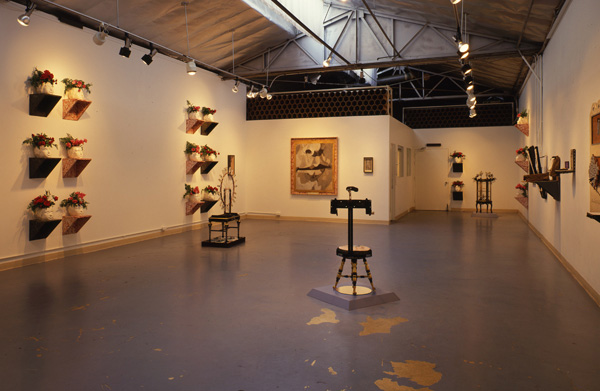 Retna/Nunca: Indigenous Reflections
Presented by Art All Ways Projects
THE WORK
Retna/Nunca: LA/LA offers a thriving exploration of the artistic connections between Retna and Nunca, which means "Never" in Portuguese. They represent the influential Los Angeles and Latin America (Brazil) urban graffiti art scene.

This compelling mural painting will be their first collaboration in the US. It conveys their appreciation for the Heritage of Mural painting emphasizing the indigenous reflections in each others work.
Read More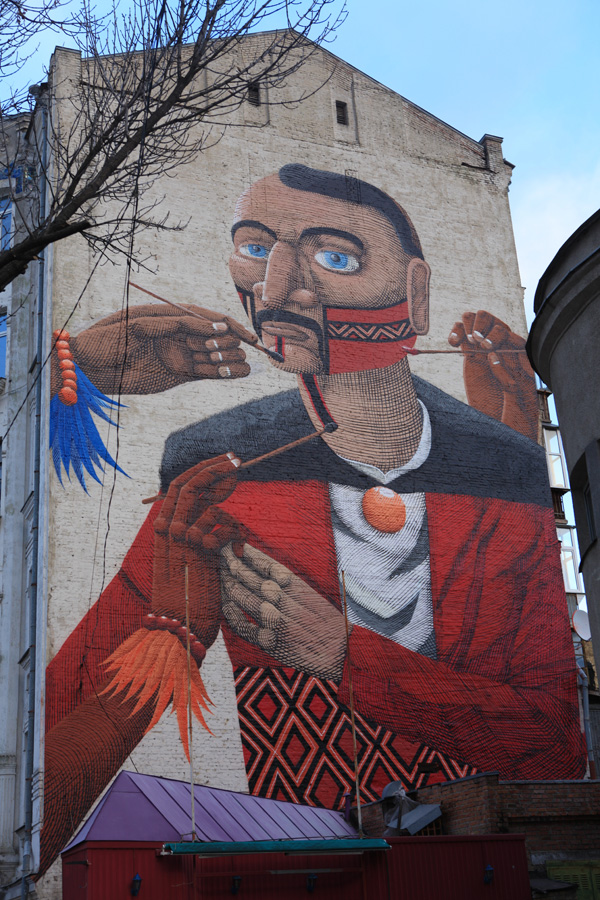 Dosshaus 2017 – The Artist's Room
Presented by bG Gallery
THE WORK
Sculptures made of Cardboard and Acrylic Paint

Collaborative duo Dosshaus present "The Artist's Room", a life-sized fantasy live/work space. A combination of installation and performance, the artists inhabit a sculptural environment where everything, including their clothing, is created from recycled cardboard. Dosshaus engage cultural questions with whimsy and insouciance.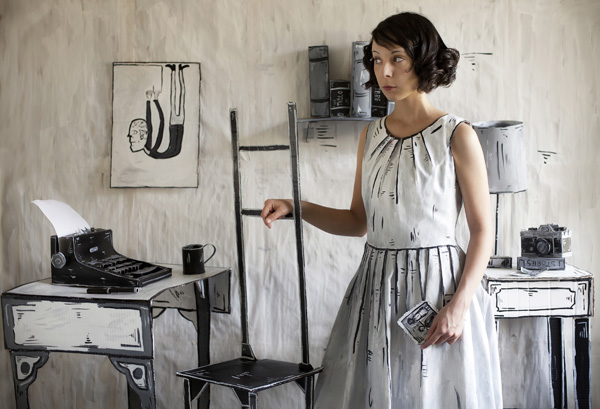 Luis Millé
Presented by Alex Slato Kabinet and the Business of Art
THE WORK
Millé defines his work as a phenomenology of space based on the conception of threedimensionality as a dynamic condition through inflection, expansion and tension, where space does not merely contain the work: space is the artwork.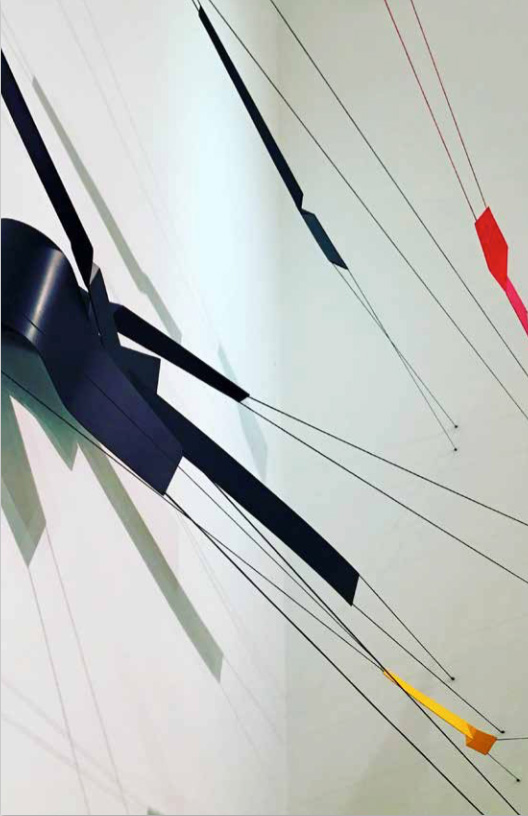 Doron Gazit: The Redline Project
THE WORK
Doron Gazit is an environmental artist using earth as his canvas. With his Red Line Project, Gazit is now working in locations around the world devastated by global warming and man's misuse of the environment.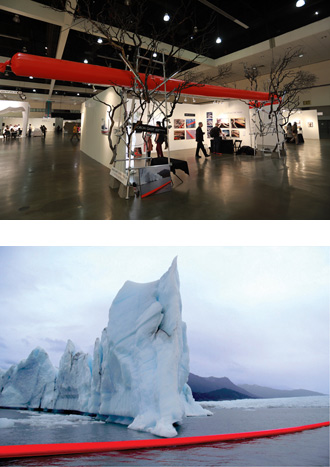 The Art of Luis Buñuel
Presented by Luis Buñuel Film Institute
THE WORK
The Luis Buñuel Film Institute will be exhibiting large photographic prints from the films of Luis Buñuel. Various film montages, surrealist collages, installations and ephemera from the LBFI archives.

THE ARTIST
Luis Buñuel, (born Feb. 22, 1900, Calanda, Spain—died July 29, 1983, Mexico City), Spanish director and filmmaker, noted especially for his early Surrealist films and for his work in the Mexican commercial cinema. He is distinguished for his highly personal style and controversial obsession with social injustice, religious excess, gratuitous cruelty, and eroticism.

His first film, Un Chien Andalou (1929), conceived with Salvador Dali, was a groundbreaking work of Surrealist cinema. Buñuel directed 32 films in all, earning multiple awards worldwide, including the 1972 Academy Award for Best Foreign Film for The Discreet Charm of the Bourgeoisie.
Read More