2020 program details will be announced this winter

2019
Grandmother's Country: Gabriella Possum Nungurrayi
Presented by Australian Aboriginal Art Gallery
Women are the principle gatherers of Bush Tucker and it is an important part of everyday life within the family clan. This particular painting, Grandmother's Country, depicts women collecting food and also celebrates the fertility of the land. Aboriginal paintings are based on the myths of the Dreamtime. In modern dot representations, the sacred aspect of the painting is not always revealed, but the meaning remains, transmitted through symbols that are easily understood.

Each person has a particular Dreaming to which they belong and they have special ceremonial dances and songs that combine together to form a unique belief that makes up the lives of the Aboriginal people. All things relate to the land and thus the land is of great importance to them. The land is the keeper of the Dreaming and must be kept safe for all time so that the Dreaming stories, which are told in the paintings, can be preserved. Gabriella Possum Nungarrayi is one of Australia's premier female Aboriginal artists from the Central Desert who is currently working in Melbourne. At an early age, Gabriella began painting alongside her father the renowned, Clifford Possum Tjapaltjarri, whose works are represented in major galleries and private collections worldwide. He passed on his skills to his daughter, whose paintings reflect his unique style.

Gabriella Possum Nungarrayi is one of Australia's premier female Aboriginal artists from the Central Desert who is currently working in Melbourne. At an early age, Gabriella began painting alongside her father the renowned, Clifford Possum Tjapaltjarri, whose works are represented in major galleries and private collections worldwide. He passed on his skills to his daughter, whose paintings reflect his unique style.
Read More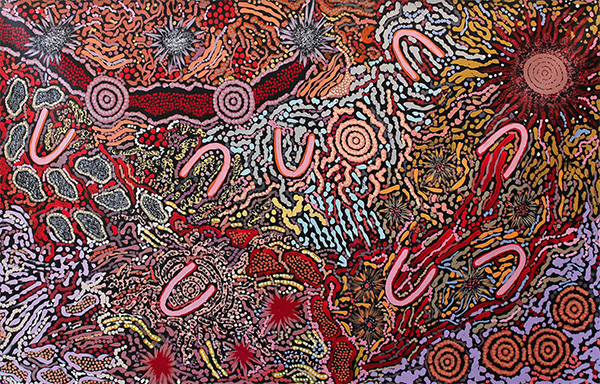 Chinese Contemporary Ink Art: Ten Leading Artists
Presented by Michael Goedhuis
Michael Goedhuis will be exhibiting the ten best contemporary ink painters from China.

The exhibition will describe, through the works of these ten leading artists, how Chinese contemporary culture is being transformed via a profound understanding of Chinese historical civilization. Gu Wenda, Li Huayi, Li Xubai, Liu Dan, Lo Ch'ing, Qin Feng, Qiu Deshu, Tai Xiangzhou, Wang Dongling and Wei Ligang are creating a new pictorial language which expresses the fundamentals of Chinese aesthetics and culture in ways which are relevant to today's society in China and also to the developments in the West.

Ink paintings emerged 1000 years ago from calligraphy: the sublime and central achievement of China. Calligraphy is executed in ink on silk or paper, with a brush. In order to master this brush on the absorbent paper, which tolerates no error or correction, the artist has to achieve a high degree of concentration, balance and control. Painting is an extension of the art of calligraphy. It is therefore, like calligraphy, linked to the sacred prestige of the written word.
Read More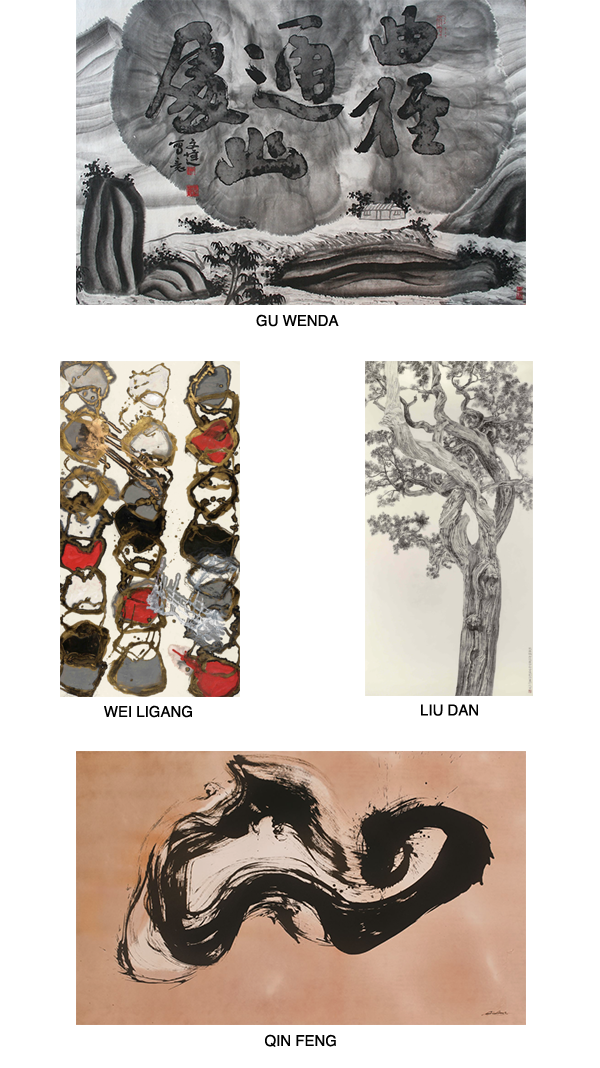 Shark: RISK
Presented by 5Art Gallery
Beloved LA graffiti artist RISK makes his LA Art Show debut with two sculptures from his ongoing "Shark" series that has evolved to explore predators in their many forms. One of the most talked about sculptures of 2018 was his bisected police cruiser, an actual cop car dipped in formaldehyde and sliced open "like bacon," revealing the vehicle's inner workings. For the show, this controversial piece will be juxtaposed with a similar sculpture of a shark comprised of spare machine parts. Inspired by Damien Hirst's "Natural History," the pairing is a commentary on how police "patrol the hood like sharks." "Embrace what you fear" is an idea that stems from Buddhist teachings and RISK's bisected cop car was the surprise outcome of a meditation on this principle.

The project actually began as a sculpture of a shark and metamorphosed into a different kind of predator, complete with its own version of telltale fins, shape and color palette. Across from it will be the finished sculpture of the shark he originally intended to create – a predator from a different era that still strikes just as much fear.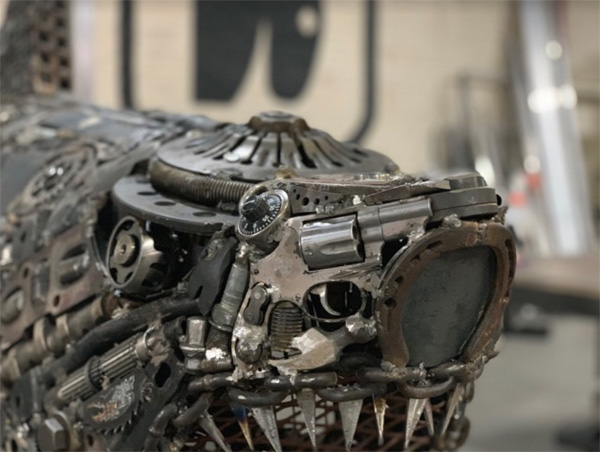 Master Piece – Immortal Beloved: Mari Kim
Presented by SM Fine Art Gallery
More than 10 years ago, when Mari Kim began using the computer to paint, print and display art, she was exposed to a sharp division between the likes and dislikes among art critics. To some, her work was interesting and very appealing. To others, it was so embarrassing that it made them wonder how printed cartoons could be art and they directed hate speech towards Kim.

Mari Kim is intrigued by the concept of beauty, which seems extremely subjective. A great number of people will wait in the long line to see the Mona Lisa, having concluded that it is 'beautiful,' even before they see it with their own eyes. The dual attitude of acknowledging both the universality of beauty and the particularity of the work of art has established the dominant aesthetics in Western art discourses. Therefore, it would be possible to persuade people that what are called masterpiece paintings are generally beautiful or at least understood as such.

"I will show my new works which combine my paintings and the masterpieces that are said to have a universally accepted quality of beauty. I will attempt to bring new life to those famous paintings – a form of rebirth as my new works of 2018. I am very interested as to how the viewers will respond to the combination of my images superimposed on the famous oil paintings using computer-based mockup and printing technology, " said Kim.

As an artist, she is thrilled to take this opportunity to wake up those great paintings in history from a hard sleep at museums, and to instigate a thought-provoking discussion with her work.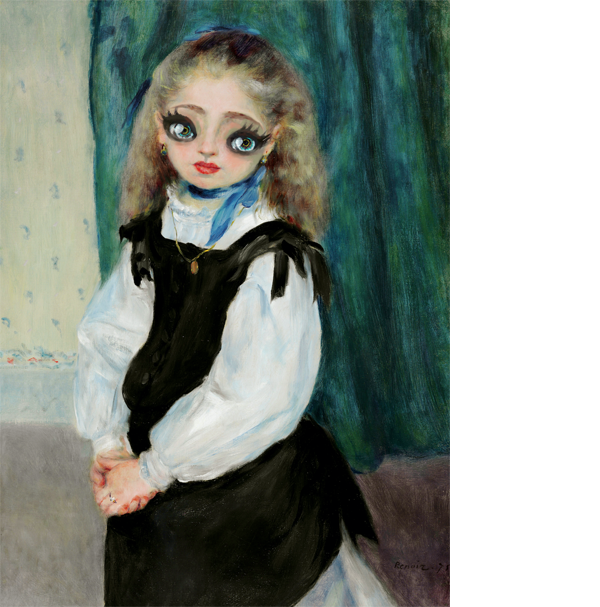 Certain Angles: Mads Christensen
Presented by Timothy Yarger Fine Art
Certain Angles is an immersive experience by Mads Christensen. His work is experiential; influencing the viewers awareness of movement and color, stimulating feelings of wonder, contentment and serenity. Visitors will step through a passage, transported into a dedicated volume surrounding themselves with certain angles…of light, reflection and emotion.

Christensen has cultivated his creative prowess to create visual and emotional experiences using Light as Medium.Trained as an electrical engineer, the sculpture is a fusion of his uniquely written software coding and the intangible qualities of his artist practice.

Following in the footsteps of groundbreaking artists exploring this medium like James Turrell, Doug Wheeler, Dan Flavin, and Olafur Eliasson, Christensen is being recognized by collectors and museum professionals as possessing vast and palpable creativity, technical expertise and visual sophistication to perpetuate this fascinating evolution of light as art.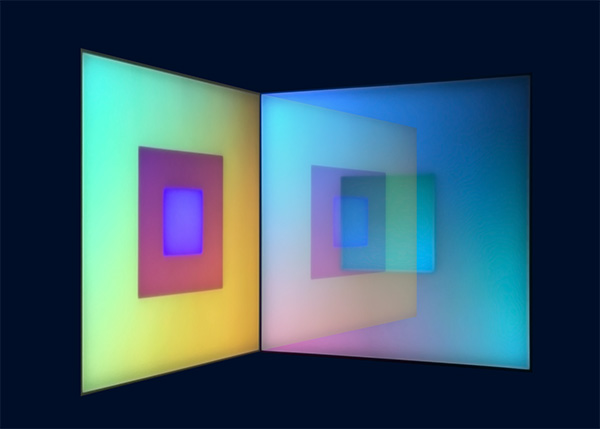 Black Landscape: Chuni Park
Presented by Baik Art
Inspired by natural landscapes, Chuni Park recreates abstract paintings from memory of the places he's explored and populates them with a cast of symbolic, often recurring characters.

Featured will be Park's large-scale, multi-panel installation, Black Landscape, which draws the seasons in black ink derived from pine soot.

In the months leading up to the LA Art Show, Park is also traveling through California and the American West, visiting national parks like Yosemite for inspiration. He will be premiering several new pieces inspired by his exploration of the Southwest, joining iconic landscape artists like Hockney who have tackled similar subject matter. This will be Park's first time depicting American landscapes – opening a whole new world for his work and starting a new chapter in his creative career.

Décade: Simone Pheulpin
Presented by Boccara Fine Art
Simone Pheulpin is a French textile sculptor who lives and works in the Vosges. Her works are the result of an instinctive expression that uses both the suppleness and firmness of an untreated, natural material, a simple non-bleached cotton. From her fabric strips and thousands of pins, a veritable vocabulary of forms and shapes with an organic allure, a supernatural world where surprising rocks and the seabed take form, sprung from her spirit and guided by her hands.

For Simone Pheulpin, a fundamentally atypical textile sculptor, folding is a language, her language. Her strips of raw cotton, tirelessly stacked, twisted and connected, produce organic sculptures that reflect Simone Pheulpin's intense, deep, astonished perspective on nature and convey her view of the world with infinite poetry.

Her sculptures were exhibited in May/June 2018 in the New Design Museum, London (Loewe Foundation, Craft Prize) and have been exhibited in amazing places full of history, such as Venetian palaces, mansions in London, Paris and Brussels, Swiss chalets, or European palaces as well as in unique museums in Brussels, Angers, the United States and Asia.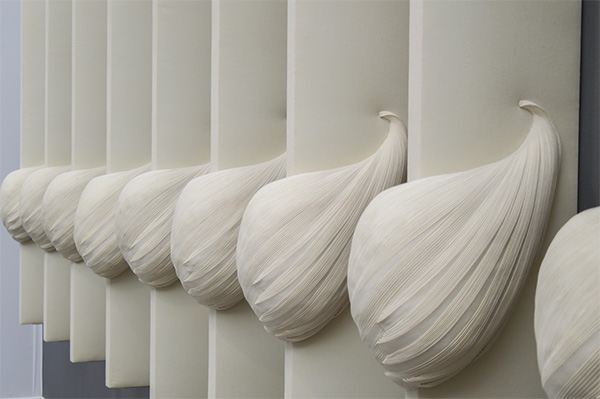 Remembrance: Benjamin Shine
Presented by Boccara Fine Art
Award-winning artist and designer, Benjamin Shine, has established a multi-disciplined creative approach dedicated to challenging perceptions through original constructional ideas and craftsmanship. Following his studies in fashion design at Central St Martins in London, Benjamin has spent over a decade exploring the potential of materials to express ideas through his artworks, public sculptures, fashion, furniture, and product designs. Benjamin is most known for his tulle works, which center on ideas of impermanence, energy and the fleeting moment – each made by pleating and manipulating the delicate material into form with an iron and often generated from a single uncut length of tulle.

Benjamin's work has been exhibited in galleries and international art institutions, including Opera Gallery, London, Paris and Monaco, The Museum of Arts and Design New York, The Goss-Michael Gallery in Dallas, Texas, The Crafts Council UK, The London Design Museum and the iconic Lloyd's Building of London. In recent years, his work has been exhibited alongside eminent British artists including Damien Hirst, Marc Quinn and Tracey Emin.
Read More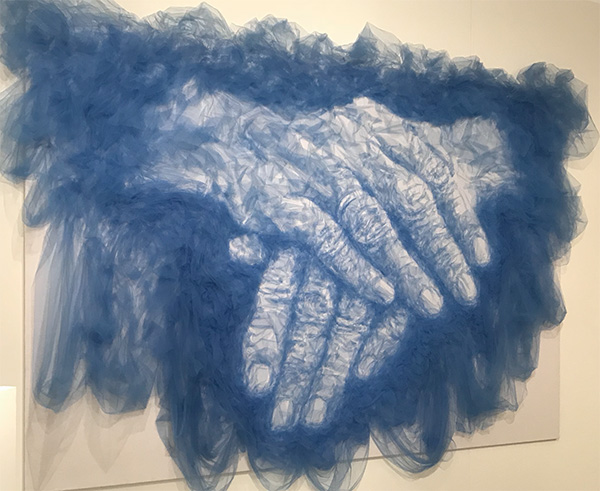 The Lady of Arlington: Mike Stilkey
Presented by bG Gallery
Los Angeles native Mike Stilkey is an internationally recognized artist who has always been attracted to painting and drawing not only on vintage paper, record covers and book pages, but on the books themselves. He is best known for creating small and large-scale installations that use discarded books as their canvas.

Using a mix of ink, colored pencil, paint and lacquer, Stilkey depicts a melancholic and at times a whimsical cast of characters inhabiting ambiguous spaces and narratives of fantasy and fairy tales. A lingering sense of loss and longing hints at emotional depth and draws the viewer into their introspective thrall with a mixture of capricious poetry, wit, and mystery. His work is reminiscent of Weimar-era German expressionism and his style has been described by some as capturing features of artists ranging from Edward Gorey to Egon Schiele.

Stilkey has created numerous large-scale installations, at the World Economic Forum Annual Meeting in Davos, Switzerland, and in Turin, Italy; Bern, Switzerland; Bordeaux, France; Manila, Philippines; and Hong Kong and Beijing, China.
Read More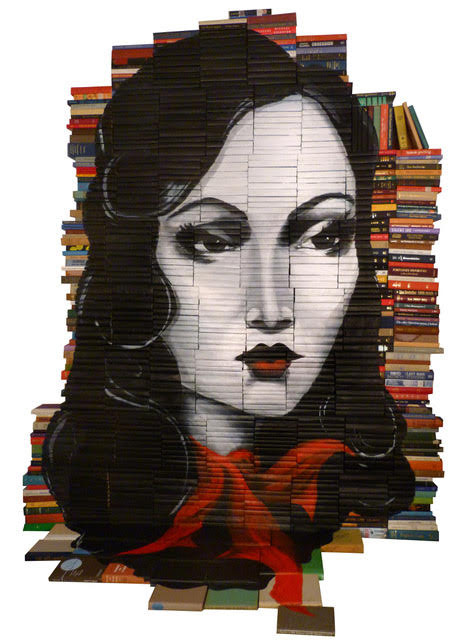 Homage To Nature: Cha, Yun Sook
Curated by Hoojung Lee
Presented by Art Gangnam Gallery & Company
Cha, Yun Sook creates her artworks as a way of paying homage to Nature. Acutely aware of our civilization's disregard for Nature, Cha expresses her gratitude to Nature through the mark making process of ink on Hanji paper and textile. She also celebrates Nature through performance by dressing others in clothes dyed with ink imbued with healing properties meant to lift the wearer's spirit.

Cha cherishes her love for Nature through her work and ritualistic performance, and shares her philosophy with the art community in Los Angeles.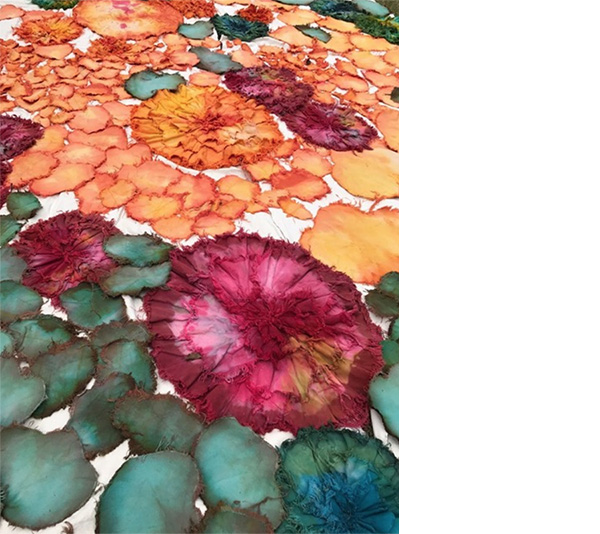 Monoliths: Emmanuel Boos
Presented by Sèvres
For the French artist Emmanuel Boos, glaze is more than ceramics. It is a form of poetic space at the same time as glaze. It is also a form of certainty and uncertainty in the creative process. He systematically collects and arranges color palettes with each mineral mixture, but he admits that the coating is blindly applied. He explores the unpredictability by paying attention to the physical and chemical phenomena that go into high-quality ceramics. For him, this process is a game in which the winner is the winner of chance. By presenting the deflection, deformation and textural change of the sculpture, the result is a solid block set called a monolith.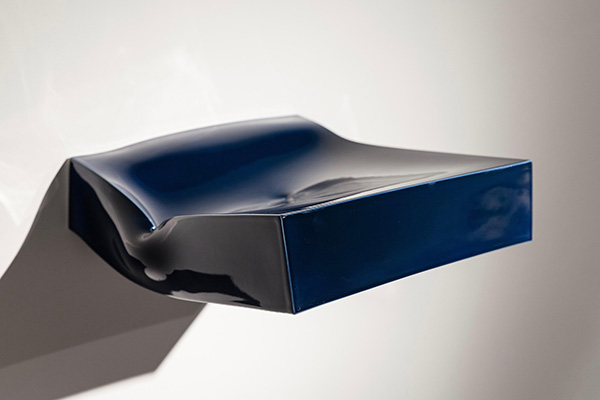 Hollywood: Edgar Plans
Presented by Pigment Gallery
From the time he was first put in an art class, Edgar Plans never wanted to draw what other people suggested. He liked to draw comic strips, short stories, not still-life paintings of bowls of fruit, or charcoal sketches of plaster-of-paris figures. At 15, he decided to learn more.

"I don't know why but I felt I needed to learn more disciplines and techniques. In the studio of José María Ramos, I learnt to express what I wanted via painting and drawing. After two years in the workshop, I realized that I wanted to not have anyone looking over my shoulder to correct and guide me through my faults. I needed to work alone and find my own ways. I rented a room in an art studio – previously an apartment belonging to Nicanor Piñole, an important Asturian artist – and in that attic I began my own path," said Plans.

Currently, he has his own studio where he continues to look for that path between his faults and truths.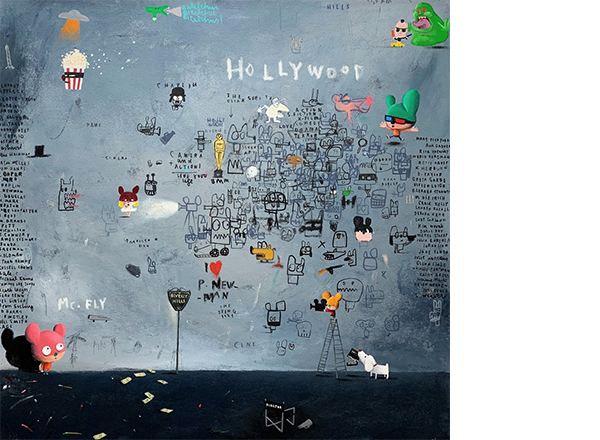 Tang Dynasty Beauty (Beautiful Woman), Velazquez
LED TV x 2 (5min): Lee LeeNam
Presented by Simyo Gallery
In a digital reinterpretation of classical masterpieces that reveal nature's wonders and life's aura, Lee LeeNam attempts to breathe new meaning and vitality into each pixel of image. Through the changing clothes of the royal lady in Tang Dynasty and the princess of Velasquez, the intercultural communication is shown. The artist transmits the crossover of eastern and western, moved by numbers of ants on their own will, creating a new, and unnoticeable, flow. His work is also famous for what is termed "five minutes' aesthetics," which limits a piece from being published for more than five minutes.

Lee LeeNam's works are included in the collections of Incheon International Airport, National Library of Korea, United Nations headquarters in New York, and numerous prominent museums such as the Asian Art Museum of San Francisco, the Suning Art Museum, and the Zebrastraat Museum in Belgium.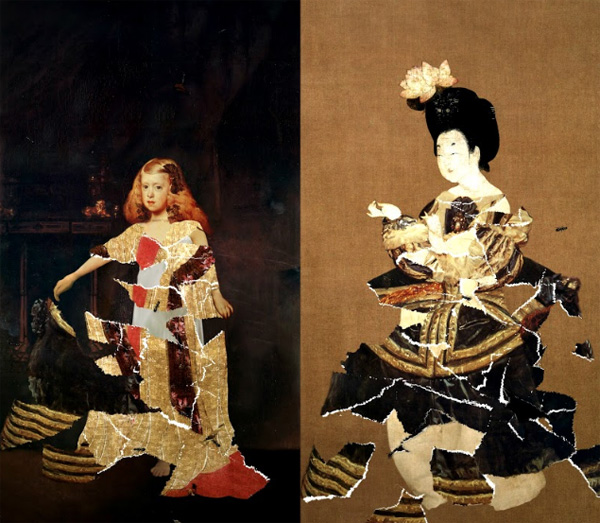 The Best Days of your Life, an Atlas: Scott Hove
Presented by Art All Ways
Scott Hove returns to LA Art Show this year with this museum-scale wall installation, "The Best Days of Your Life, an Atlas". Formerly known for the first large scale archway at Littletopia, and then for his widely acclaimed cake-themed mirror infinity chamber, Hove is presenting a more detailed and crafted wall piece that will illuminate minds and the immediate space.

For this sculpture, he has used a more painterly approach to composition, and has applied multiple illumination points to provide a sense of radiant heat and fantastical texture to engage viewers in a very active way. The 36 gallons of acrylic "frosting" create a compelling illusion of imminent satisfaction, and a re-imagined and idealized contextualization of personal memory. For much of Hove's work, artifice serves as a medium to support a fantasy narrative that can seem at once safe and inviting, and then questionable and menacing.

Scott currently lives and works in Los Angeles.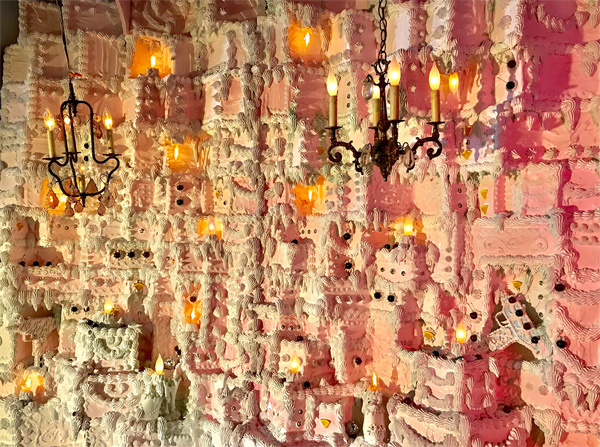 We Are Animals: Xevi Vilaró
Presented by Peimbert Art
"We Are Animals" is an educational project by Xevi Vilaró with the aim of making people aware of the protection of the species. This series is formed by a total of 22 works, among them are the two main figures of 69 x 47 inches, executed in oil on methacrylate – one with closed eyes is painted on transparent methacrylate against a golden background of 15,000 bullets, which represents the destruction and blindness of humanity. The other, in the same size and format, is of the figure with open eyes against a background of golden tree leaves, which represents protection.

The central pieces are the ten animals chosen to represent those facing the most danger of extinction, each measuring 14 x 20 inches, painted in oil on methacrylate with text on vinyl explaining scientifically where the animals live, how many remain, and the threat to potential extinction. Under each animal is a world map marked with the animal's habitat.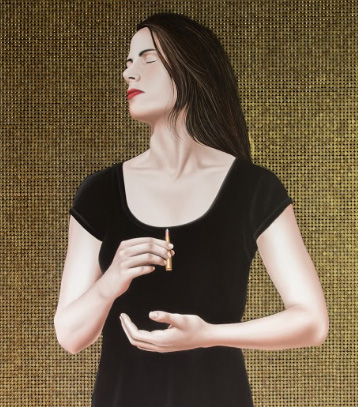 2018
Dansaekhwa IV: Internal Rhythm – Kim Tae-Ho
Curated by Simon Kwon
Presented by SM Fine Art Gallery
Development of Kim Tae-Ho's most recent works coincided with the turning of the millennium, about the year 2000. Focusing on brush strokes and the application of color, for the most part, these works appear to be vastly different from his previous works.

Above all, concerning the changing of appearance, thick layers of paint form bulky masses, which clearly diverge from his previous two-dimensional illusionary pieces. Simultaneously there are differences in physicality, and they differ uniquely from the full compositions of his paper works. Regarding the process, he first draws interwoven lines. He creates a fixed rhythm, and after building up twenty layers of paint, he then scrapes away the dense accumulation of paint. Color that is hidden beneath rhythmically comes alive within the structure. Countless visual spaces are constructed within the overlapping grid formation; each cell is comparable to a beehive, producing its own life in the realm of painting.
Read More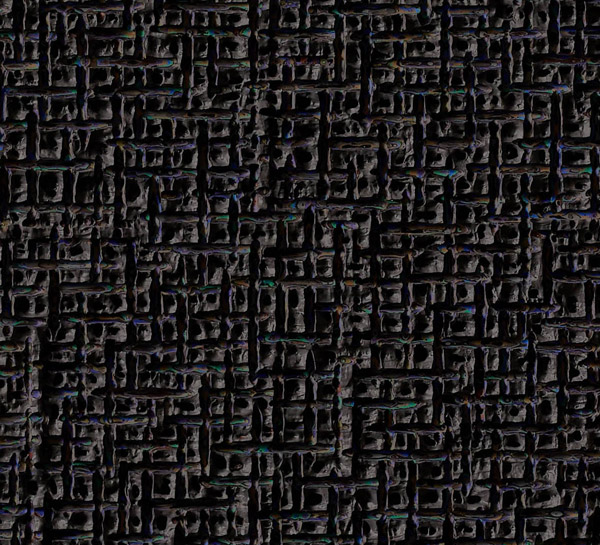 Director's Chair: Matthew Modine
Presented by Axiom Contemporary Gallery
On the 30th anniversary of Stanley Kubrick's
Full Metal Jacket
, Matthew Modine's "Full Metal Diary" offers an incredibly rare and vibrant portrait of one of cinema's most iconic war films – by one of the industry's most enigmatic directors. The exhibition is a study of a young actor under the apprenticeship of a legend.
A combination of rarely seen, medium-format photographs taken on set are displayed alongside poetic, intimate excerpts from the actor's personal diary. This glance behind-the-curtain reveals unique insights into Kubrick's methodology as well as the complicated process of an actor struggling to come to terms with his craft. "Full Metal Diary" is an extraordinary example of art imitating life.
Show More