Ink painting originated in East Asia as the tradition of using carbon-based black ink and calligraphic brush painting techniques, and has continued to evolve as the basis for much contemporary works in the region. Ink is as synonymous with painting in the East as oil is with painting in the West. From traditional and historical, to contemporary, to avant-garde, these seven galleries offer us an opportunity to appreciate the rich spectrum of ink painting styles.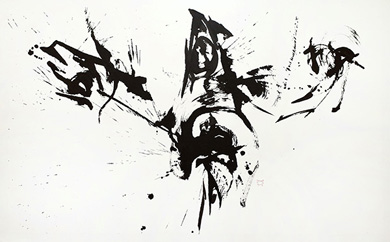 JAPANESE CALLIGRAPHY
By Sogen Chiba
Presented by Gallery Kitai (Tokyo, Japan)
Sogen Chiba, is a Japanese Calligrapher, from Ishinomaki in Miyagi. One of his skills is the "Spiral Splash," that is to swing the stem of a very long and thin brush intentionally to splash the ink and to draw the spiral form of it. Sogen developed the tool called 'Cho cho ho,' which means very long brush himself. This skill is not just swinging the hand with the brush, but drawing the line by twisting and rolling the wrist flexibly at the center of the round cross section of the brush stem as a starting point, so that the swinging force is amplified toward the point of the 30 cm brush, much longer than a regular sized one and the ink is scattered momentarily. The form of the splash can be controlled by Sogen's techniques. The theme expressed by the "Spiral Splash" is about the cosmic and the spiritual, large scale thing beyond human wisdom, such as explosive phenomena like the Big Bang, and the Phoenix.

3.11 REQUIEM AND REVIVAL
By Sogen Chiba
Presented by Gallery Kitai (Tokyo, Japan)
Sogen Chiba's 3.11 Requiem and Revival work transcribes newspaper reports of the Great East Japan Earthquake. Chiba created a new work in this series for the current exhibition. Given we are now seven years on from 3/11 our memories of the event are fading. We seek to record the memories of unimaginable disaster, and consider how we can move beyond them. Chiba himself is from the disaster-hit Ishinomaki district, and has used his indomitable spirit to move beyond misfortune and challenge himself to create works and imagery that can only be expressed in calligraphy.
Nine years have passed since The Great East Japan Earthquake and Related Disasters, and while recovery and revitalization continues in the disaster zones, there is also evidence of weathering in these areas. Amidst such circumstances, these works confront face on the question, what can only be expressed through contemporary calligraphy. Chiba himself is a survivor of the disaster, and incorporates strong messages for the people of the disaster zone in these works. His hope is that this exhibition will allow an even wider audience to see, know and feel these works. Chiba's new work is included here. One direction being taken in avant-garde calligraphy, as seen in this work, is the shedding of the character nature of each character, making each viewer consider the definition of the work itself, is it calligraphy, is it not?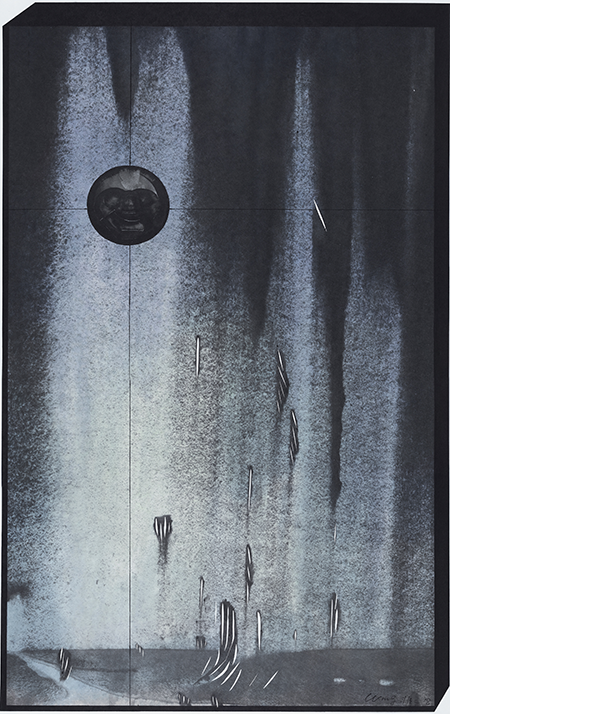 DEFORMITY
by Wang Fei
Presented by CM2 Space (Los Angeles , CA)
CM2 Space features Wang Fei's ink series "Deformity." Wang is an important experimental ink artist resulting from China's "85 Art Movement." He is well versed in the spirit and technique of traditional ink painting, but creates controversy and debate in breaking traditional principles. The use of "Dead Ink" in his works are traditionally called "sick ink" or known to be "illegal." They are a means of expression, subverting the traditional rules of brush and ink aesthetics. In subject matter, he's abandoned the traditional sentiment of literati painting and looks directly upon current society and nature.
Wang challenges the conventional patterns of Chinese ink painting, subject, and methods. He does not express his frustrations in extreme ways but uses irony to depict the cold attitude of the Chinese population that refuse to acknowledge the need for change, the population that want to reside in the safety of convention.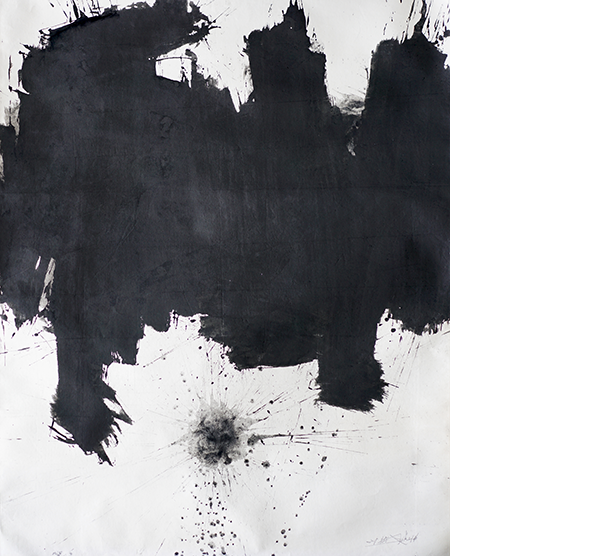 FAUVIST INK
By Yang Xiaojian
Presented By Cospace (Shanghai, China)
Yang Xiaojian, the Chinese artist born in 1960, whose bold revival of classical calligraphy into a form reflective of Western abstract expressionism has earned himself the title of "the Oriental Ink Beast." In these large works on rice paper, the artist deconstructs Chinese ideograms into powerful, ambitious compositions that challenge conventional East-West categorization, showing the rawness of the emotions delivered by Yang. In the words of Professor Fan Di'an, Director of the National Art Museum of China Curator for Contemporary Art: "Yang Xiaojian is an artist who challenges both native tradition and western influence with a Chinese traditional medium—the ink and wash—an art form that he committed himself to for the last 20 years, proving in the process that art is both a means of spiritual redemption and an action of cultural transcendence of universal significance."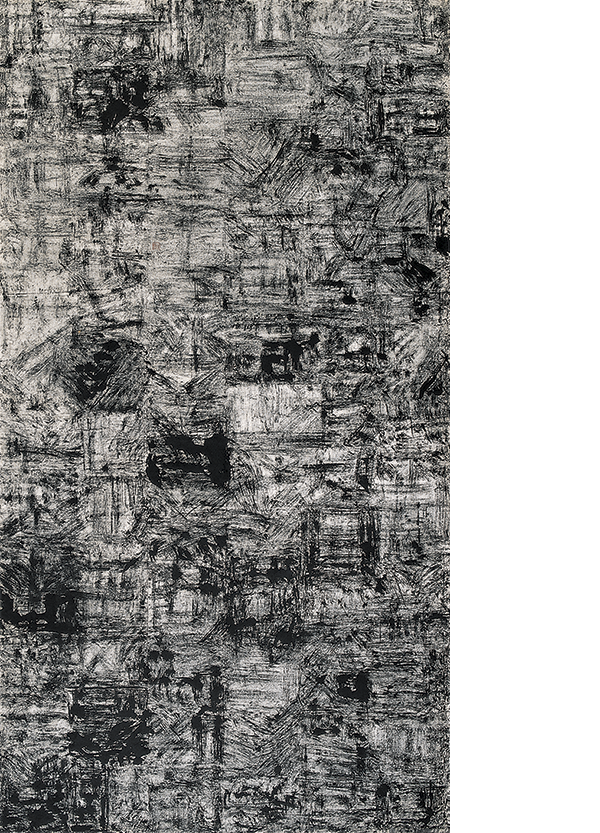 CONTEMPORARY INK AND NEW CALLIGRAPHY
By Bian Hong, Li Huichang, Li Zhi Hong,
Fan Peng, and Yuan Fuguo
Presented by East Art Center (Beijing, China)
"Contemporary Ink and New Calligraphy" is the curated contemporary ink and calligraphy exhibit to be presented to Western audiences by East Art Center, Beijing. East Art Center aims to highlight the contemporary ink paintings that were born out of the "85 New Wave (New Art Movement)" and the exemplary artists that pushed the medium to new places. "Contemporary Ink and New Calligraphy" will be featuring artists: Bian Hong, Li Huichang, Li Zhi Hong, Fan Peng, and Yuan Fuguo. These artists are threaded by their unique applications and angles that fuse the traditional Chinese ink medium and philosophies with contemporary aesthetics and ideals.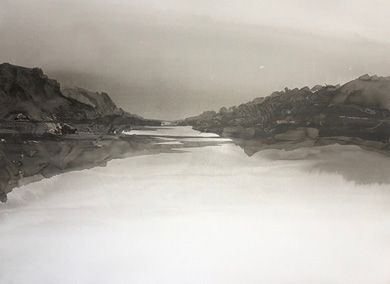 TIMELESS AND NEW
By Yoshio Ikezaki
Presented by Kylin Gallery (Los Angeles, CA)
Kylin Gallery is pleased to present a solo presentation of new and recent works by Yoshio Ikezaki, bringing together a collection of some 20 works by the artist. These include Sumi ink on paper (Timeless Series), mixed media on handmade paper (New Series) and paper sculpture (Earth Breathes Series). Ikezaki's painting images are mysterious and evocative. This enigmatic quality is derived partly from the fact that he mixes his own ink, including in it mineral particles that give the surface of the painting a slight iridescence. His paintings deeply show evidence of his intention to uniform and meet "East and West," a coalescence of Western modern and Japanese tradition. He expresses the fusion with "Ma," Japanese aesthetic term to designate an artificially placed interval in time and space which include meaningful voids created by the deliberate use of blank-space.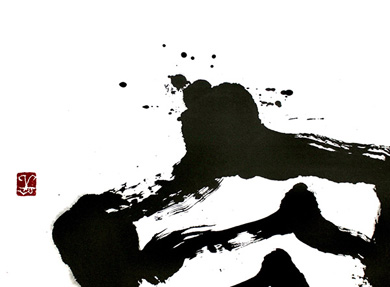 BOKUJIN-KAI / INK MAN GROUP
By Shoen Tominaga
Presented by S.E.A. (Los Angeles & Tokyo, Japan)
S.E.A. Gallery exhibits the work of Nagoya-based artist, 90-year-old Shoen Tominaga. In the early 1950s, Tominaga rose to fame as a member of the avant-garde calligraphy group, Bokujin-kai (lit. "Ink Man Group"), formed by Yu-ichi Inoue, Morita Shiryu and others. His work is characterized by an exquisite balance of black and white achieved through extraordinary compositions and brushwork honed from decades of experimentation.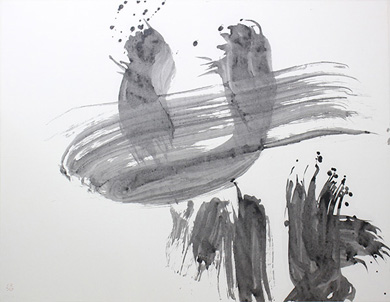 FLOWER
By Yuichi Inoue
Presented by Zeal House
(Tokyo & Kamakura, Japan)
Yuichi Inoue is one of the most important artists in Japan for his avant-garde calligraphic work. In this work, the word flower is written with a vibrant touch. The style goes beyond the scope of the calligraphy and is as powerful as a painting. He started writing in the 1940s and left his work mainly in the style of writing only one character from the late 1950s. He created his own technic and style to make ink splashes and spatter like dripping through repeated studies (or practice or research); he uses his own unique materials such as mixing bonds with ink. Inoue's work is now appreciated internationally, not just in Japan. His works are in many museum collections in Japan, The National Museum of Modern Art, Tokyo, The Metropolitan Museum of Art, NY, Los Angeles County Museum of Art, and in Germany, Switzerland, Hong Kong and China.
INK 2019
MICHAEL GOEDHUIS
Michael Goedhuis
will be exhibiting the ten best contemporary ink painters from China.
The exhibition will describe, through the works of these ten leading artists, how Chinese contemporary culture is being transformed via a profound understanding of Chinese historical civilization.
Gu Wenda, Li Huayi, Li Xubai, Liu Dan, Lo Ch'ing, Qin Feng, Qiu Deshu, Tai Xiangzhou, Wang Dongling and Wei Ligang
are creating a new pictorial language which expresses the fundamentals of Chinese aesthetics and culture in ways which are relevant to today's society in China and also to the developments in the West.
Ink paintings emerged 1000 years ago from calligraphy: the sublime and central achievement of China. Calligraphy is executed in ink on silk or paper, with a brush. In order to master this brush on the absorbent paper, which tolerates no error or correction, the artist has to achieve a high degree of concentration, balance and control. Painting is an extension of the art of calligraphy. It is therefore, like calligraphy, linked to the sacred prestige of the written word.
Read More
EAST ART CENTER
From China, Beijing's
East Art Center
spotlights a handful of leading artists who, in various ways, incorporate the techniques of calligraphy into their pieces.
Bian Hong
is a pioneer in the New Abstract Calligraphy movement originating in China. Her work subverts the Chinese artistic convention that calligraphy is more important than visual painting, and in her work, she approaches them as equivalent. The result is neither painting nor calligraphy, but a different creation altogether; pulled from modes of Chinese tradition and Western aesthetics and abstraction.
Li Huichang
is a master in oil painting, ink arts, and calligraphy, and has enjoyed a prolific career in China. His works feature his mastery in ink, creating mysterious and ghostly images through traditional techniques such as po-muo (splash ink). Due to its difficulty to master, he is one of the only artists to continue practicing this technique. In "Realm,"
Fan Peng's
body of work is a ritualistic comment on, and response to, the natural chaotic and social forces that shape much of the world.
Li Zhihong
uses traditional Chinese ink as his medium to present viewers with his inner perception of life, which he perceives as consisting of particles.
CM2 SPACE
CM2 Space
from Los Angeles presents the works of Beijing artist
Wang Fei
, one of the leading figures in Chinese experimental ink painting. Fei balances conflicting principles of aesthetics from traditional Chinese ink painting, violating certain rules to elevate and align the work with contemporary principles. Highly emotional, his art presents dichotomies and travel between joy and anger; laughter and tears as well as life and death. He challenges established rules to create images that reflect the internal struggle of the human experience, the push and pull between rebellion and complicity.
COSPACE
Cospace
from Shanghai gives us the work of
Yu Qiping
, who uses meticulous craft and style to create ancient and modern landscapes and figures with surreal and ironic elements.
KAMIYA CO., LTD
From Japan,
Kamiya Co,. LTD
exhibits the work of the late
Yu-ichi Inoue
, who gained an international reputation through the course of his career for his avant-garde calligraphic work.
Robert Motherwell
called him one of the few great artists from the latter half of the 20th century. Inoue's paintings depict calligraphy character-based subject matter, as well as his radicalization of traditional calligraphic techniques and styles. Also on view is the work of
Shiro Tsujimura
and
Morihiro Hosokawa
, who incorporate Zen teachings into their art practices and aesthetics.
GALLERY KITAI
Gallery Kitai
showcases a trio of artists who all use Japanese calligraphy as the basis of their current form of expression.
Mizuho Koyama
is making a name for herself as a pioneer and liberator of sho (calligraphy) from the restrictive framework of the technique—creating a style different from past liberators such as
Inoue
and
Shinoda. Reiko Tsunashima
has exhibited all over the world, and is best known for her body of abstract landscape "Scene of Sumi," which she characterizes as a true collaboration with nature.
Miwako Nagaoka
is a born calligrapher who is recognized as a pioneer in using it as a basis for an avant-garde aesthetic.
SHUMOKU GALLERY
Shumoku Gallery
exhibits the work of Nagoya-based artist, 90-year-old
Shoen Tominaga
. In the early 1950s, Tominaga rose to fame as a member of the avant-garde calligraphy group,
Bokujin-kai
(lit. "Ink Man Group"), formed by
Yu-ichi Inoue, Morita Shiryu
and others. His work is characterized by exquisite balance of black and white achieved through extraordinary compositions and brushwork honed from decades of experimentation.
BAIK ART
Based in Los Angeles and Seoul,
Baik Art
highlights the work of South Korean artist
Chuni Park
. Inspired by natural landscapes, he recreates abstract paintings from memory of the places he's explored and populates them with a cast of symbolic, often-recurring characters.
Featured will be Park's large-scale, multi-panel installation, "Black Landscape," which draws the seasons in black ink derived from pine soot. This will be the first time it is exhibited outside of South Korea. In the months leading up to the
LA Art Show
, Park is also traveling through California and the American West, visiting national parks like Yosemite for inspiration. He will premiere several new pieces inspired by his exploration of the Southwest, joining iconic landscape artists like Hockney who have tackled similar subject matter.