Latin American and Caribbean Artists Today
MUSEUM OF LATIN AMERICAN ART (MOLAA)
Since its founding in 1996, MOLAA has contributed significantly to Southern California's cultural landscape and remains the only museum in the United States dedicated to modern and contemporary Latin American art.
MOLAA AT TWENTY: 1996–2016
The Museum of Latin American Art celebrates its 20th anniversary and recent AAM accreditation with a major Permanent Collection exhibition. MOLAA at Twenty: 1996–2016 presents the Robert Gumbiner Founding Collection and other Permanent Collection highlights acquired over the past two decades, including recent acquisitions of Chicano art.
20TH ANNIVERSARY MILESTONES
Over 100 critically acclaimed exhibitions by MOLAA curators
Over 100,000 students served through school tours and workshops
Over one million visitors since 1996
Over 850 acquisitions to the Permanent Collection
Accreditation granted in 2015 by the American Alliance of Museums, the highest national recognition of a museum's professional standards and practices
INTERNATIONAL PRINTMAKING EXCHANGE: L A HAVANA
MOLAA, in partnership with Self Help Graphics & Art (SHG) and the Richardson Center for Global Engagement, sent five Los Angeles artists to the Taller Experimental de Gráfica in Havana, Cuba in October 2015 for a one week printmaking exchange—the first of its kind. Los Angeles artists include: Margaret 'Quica' Alarcón, Rogelio Gutierrez, Dalila Paola Mendez, Delilah Montoya, Erin Miyo Stevens, and Ernesto Yerena. In January 2016, SHG will host Cuban artists Yamylis Brito, Carlos del Toro, Dairén Fernández, Aliosky García and Octavio Irving. Visit MOLAA's booth at LA Art Show to see a preview of L A Havana.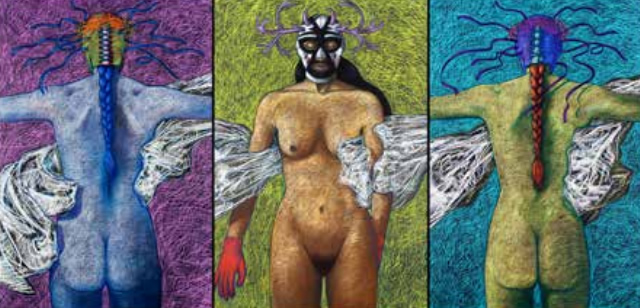 JUDITHE HERNÁNDEZ
Luchadora Trilogy, 2009
Pastel on paper
44 x 90 inches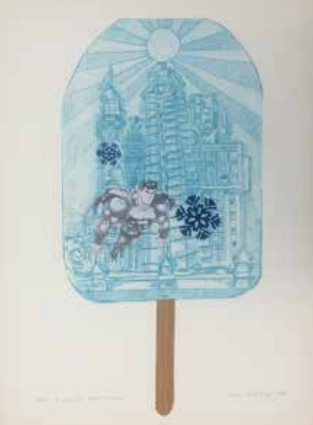 YAMILYS BRITO JORGE
A Cold War Popsicle, 2015
Screenprint and collage
22 x 30 inches