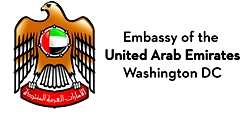 The United Arab Emirates is honored to participate in the LA Art Show 2015 as the Featured Guest Country.
The United Arab Emirates (UAE) will curate a special exhibition that will showcase a selection of the country's top contemporary artists and highlight the nation as an international hub for culture and art. Throughout the UAE, there is an exciting new array of museums, art shows, and galleries that celebrates the nation's rich cultural heritage, as well as displays of diverse international art. As an example, the Cultural District of Saadiyat Island in Abu Dhabi will be home to several stunning architectural and cultural icons including, the Sheikh Zayed National Museum, a world-class performing arts center, and outposts of world-renowned museums, the Guggenheim and the Louvre. Dubai, meanwhile, is emerging as an important destination for artistic institutions, dealers and collectors, all looking for art with a fresh – and distinctly global – twist. Sharjah is another prominent cultural center, featuring over 20 museums and the Sharjah Biennial, which fosters cultural collaboration and opportunity for artists and exhibitors. In addition to government investment, the UAE's developing arts and culture scene is being driven at the grassroots level by local trailblazers who have opened dozens of independent galleries in recent years.

Founded in 1971, the UAE is a federation of seven city-states (or emirates), located in the heart of the Arabian Gulf. Originally home to small fishing towns and a Bedouin people, the Emirates has forged a distinct national identity that combines the traditional with the modern. This unique identity, and vision for an even better future, will be captured in the work of local artists that will be exhibited at the 2015 LA Art Show. After a selection of the works from Past Forward is displayed at the LA Art Show, the entire exhibition will travel to the Fowler Museum at UCLA for five weeks, beginning Jan. 25.
The Embassy of the United Arab Emirates presents:
Past Forward: Contemporary Art from the Emirates
The Embassy of the United Arab Emirates (UAE) in Washington D.C., in collaboration with the 2015 LA Art Show – presents a special exhibition at this year's show – Past Forward: Contemporary Art from the Emirates. Organized by the Embassy and the Meridian International Center, this groundbreaking cultural diplomacy program brings Emirati artwork and artists to the United States. The installation tells the story of the UAE's rich history, culture and rapid development through the works of 13 notable Emirati artists. Past Forward represents the first major touring exhibition of Emirati art in the world, and will be on view in Los Angeles as part of the exhibition's tour around the US through 2016.