There Could Be A Monster Inside You: PSJM Collective
Curated by Marisa Caichiolo
Wednesday, February 5, Opening Night Premiere
6:00pm – 10:00pm
Performers will be collecting interviews from the public

PSJM is an art collective made up of Pablo San José (Mieres, 1969) and Cynthia Viera (Las Palmas, 1973). PSJM acts as a trademark of happening art addressing issues of the artwork in the market, communication with consumers, or function as an artistic quality, using communication resources borrowed from capitalism of the spectacle to underscore the paradoxes produced by its unbridled development. PSJM has exhibited in New York ("The Real Royal Trip… by the Arts", PS1-MOMA, in collaboration with El Perro and Aitor Méndez), Miami ("Deluxe", Galería Casas Reigner), Cologne (KunstKöln04, Galería Blanca Soto), Berlin (ART FORUM 05 and "Shopped to Death", Tuteurhaus), Sao Paulo (Galería Baró Cruz) and London ("Scope 05", Ethan Cohen Gallery), as well as in several group and solo exhibitions in Spain, such as "Globos Sonda" in MUSAC. The trademark PSJM is represented by Espacio Líquido in Gijon, Blanca Soto in Madrid, Riflemaker de Londres and Saro León in Las Palmas G.C.

PSJM will present at the LA ART SHOW 2020 the same performance they created for the 58th Venice Biennale context, one of its corporate performances in which uniformed hostesses interact with the public in order to startle and prompt reflection. Combining marketing and totalitarianism, using the strategy of "overidentification" theorized by Zizek, the collective presents itself aesthetically appropriating the strategies and modes of seduction of the capitalist system in an authoritarian way.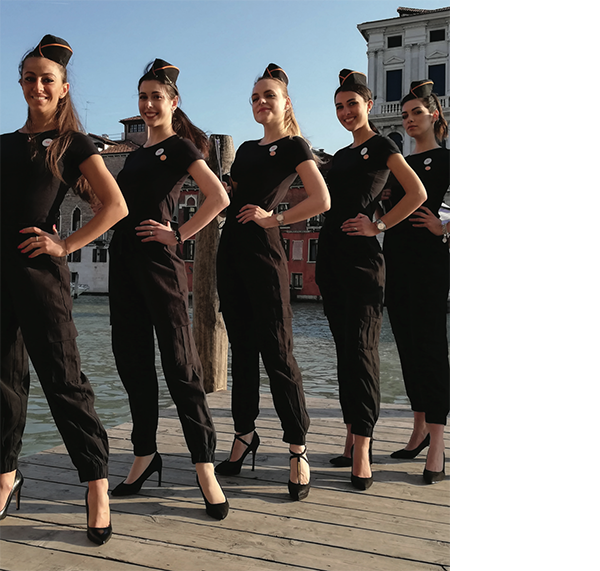 Cirque Du Soleil – VOLTA
Wednesday, February 5, Opening Night Premiere
6:00pm – 10:00pm
Performers will be roaming the fair
VOLTA tells a spellbinding story about the freedom to choose and the thrill of blazing your own trail. Inspired in part by the adventurous spirit that fuels the culture of action sports, the show weaves acrobatics in a visually striking world driven by a stirring melodic score.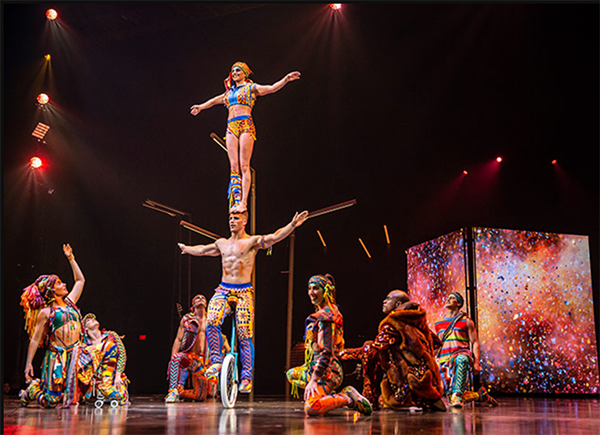 Live Sculpting Demo: Ichitaka Kamiji
Presented by Zeal House
Wednesday, February 5, Opening Night Premiere
6:00pm – 10:00pm
Location: Booth #625/724
Emerging realism artist Ichitaka Kamiji will be demonstrating his creative process and sensitive technology working on Goliath, which appears in the work of the Renaissance master Caravaggio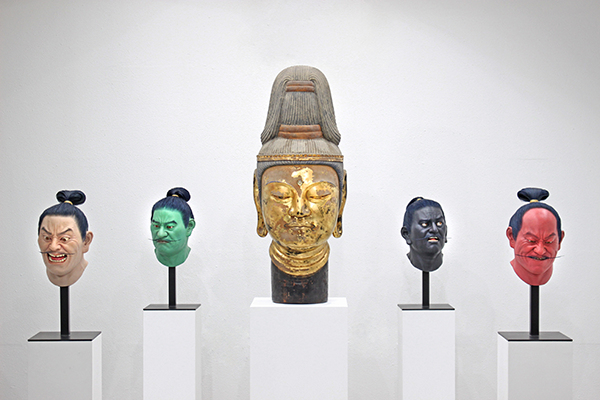 Diversity Walks and Talks: Miss Art World
Presented by Los Angeles Arts Association
Curated by Peter Mays
Wednesday, February 5, Opening Night Premiere
7:00pm all round the show
Location: Booth #116
The "Diversity Walks and Talks" performance invites individual proclaimers of LA's culture to strut the runway in celebration of their uniqueness, showcasing LA's diversity. A variety of participants will be pre-selected and interviewed about what diversity represents to them. Their interviews will play during the runway either in video or audio format. Spectators will also be recruited live to walk the runway. A photographer at the end of the runway will document all individuals and their photos will be instantly displayed on a runway wall. This performance, like LA's fashion and celebrity culture, is high energy, fast paced, and confident.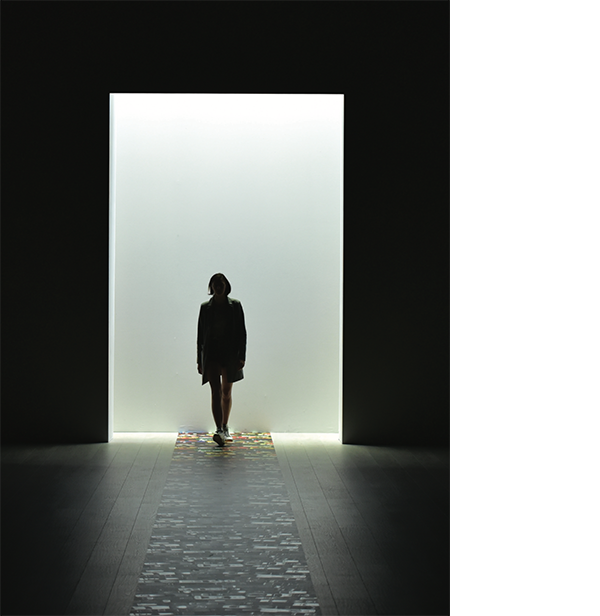 Sogen Chiba Performance
Wednesday, February 5, Opening Night Premiere
9:00pm – 11:00pm
Location: Booth #64A
Japanese calligrapher, CHIBA Sogen will recreate his factory at THE LA ART Show 2020 and create various artworks for a few hours each day in front of his huge artwork "3.11 Requiem and Revival". LA Art Show attendees can watch his work in progress right in his factory.

He will showcase various techniques, at times he will write very small characters as in the work "3.11 Requiem and Revival" and at other times write in "Spiral Splash", carve seals and so on.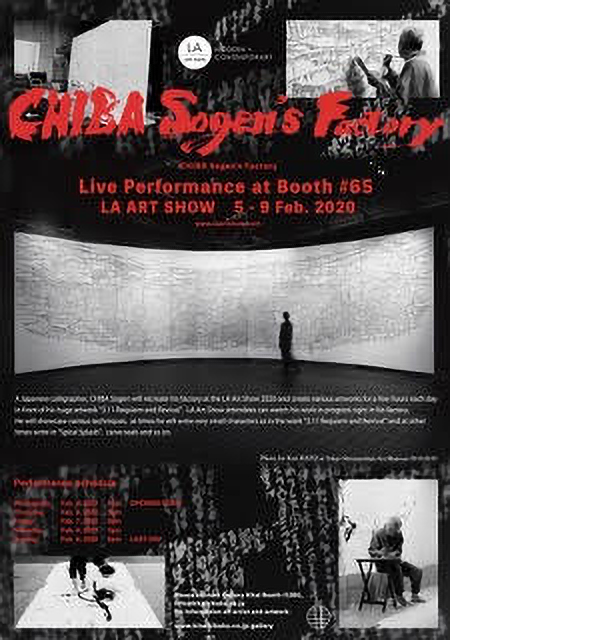 I Going To…
Interactive Installation: Adriana Ramirez
Curated by Marisa Caichiolo
Location: DIVERSEartLA Section, ongoing
Adriana Ramirez is a conceptual artist from Colombia. Her work was part of biennials, exhibitions in different parts of the world inviting the collective to participate in most of her installations. This platform has an axis: Everyone's capacity to decide and become the creator of his or her own destiny, and therefore the responsibility of the community's future. It is based on two premises: the first, is that we do not come to this world only to know ourselves, but also we come to it with the possibility of creating ourselves; and the second, is that every individual is surrounded by a social group and coexists thanks to language.

In order of that, this platform invites people to experience the language`s power to built future realities by declaring: when one AFFIRMS something, language is used to describe reality; it means that words depend on the world which already exists; for instance "Today is raining". On the other hand, when one DECLARES something, language is used to define reality, therefore our world will depend on the words pronounced; for example, "Today, I am going to listen before speaking".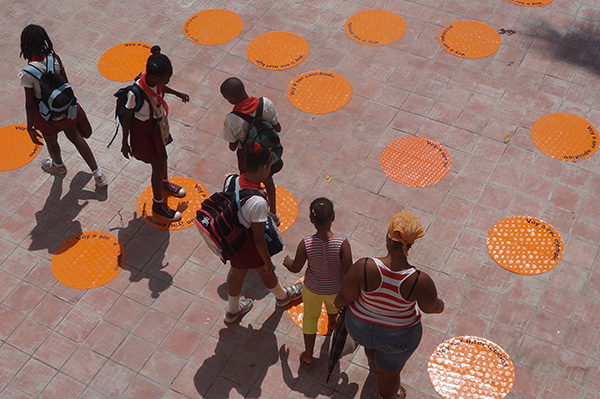 Live painting: LA-street artist Robert Vargas
Exclusively at the St. Jude Reception
Wednesday, February 5, Opening Night Premiere
6:30pm – 7:30pm & 8:00pm – 11:00pm
Location: St. Jude Booth #290
We are pleased to announce that acclaimed LA-based artist/muralist, @TheRobertVargas, will be painting live on Opening Night.