2020 program details will be announced this winter
Nodrissx/Narcissx: Dorian Wood
Curated by Marisa Caichiolo
Wednesday, January, 23, Opening Night Premiere
6:30pm – 11:00pm
Booth EE6
Artist Dorian Wood seeks to glorify both the sanctity and irreverence of intimacy. Through the use of their corpulent body and booming voice, Wood revels in challenging the artist-audience separation, using subject matter informed by their own position in society as a non-binary person of color and an autodidact without a formal college education nor a strong alliance to any particular community.

For "Nodrissx/Narcissx," the artist will be in a chair in the center of a darkened room, covered from head to toe in a cloth, with a slit that exposes their left breast. The artist will have a microphone propped in front of their face. Attendees are invited to kneel in front of the artist and suckle on artist's breast. Attendees may suckle on the breast for as long as they want. During the performance installation, artist will vocalize to a 4-channel soundscape created solely by artist's voice.

Wood's work has been showcased in concert halls and performance spaces around the world, including at such institutions as The Broad (Los Angeles), LACMA (Los Angeles), The Stone (NYC), MASS Gallery (Austin), Kulturhuset (Stockholm), and Hebbel am Ufer (Berlin). As a musician, they have released over a dozen recordings, among them two back-to-back albums, Rattle Rattle and Down, The Dirty Roof, showcasing a series of doomsday-themed songs that incorporate over 60 musicians. Their most recent album, XALÁ, marks the first time that Wood has recorded a full-length work in their mother tongue of Spanish.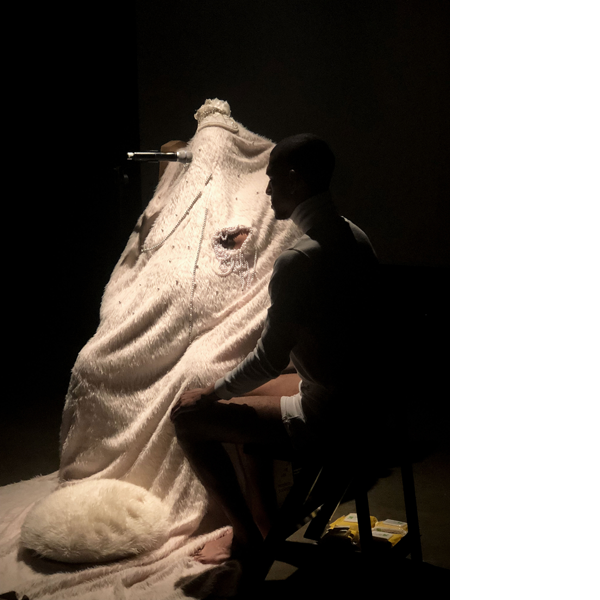 You should wear your revolution: Sarah Trouche
Curated by Marisa Caichiolo
Wednesday, January, 23, Opening Night Premiere
6:30pm – 7:30pm I 8:30pm – 9:30pm
Thursday – Sunday, January 24 – 27
Booth EE7, Performer-Inspired Times
Sarah Trouche is a French visual artist who uses performance, photography, video and sculpture in her practice. She uses her body as a social and political tool. Trouche's work is centered around cultural and political issues such as migration and displacement, and invites us to question the major challenges we face today.

For the "You should wear your revolution" project, Trouche is committed to research on women's emancipation, inspired by the history of France during the French Revolution and the movement of the "Sans culottes."

Sarah Trouche will perform using hundreds of underwear that she has collected, washed and dyed beforehand. Through this action, she imagines a manifesto around the notion of female emancipation, radical and collective.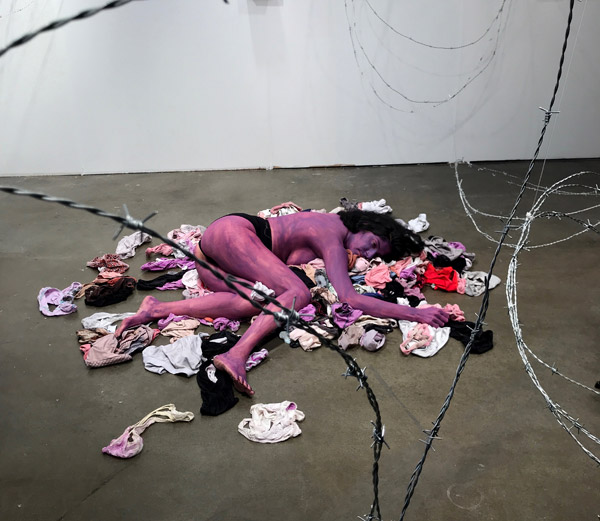 Homage to Nature: Cha, Yun Sook
Curated by Hoojung Lee
Presented by Art Gangnam Gallery & Company
Thursday, January 24 I Sunday, January 27
12:00 noon
Booth BB32
Cha, Yun Sook creates her artworks as a way of paying homage to Nature. Acutely aware of our civilization's disregard for Nature, Cha expresses her gratitude to Nature through the mark making process of ink on Hanji paper and textile. She also celebrates Nature through performance by dressing others in clothes dyed with ink imbued with healing properties meant to lift the wearer's spirit.

In her performance piece, Cha cuts, folds and sews pieces of fabric to drape over a model to complete a one-of-a-kind piece. She will interact with audience members by sharing strips of fabric that can be worn or carried as a reminder of our connection to the natural world.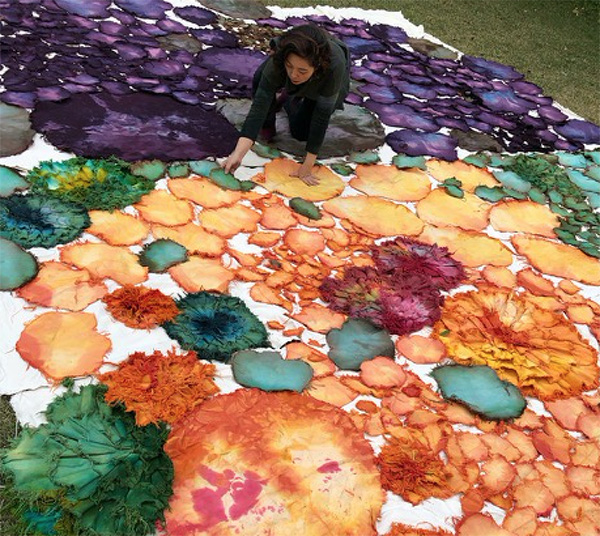 Immortal Beloved: Mari Kim
Curated by Simon Kwon
Presented by SM Fine Art Gallery
Friday, January 25 I Saturday, January 26
12:00 noon
Booth 57
More than 10 years ago, when Mari Kim began using the computer to paint, print and display art, she was exposed to a sharp division between the likes and dislikes among art critics. To some, her work was interesting and very appealing. To others, it was so embarrassing that it made them wonder how printed cartoons could be art and they directed hate speech towards Kim.

Kim will present a series of performances in the same context, inviting viewers to enjoy, support or criticize.

"I will show my new works which combine my paintings and the masterpieces that are said to have a universally accepted quality of beauty. I want to extend the concept to a performance. Yayoi Kusama has been known for such performances in her earlier years and I'd like to revive one of her most known performances called 'Performance Self-Obliteration by Dot' in 1968 for art show visitors," said Kim.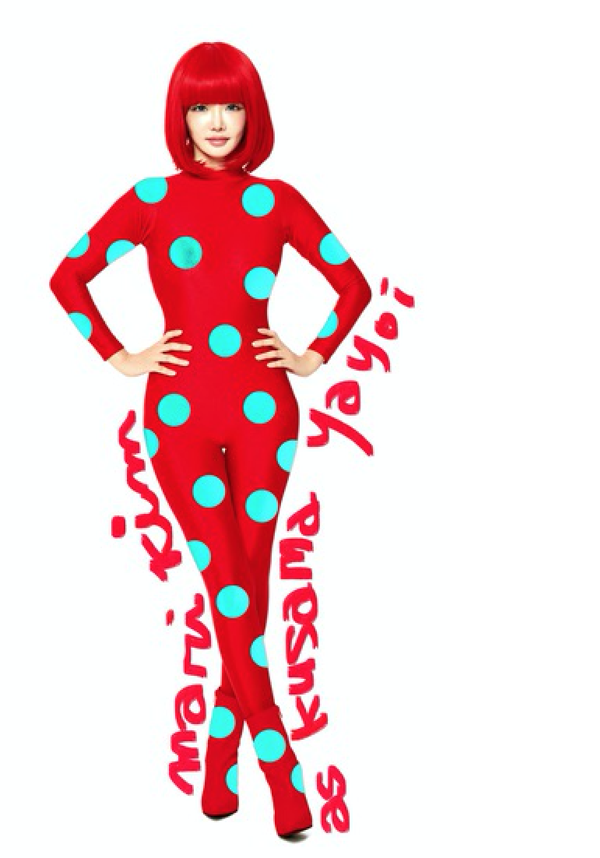 Survivor! Share Your 98 Second Story: Elizabeth Tobias
Presented by Los Angeles Art Association
Sunday, January 27
2:00pm – 3:00pm
West Hall A
Elizabeth Tobias will amplify her fusion of social practice, performance and sound to debut Survivor! Share your 98 Second Story at 2019 The Los Angeles Art Show. This immersive project addresses the sexual assault epidemic, one of the most pervasive, yet most underreported crimes. Survivor! addresses the staggering statistic that every 98 seconds, there is a sexual assault in America.

Weaving together spoken word and improvised sound, Elizabeth Tobias will perform with an ensemble of artist survivors to collectively promote needed awareness and advocacy for sexual assault survivors in the art community and throughout the public sphere.

Those victimized by violence often lack the support and resources needed to come forward. For artists who have been impacted by the trauma of sexualized assault, rarely, if ever, are there adequate opportunities to create work that addresses their stories within and beyond the larger art community.

Dr Jennifer Freyd, expert in the field of interpersonal violence has identified that the act of speaking out has a measurable impact on decreasing violence. Consequently, the performance has the potential to directly reduce the statistics. Survivor! Share Your 98 Second Story is a ground breaking new performance that addresses trauma, courage and continuance.