Eugenia Vargas | Talking Head Transmitters
Curated By Marisa Caichiolo
Presented By Muzeo Anaheim
THE WORK
Deconstructing Liberty: a Destiny Manifested. Explores the configuration of communities and forms of collective identity. This project will act as a dynamic laboratory for each artist to experiment, and examine different aspects as patriotism, community, citizenship, the pursuit of happiness, freedom, equal rights, and activism, using performances, installations, videos, paintings, and photography. The exhibition reflects a great diversity of the American people and society. Coming from many lands, races, ethnicities, and perspectives, Americans have as many dreams and aspirations as people live in this nation.
Read More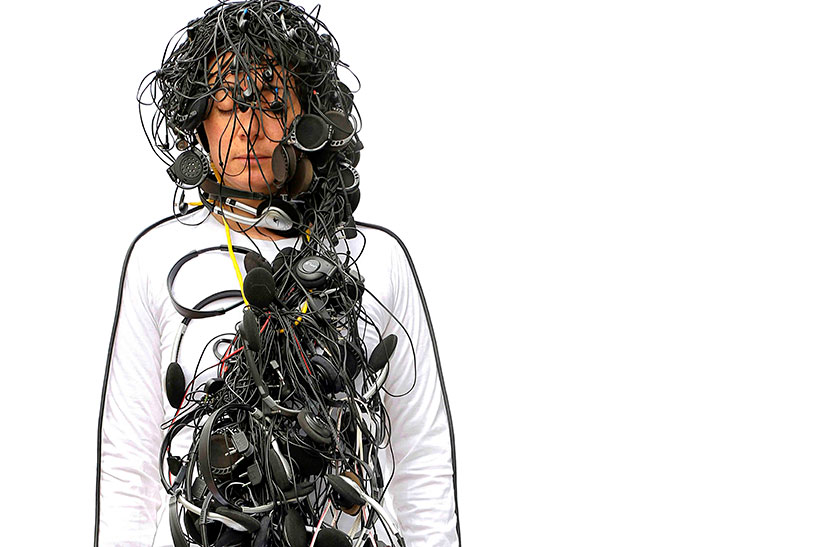 Carlos Martiel | Cauce/Riverbed
Curated By Marisa Caichiolo
THE WORK
In his work "Cauce/Riverbed," the artist exposes the significant challenges faced by immigrants in California and the larger United States. Martiel digs deep into the nature of undocumented immigration and shows how it impacts the lives of some eleven million individuals and their families in the world's most powerful nation.
His performance is a window to the human tragedy that grossly affects immigrants with low-education levels and limited English language skills, who come to the United States risking their lives as they venture into the dangerous dessert in an attempt to cross the Mexico-US border. As Martiel shows, despite the highly-publicized "American Dream," for these poor and uneducated immigrants, making it alive into US territory does not necessarily guarantee access to better opportunities or to a higher quality of life.
Read More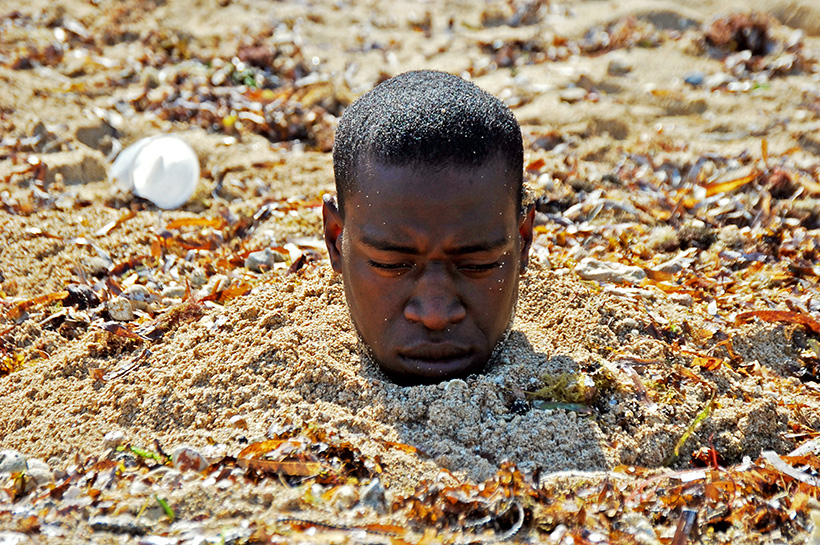 Norton Maza | Deep Blue: Underwater
Curated By Marisa Caichiolo
THE WORK
With the installation "Deep Blue : Underwater", Maza is capturing the unseen, the scenes under water, more than that, he wanted his work to connect all the bodies of water that people all over the world from all times have crossed in search of security and better lives.
Read More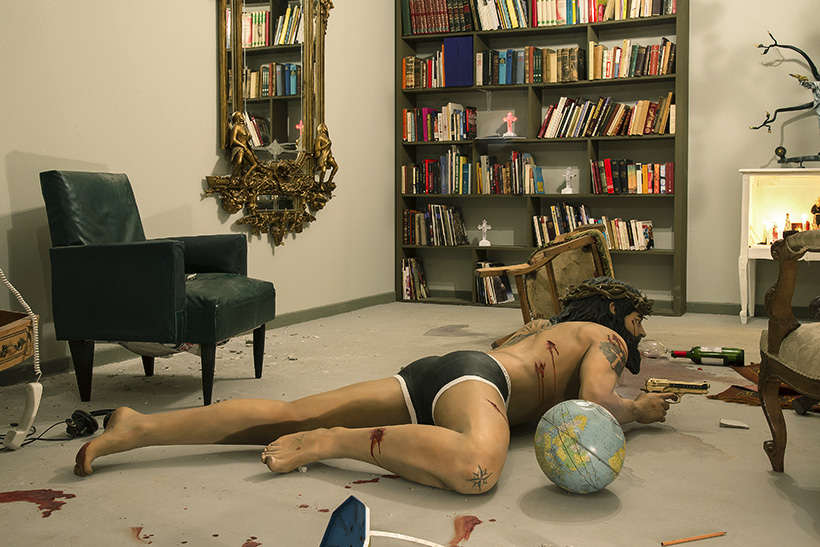 Melanie Pullen | Violent Times
Curated By Marisa Caichiolo
Presented By Esthella Provas & Associates, Beverly Hills
THE WORK
The staged performance entitled "Violent Times" will deliberately explore the ceremonial aspect of violence and how we dress for both violence and war. Melanie will re-enact various acts of violence, relevant in today's societies, in a theatrical and interpretive staged setting. The performers will be contained inside a large clear bubble and will be lit in the same manner as her signature still photographs, creating an invisible wall between the viewer and the performance.
Read More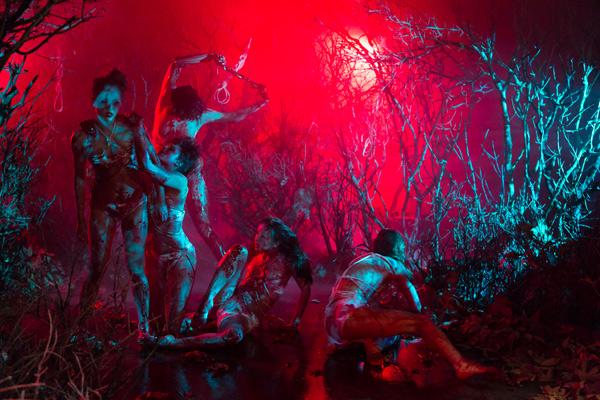 Ramiro Gomez | CUT-OUTS part of FRAGMENTS FROM HOME
Curated By Chon Noriega
Presented By LACMA
THE WORK
The Cut-Outs installation piece, an 8 x 73 foot acrylic on cardboard mural, deals with scenes from Gomez's West Hollywood neighborhood. Gardeners and pool cleaners tend to the outside, then the mural proceeds inside, depicting housekeepers cleaning the living room, dining room, the bathroom and finally, the bedroom. Playing with negative space and with perspective, Gomez has life-sized cardboard figures emerge from the body of the mural, standing alone in the space, confronting the viewer. The piece functions as a still-life of affluent Los Angeles.
Read More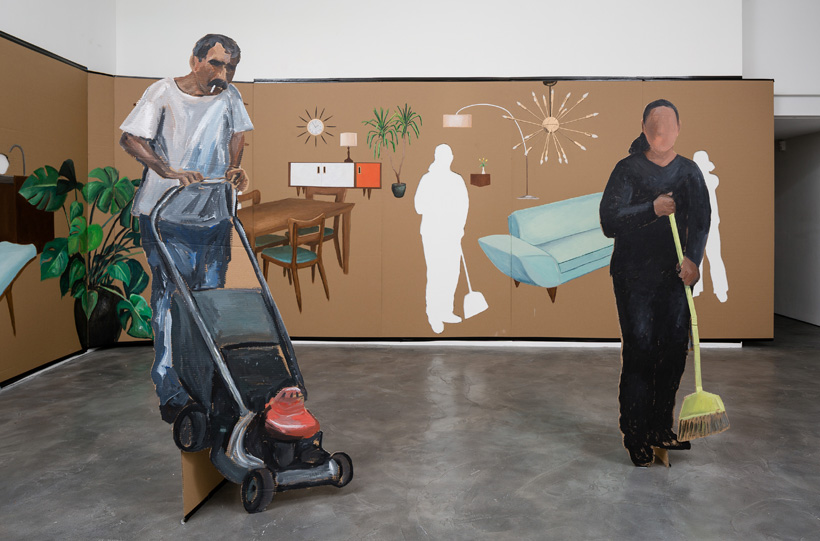 Raphael Montañez Ortiz
"Piano Destruction Ritual", "Couch Destruction: Freeing the Angel",
"Shred Your Worries" part of FRAGMENTS FROM HOME
Curated By Chon Noriega
Presented By LACMA
THE WORK
There is Passive ART and Active ART. Active ART requires you to participate.
PIANO DESTRUCTION RITUAL: Participatory Performance. Background Sound Thunder and Lighting. The Piano is a powerful instrument of sound to convey the message of Sacrifice I wish to convey to the Universe. The Sounds of its Destruction gives full voice to Sacrifice: To the Destruction Creation in it cycle of Creation is giving us time to understand the preciousness of Mortal Life that it never be given up to or for Sacrifice of any kind…
Read More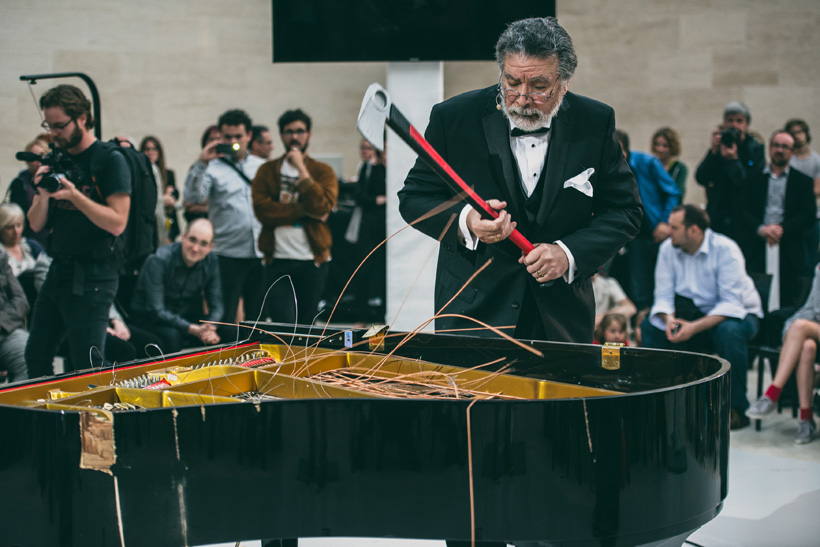 Louis Hock | a wall
Curated By Chon Noriega
Presented By UCLA Chicano Studies Research Center
THE WORK
Made from recycled paper pulp bricks, Louis Hock's temporary installation, "a wall", will extend 80 feet through the venue interrupting the visual experience and disorienting the circulation of visitors within the space. This installation urges visitors to consider current political discourse around borders and immigration as they experience a familiar space that is visually and physically divided.
Read More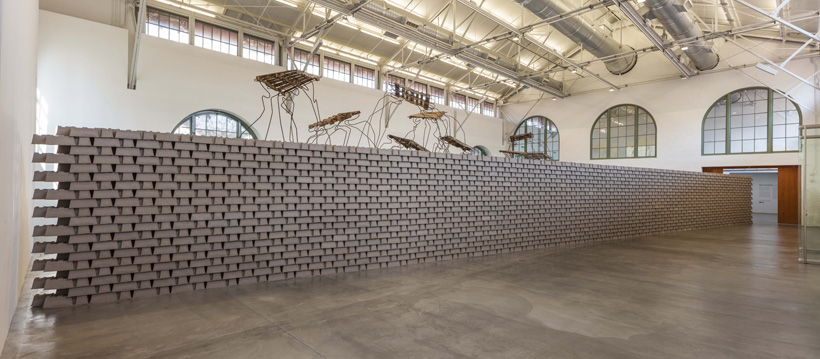 Mella Jaarsma | Carrier
Presented By Baik Art
THE WORK
Dutch-Indonesian artist Mella Jaarsma creates drawings and handmade garments that explore social tradition and its uncertain future. Her work addresses some of the central questions that arise when cultural identity is assigned to objects or when authority is assumed over others by creating division between one thing and another through ethnic or folk stylization.
Read More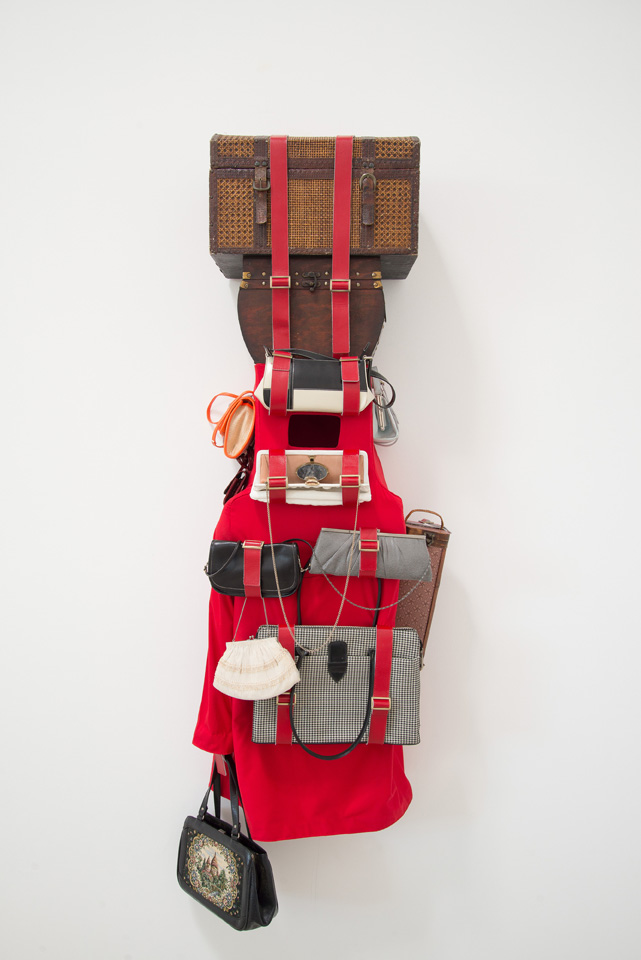 Scherezade Garcia | In My Floating World
Curated by Tatiana Flores
THE WORK
"In my Floating World, Landscape of Paradise", a soft sculpture, Garcia collected inner tubes in different sizes and in a variety of shades of blue. She also bandaged the surface of some of the inner tubes with photographic images of the sea on which she has drawn a variety of symbols from her visual repertoire that refer to the memory of the sea. She composed a floating landscape with these inner tubes, creating a randomly organic form connected by electrical ties, sometimes tied very tightly, a suggestion of the struggles hidden within the deep blue beauty. Also each of the inner tubes carries an airport baggage tag that identifies the intended destination of the waves, which is New York, alluding to the contemporary promised land of the free.
Read More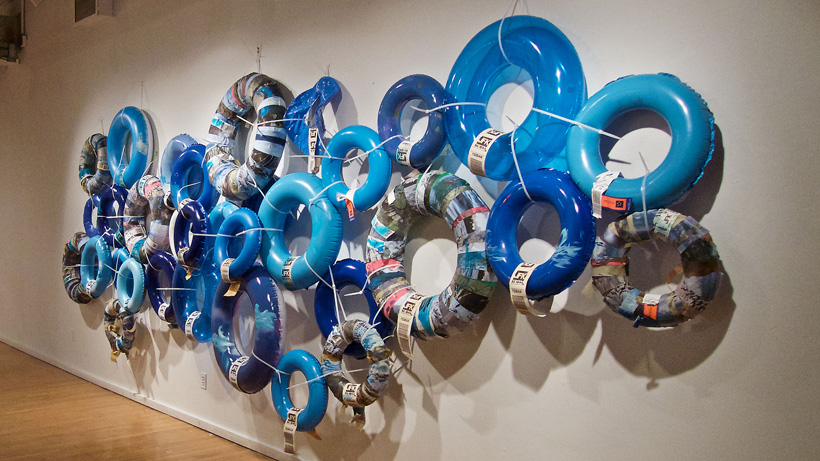 Rob Grad, Carlos Grasso, Gina M, Daena Title, Sue Irion, Mette Tommerup,
Robert Chambers and , Marleine van der Werf and Frederik Duerinck.
PING PONG 2017
Presented By Los Angeles Art Association
THE WORK
Los Angeles Art Association is proud to present Ping Pong 2017, a multi-destination, cross-cultural collaboration featuring artists from Los Angeles, Miami and Basel at the 2017 LA Art Show. PING PONG is an independent exhibition project for contemporary art founded in 2007 to cultivate artistic exchange between Basel, Miami and Los Angeles.
Read More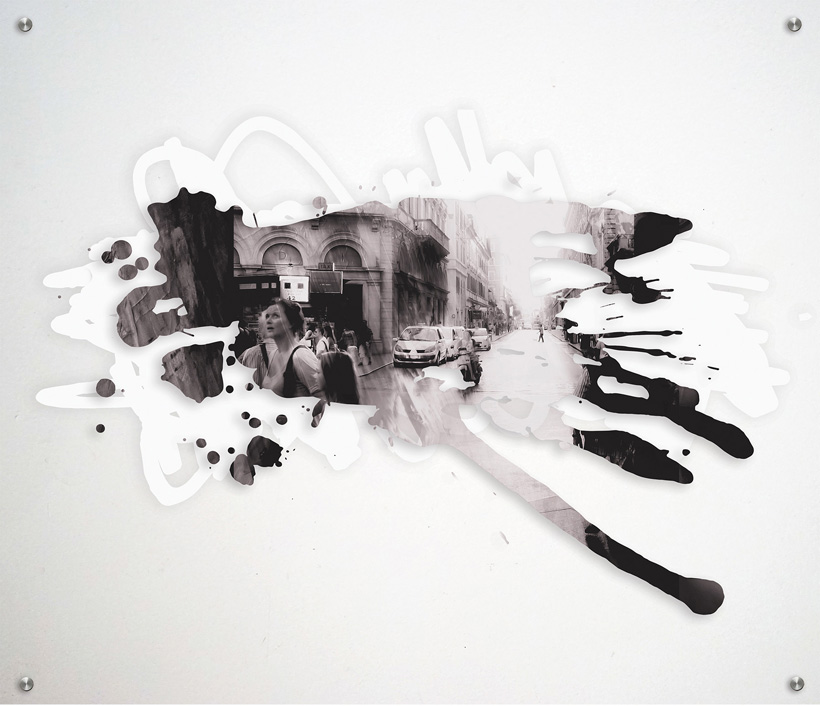 Narcissister | Narcissister, Untitled
Curated By Ace Gallery
THE WORK
Narcissister is an American artist based in Brooklyn who works in live performance, video, and photography to explore issues of gender, racial identity, and sexuality. Through eroticism and humor, Narcissister questions fetishism and related fixed racial and gendering stereotypes. Narcissister wears a mask in all performances, videos, and photographs.
Read More