LAAS GALLERIST TALKS
PRESENTED BY CITI

Stream Gallerist Talk 1:00PM
REBECCA HOSSACK GALLERY
Imago

The Hossack Gallery in London displays examples of spectacular indigenous Australian art, alongside European contemporaries. Hear from Rebecca herself- a passionate, well informed, and articulate source.
LAAS GALLERIST TALKS
PRESENTED BY CITI

Stream Gallerist Talk 5:00PM
SIMARD BILODEAU CONTEMPORARY
Finding Truth

In Finding Truth, Eve Marie and her husband Guy bring forth artistic expressions of personal truths from their international roster of artists who hail from Iran, Mexico, Sweden and Brazil.
LA Art Show VIP Party @ Studio 1125
1125 Crenshaw Blvd.
Los Angeles, CA 90019
Saturday, July 31, 2021
8:00pm – 11:00pm

Please join us as we celebrate LA Art Show and Los Angeles, the global epicenter of art & culture,iat LA's latest premier event space. Be inspired by cocktails,idelightful hors d'oeuvres, and spirited music.

In line with the new LA County mandate on masks, we require our guests to wear masks indoors at the party venue, when not eating or drinking. This applies to all, including those who are fully vaccinated. While you have the option of not wearing a mask when you are outdoors, you can choose to wear a mask, as a personal preference. If you are not fully vaccinated, recommendations from CDC are that you should wear a mask at all times when you are in the presence of, or likely to be interacting with, other people not from your household. This is an invitation-only private party, and you may only attend if you RSVP and show a valid ticket at the door.

VIP Red Card event. By invitation only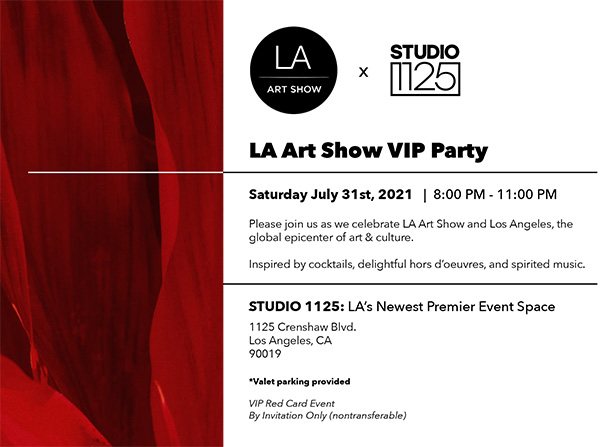 The following DIVERSEartLA performances will be happening at various times

Performance: Gorilla Nature
Yolanda Leal
Art Museum of the Americas (AMA)

Performance: Un/Seen
Tiffany Trenda
Artist Tiffany Trenda presents Un/Seen, a live performance within an immersive experience using volumetric capture. It transforms in real-time depending upon the actions of the public.